88 Key Synthesizers
Ways to Shop
Best Sellers

Items with Rebates

Open Box Gear

Restocks

Top Rated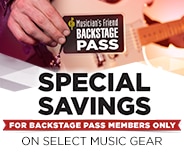 all
Open Box
Results 1 - 3 of 3 matches
Rebate

Compare

Compare Now

site1prodJ32068

Best Seller

Compare

Compare Now

site1prodJ26982

Best Seller

Yamaha MM8 Music Synthesizer

Sounds from the pro-level MOTIF series give the MM8 an enormous variety of dynamic, authentic voices. Includes...

Compare

Compare Now

site1prod703325
Was:
Professional keyboardists and synth players who want to showcase their highest level of talent prefer 88-key synthesizers more often than not. In terms of keyboards, 88-note models are the largest in size, giving a full range of notes to demonstrate your musical prowess. Of course, this also means that today's top synthesizer manufacturers offer their own exceptionally-crafted 88-key synthesizers, including Roland and Yamaha. Whether you're a live performer or looking to make a new addition to your home recording studio, you'll be sure to find what you're looking for in this selection of 88-key synthesizers.

And don't think for a second that you need to pull out a second mortgage to afford one of these 88-key synthesizers - in fact, there's a model in this catalog to suit every budget. In the $500-$750 range, go with the Roland FP-30 Digital Piano: a portable, 88-key workhorse that's ideal for aspiring players. It boasts a modern digital engine, built-in Bluetooth wireless for MIDI music applications on mobile devices and a wide range of killer sound samples like strings, organs and many others.

Yamaha specializes in a variety of 88-key synthesizers as well - need a recommendation? Check out their S90XS 88-Key Balanced Weighted Hammer Action Synthesizer. Live on stage or recording in the studio, this synth is loaded with sounds to inspire your creativity - 456 megabytes of instrument samples, to be more specific. The Performance Creator feature lets you quickly make your own custom performances, and live performers will also love the addition of a combo jack that accepts microphones. Lightweight and versatile, the S90XS needs to be experienced firsthand to be truly believed.

And plenty of other high-end 88-key synthesizers are waiting for you on this page. Remember, only the best brands are offered here - so whatever grabs your attention, you can be confident that it was built by pros who are proud to help you bring your musical ideas to life. The key is to take your time here, explore each option thoroughly, and before you know it you'll be blowing audiences away with a new 88-key synthesizer.