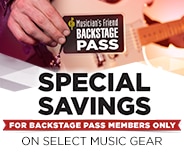 all
No Brand Items Returned
Quick Search Tips:
Try just one or two terms.
Instead of using the search box, find your gear by clicking the product category tabs and other navigation links.
Try varying the spelling to see if the word is spelled correctly.
Check out the items below that are suggested based on your search terms.
We'd love to help you find what you're looking for-call us anytime at 800-449-9128.
Suggested Items:
About Thomastik:
Whether your instrument is bowed or fretted, the strings you choose will play an essential role in the resulting tone and playability of your apparatus of choice. With that in mind, there's a reason why Thomastik strings are favored by professional musicians from all around the globe. Favored for their top-notch durability, high quality tone and comfortable feel, Thomastik specializes in strings for an extensive range of instruments, from acoustic and electric guitars, to double basses, violins, and cellos.

Of course, their catalog is so vast, you might want to consider starting with the best sellers to narrow down your search and speed up your decision. For example, if you're a double bassist, you'll definitely want to check out the popular Spirocore 3/4 Size Double Bass Strings. Featuring a hi-tech core for easy fingering, responsive bowing, and stable tuning, the Spirocore strings are a standard amongst double bass players worldwide, and the second you begin playing them, you'll quickly understand why.

Or, maybe you're a violinist who wants a string that's long-lasting, and consistently warm in tone... in which case, check out the Superflexible 4/4 Size Violin Strings. Designed specifically with the concert violinist in mind, these strings have a cable-type structure that's made up braided steel threads to reduce stiffness, and improve elasticity. By producing a tone that seemingly radiates from your violin, these strings will impress any violinist who has plans of taking their performance to a professional level.

By this point, you'll probably agree that Thomastik's dedication to musicians from all walks of life is quite obvious. Crafting strings in the heart of Vienna since 1919, Thomastik is trusted by virtuosic musicians from countless genres, including metal guitarist Victor Smolski, cellist Ana Topalovic, and violinist Glenn Dicterow. The truth is that when you've worked hard on being the best, your instrument merits a set of strings that are crafted with your musical gifts in mind every step of the way; and for that, Thomastik has the perfect set of strings for you.