Pedalboard Concepts
Pedalboard Concepts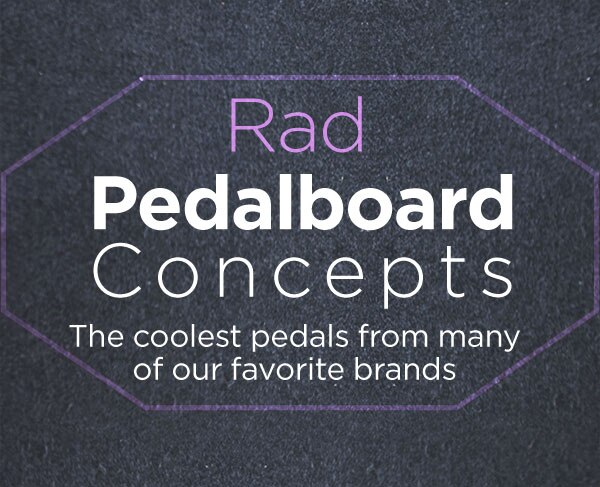 With the hundreds of choices—and millions of combinations—setting up a pedalboard can be daunting. That's why we've assembled and highlighted a handful of well-rounded setups that you can copy exactly, or take inspiration from to piece together your own board. With offerings from a bare-bones beginner-level setup to a fairly far-out, boutique arrangement, this should help get your pedalboard up and running in no time.
Boss DD-7 Digital Delay Guitar Effects Pedal
The BOSS DD-7 Digital Delay is a guitar effects pedal that takes the best features from its predecessors and expands their creative potential. You get Modulation Delay mode, classic modeled Analog Delay mode, External pedal control options, longer delay time, and more. Even with the best-selling delays in compact-pedal history, BOSS continues to push the envelope and innovate.
Your Price : $159.99
From screaming loud to whisper soft, the Boss DS-1 Distortion Pedal can faithfully reproduce the dynamics of your playing style. Level and distortion controls give you complete command of the amount of signal processing. Tone knob lets you tailor EQ right on the unit. The Boss DS-1 Distortion Pedal is a tough stompbox that can take whatever your boot can dish out. Includes 5-year warranty.
Your Price : $49.99
Boss CS-3 Compression Sustainer Pedal
With the Boss CS-3 Compression Sustainer you get smooth sustain, a more balanced string response, and more clarity and punch at any volume. A must for recording. Ideal alone for a clean sound or in front of a distortion or chorus.
Your Price : $99.99

This entry-level setup features some hall-of-fame hits in the effects world. These top-selling Boss pedals include the DS-1, which is a benchmark in guitar distortion, CS-3 compression sustainer to improve overall tone and DD-7—the best-selling digital delay in compact-pedal history. The Boss BCB-30 board is self-contained, and includes power and patch cables. It's this easy to start rocking with these iconic Boss pedals.

This setup is loaded with an assortment of tonally vital pedals that add another level of versatility over the Beginner Board. The Aclam Smart Track boards include a soft carry case and have special fasteners that easily and quickly keep your pedals securely locked onto the board during your gig. These modular boards allow you to add more space for pedals as you grow your collection with additional extension kits and accessories. This setup requires power so it includes the popular MXR DC Brick power supply and Boss patch cables to connect our pedals. Some key items in this setup include the Supro Drive pedal; which re-creates the pillar of classic rock guitar tone that legendary Supro tube amps are known for; noiseless clean sustain from Pigtronix's Philosopher's Tone Micro, Walrus Audio's gritty, thick and loud Jupiter Fuzz v2; and legendary EP-3 tape echo tone in Dunlop's Echoplex Delay.
This fairly robust setup spotlights the top-selling Pedaltrain Classic 2 pedalboard, which include a soft carry case and velcro strips for fastening pedals to your board. The Classic 2 features Pedaltrain's original four-rail design and traditional rail spacing, and has been updated with an open front design, which makes power supply mounting more convenient. This setup requires external power, so it includes the popular MXR DC Brick power supply and Boss patch cables to connect the pedals. Some key items in this setup include the space-saving Dunlop Cry Baby Mini Wah, iconic Fulltone OCD overdrive, Seymour Duncan's Catalina Chorus and Shapeshifter Stereo Tremolo, Digitech's Polara Reverb, the MXR Dyna Comp Mini compressor and D'Addario Planet Waves Chromatic Pedal Tuner.
Voodoo Lab has made the top-selling professional pedal power supply for years and launched its Dingbat series of pedalboards in early 2017. As part of the range this model includes the medium-sized board (with room for roughly eight standard-size pedals), and a pre-mounted Pedal Power 2 Plus power supply with 8 isolated inputs, power cables, cable ties and tour-ready gig bag. For connecting the pedals, this setup features MXR patch cables. Key pedals in this setup include the Pink Panther Delay from JHS, outfitted with a Tape Delay setting, tap tempo, modulation and enough control to make it your go-to delay pedal on any gig; the massively versatile Erupter fuzz pedal and Dunes Overdrive from Earthquaker Devices, a heavily featured take on the classic 808 overdrive tone; MXR M290 Mini Phase 95, which combines the classic Phase 45 and Phase 90 circuits in a housing with about half the footprint of a standard MXR pedal; Dunlop DVP4 X Mini volume pedal and Tone Corset compressor from Electro-Harmonix.
American brand Friedman, known for premium tube amplifiers, launched its Tour Pro pedalboards in 2017. This Tour Pro 1520 Platinum Pack includes a large (15 x 20 in.) Friedman board with riser and pro carrying bag, black Velcro for pedal attachment, wire ties and wire mounts. It also features the Power Grid 10 isolated power supply and Buffer Bay 6 buffer and patch bay. Also featured is the D'Addario Planet Waves Pedal Board Cable Kit to connect the pedals. Pedals featured include the amazing Synth9 from Eletro-Harmonix for searing lead synths to spacey synth pads, Friedman Brown Eye for skull-crushing overdrive, the Wampler Ethereal Delay/Reverb for heavenly ambient tones, J. Rockett's new IQ EQ/compressor, Xotic Effects XW-1 Wah, Ernie Ball VP Jr volume pedal, TC Electronic's Polytune 3 pedal tuner and Walrus Audio's fully analog Julia Chorus/Vibrato with feature-rich chorus/vibrato and special Lag knob control that lets you set the center delay time that the LFO effect modulates from smooth and tight modulation at lower settings, to warbling detune at max.