Back to Top

Overview

Jump to Overview

Features

Jump to Features

Warranty

Jump to Warranty

Reviews

Jump to Reviews

true
Zoom
tier1
PG Music

Band-in-a-Box 2010 for Windows OMNIPAK (Portable Hard Drive)
true
true
true
Product

430611
YUMF
true
MMGS7/430611000000000_MEDIA_SET
false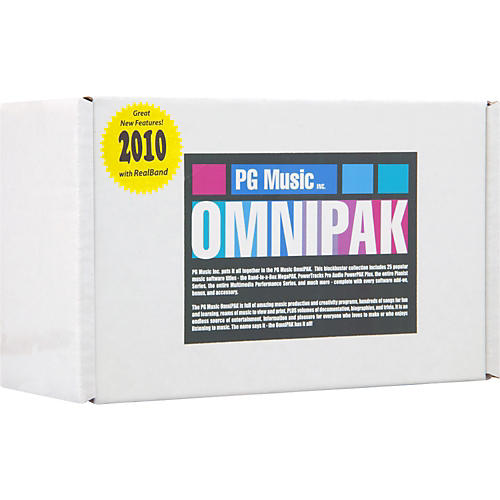 Lowest Price

Ships Internationally
(48 Contiguous U.S. States)
Free
Free Shipping With Backstage Pass
2-Day Standard Ground
{showBrandNameWithProduct=true, download=false, productId=site1prod430611}
Free Shipping With Backstage Pass

(48 Contiguous U.S. States)
USD
PG Music puts it all together in this special OmniPAK. The complete music production software program includes 25 popular PG Music software titles" B...Click To Read More About This Product
We're sorry-this item is unavailable.
Find a similar product below or contact our experts for a recommendation of great alternatives. Call us at 800-449-9128.
Customers Also Viewed:
OVERVIEW
The most complete Band-in-a-Box experience you can get with 25 PG Music titles all on a USB hard drive.
PG Music puts it all together in this special OmniPAK. The complete music production software program includes 25 popular PG Music software titles" Band-in-a-Box MegaPAK, PowerTracks Pro Audio Power PowerPAK Plus, the entire PIanist Series, the entire Mulitmedia Performances Series, and much more"complete with every software add-on, bonus, and accessory. And it's all contained on a convenient USB external hard drive.

Band-in-a-Box MegaPAK 2010
The award-winning Band-in-a-Box for Windows 2010 MEGAPAK includes Band-in-a-Box 2010, RealBand, MegaPAk RealCombos, and all PG Music's Styles Sets (77 Sets), 1-11 and 16-20 Soloist Sets, and all Melodist Sets.

PG Music's Band-in-a-Box 2010 Music Composition Software
Band-in-a-Box is an intelligent automatic accompaniment program, which means that any composer can go from nothing to complete song arrangements in as little as a few seconds. Simply enter chords to a song, choose a style of music, and Band-in-a-Box does the rest, generating a full band arrangement complete with Bass, Piano, Drums, Guitar, Strings, and more. The audio composition software can arrange, listen to, or play along with songs in hundreds of musical styles. The MIDI and audio tracks that Band-in-a-Box 2010 creates are automatically played out through your computer's built-in sound card or synthesizer, and the music notation is displayed in a lead sheet window.

Band-in-a-Box 2010 is a unique and flexible audio production program with a broad range of uses. It is a powerful and creative music composition tool for exploring and developing musical ideas with near-instantaneous feedback. Amaze friends and family by coming up with your own original songs in as little as a few minutes. Band-in-a-Box 2010 is also an excellent educational tool, used both by professional musicians to sharpen their skills, and as a learning aid by people with little or no musical background. It's also an essential program for practicing your instrument in a full band setting"you play your instrument while Band-in-a-Box 2010 takes the place of the other members in your band. You can also use Band-in-a-Box just to have fun.

While the basic concept behind the Band-in-a-Box has remained the same since it was first conceived over 20 years ago, hundreds of innovative features have been added. The list of things that you can do with this music composition software is endless. The Soloist, Melodist, and Audio Chord Wizard are shining examples of its additional intelligent features. The Soloist generates professional quality solos over any chord progression. The Melodist can create entire songs from scratch with chords, melodies, intros, and solos (even a title). The Medley Maker can combine songs to create interesting medleys. The Audio Chord Wizard can figure out the chords in any audio file (WAV files, MP3, WMA, etc.).

In addition to these and many more amazing features, over the years Band-in-a-Box has expanded from originally being a jazz-oriented program, to encompass a diverse range of musical genres including pop, rock, latin, country, classical, world, blues, bluegrass, New Age, techno, metal, and much more. There is something for everyone. Over 1700 styles are currently available from PG Music and more are always being developed, many based directly on customer requests. Moreover, since each style is a large database of musical patterns and ideas, the song arrangements will always be fresh, never sounding exactly the same each time.

How to make a song
It's easy to get started using Band-in-a-Box. Here are the basic steps you might use to put together a song from start to finish.

Input chords for your song. Choose a key/tempo and set the number of bars/choruses/loops, etc. You can type in the chord symbols using the computer (QWERTY) keyboard, however it's also possible to enter chords in other ways: You can play the chords from a connected MIDI keyboard and use MIDI Chord Detection, you can use the built-in Chord Builder, and you can even have Band-in-a-Box 2010 figure out the chords in any MIDI or audio file. The chords that you input can include common chord symbols such as C7, Cm, and Cmaj7, or more complex chords such as Csus#5#9 and C7#5b9#11. Over 100 chords are supported, plus you can enter an alternate root for any chord (slash chord).

Next, choose a style of music using the StylePicker Window. You can easily preview your song in many different styles, or you can listen to original demo songs for any of the PG Music styles available. Styles will use up to five tracks for the accompaniment, depending on what is suitable for that specific style. For example, a classical style might only use the Piano track, while a rock style may use Bass, Drums, and Guitar. You can also choose a style made entirely of RealTracks and you wont hear any MIDI at all"your song will sound like it was recorded by professional studio musicians.

You can arrange your song using automatic intros, 2-bar endings, substyle variations, drum fills, intelligent chord substitutions, pushes, shots, rests, and more. Press Play to have Band-in-a-Box 2010 instantly develop an original arrangement for your song, which is played back through the sound card or MIDI synthesizer of your choice. For playback, you can use a software synth (stand-alone/DXi/VSTi) such as the VSC-DXi included with Band-in-a-Box, or a hardware synth (sound card synth/MIDI keyboard/sound module). In addition to MIDI tracks, Band-in-a-Box also generates original audio tracks called RealDrums and RealTracks.

Input your own instrumental melody/solo track using an external MIDI keyboard, or by using your computer mouse and keyboard in the Editable Notation window. Or, have Band-in-a-Box create the solo and melody for you using the Melodist and Soloist.

Record an audio track. You could use a microphone to record yourself singing, then harmonize your vocal track using the built-in audio harmonizer.

Make an audio CD of your music. Render your song to a wave file and burn a CD, then play the CD in any standard CD player.

RealBand 2010 for Windows: Your All-in-One Audio Workstation and Accompaniment Program
RealBand is a fully-featured and powerful music arranging, sequencing, and digital recording program. RealBand combines the most popular features from PG Music's PowerTracks Pro Audio and Band-in-a-Box programs into an all-in-one sequencing program with automatic accompaniment. With RealBand you can create an arrangement with Band-in-a-Box tracks; type in the chords, add RealTracks and RealDrums that follow the chord changes, add your own tracks, and then edit and produce the finished song without ever leaving the program. RealBand is loaded with powerful features that make it easy to produce your own song arrangements as if you were in the recording studio with top session musicians.

RealBand offers powerful features for musicians, students, and songwriters. With intelligent automatic arrangements, RealTracks live instrument tracks, RealDrums live drum tracks, the amazing Audio Chord Wizard, seamlessly integrated digital audio/MIDI recording, built-in DirectX effects, and notation, RealBand turns a typical PC into a music production powerhouse.

What are RealCombos?
RealCombos are a band of RealTracks and RealDrums in the same style. For example, the Jazz Swing 140 RealCombo includes 5 RealInstruments (Bass, Piano, Guitar, Sax, and Drums) that play at a medium swing tempo. RealCombos have an ideal tempo listed"they can be played at any tempo, but sound best near the ideal (originally recorded) tempo. The MegaPAK RealTracks Collection includes everything that the Pro version comes with (12 RealTracks, in 3 Bands: Jazz, Pop/Rock, Country, as well as 28 additional Realtracks: 7 additional bands) for a total of 40 RealTracks, in 10 bands. The titles include Jazz Swing 140, Country Ballad 65, Pop Rock 120, Bossa 140, Bluegrass 130, Blues 120, American PopRock 120, SmoothCool Jazz 100, JazzBallad 85, HardRock Thrash 85.

PG Music Styles Sets 0-77
The MegaPAK 2010 includes all 77 of PG Music's Style Sets. This wide ranging group of ready-to-accompany style sets were inspired by authentic performances and fashioned after the sounds of famous musicians in all genres. It covers the gamut"Britpop to British Invasion, classic to contemporary country, salsa to world fretboards, mellow New Age to hardcore techno, gospel to blues.

PG Music Soloist Sets
Soloist add-ons work with Band-in-a-Box's Soloist feature, which generates solos to go with your song. The more Soloist add-ons you have, the greater the variety of solos Band-in-a-Box will be able to generate.

MegaPAK 2010 comes with Soloist Sets 1-11 & 16-20. Set titles include Jazz Swing Soloing, Killer Pop and Older Jazz, Ballads and Guitar, Saxophone, Soundtrack Soloists, Trumpet, Bluegrass Soloing, and more.

PG Music Melodist Sets
Melodist add-ons work with Band-in-a-Box's Melodist feature. The Melodist can compose a song, complete with intro, chords, melody, arrangement and improvisation, with the push of a button. The more add-ons you have, the wider the variety of songs the Melodist will be able to generate.

PG Music MegaPAK 2010 music software comes with all 8 Melodist Sets, including, Joplin, Tin Pan and Children's, Brazilian Even 8ths Jazz, MOR Pop/Rock and Soundtracks, Bluegrass 3/4 and Irish 12/8, Jazz, Bluegrass, and more.

RealTracks
RealTracks replace the MIDI track for that instrument, and can be controlled just like the MIDI instrument (volume changes, muting etc.). Best of all, they follow the chord progression that you have entered, so that you hear an authentic audio accompaniment to your song. For example, with a simple right-click, you can turn your MIDI guitar into a beautiful fingerpicking guitar part, and turn those MIDI strings into a real violinist playing a real violin. These are not samples, but full recordings, lasting from 1 to 8 bars at a time, playing along in perfect sync with the other Band-in-a-Box and RealBand tracks. RealTracks can be assigned to play on any Band-in-a-Box track (guitar, bass, etc.), and you can select up to seven different RealTracks for one song; RealBand can have up to 48 different RealTracks. RealTracks can also be built in to the style, replacing the MIDI bass, guitar, piano, or strings part in that style. In addition, in Band-in-a-Box you can use the Soloist to generate RealTracks.

Adding a real instrument to the mix makes all of the Band-in-a-Box, RealBand, and PowerTracks MIDI parts sound more authentic"add up to seven and the results are phenomenal. RealTracks add an exciting human element to your Band-in-a-Box, RealBand, and PowerTracks Pro Audio arrangements, but that's just the beginning. They can be used for all kinds of recordings. Record the live audio output of RealTracks through a mixer, or export RealTracks tracks as WAV files for use with most popular audio programs. You'll want to use RealTracks in all of your recording projects, and you can.

This OmniPAK includes all 82 sets of RealTracks that PG Music has to offer for a total of 370-plus RealTracks.

PG Music RealDrums
These are audio drum styles that replace the MIDI Drum track with actual recordings of top studio Jazz/Rock/Country drummers. These are not samples of single drum hits. They are actually full recordings, lasting from 1 to 8 bars, playing along in perfect sync with the other Band-in-a-Box tracks. For example, choose a brushes style, and you will now hear lush jazz brushes, exactly as you'd hear if the drummer was in the room with you. The results are dramatically better than MIDI. They sound like a real drummer, because they are recordings of a real drummer. Adding this real instrument to the mix makes all of your Band-in-a-Box parts sound more authentic. As well as improved drum sounds, you are hearing the exact rhythms played by the drummer, including features not seen in MIDI (subtle drum rolls, variations in ride cymbal taps, complex fills, etc.). A RealDrums dialog allows you to set whether you want to hear RealDrums with all styles, no styles, or somewhere in between.

This OmniPAK contains all 29 RealDrums Sets available for a total of 200+ RealDrums total. This includes Waltzes, Country and More!, Lite Pop, Salsa Moderna, Techno 1: Progressive, Terry Clarke - Classic Jazz, and 23 more. That's enough drum stylings to cover whatever genre you like to work in.


Multimedia Performance Series
The Blues Guitarist - The thrill of Electric Blues! The Blues Guitarist contains studio recordings of great Electric Blues Guitar music. Listen to hot session players perform great sounding Blues music, while you learn the riffs, licks, and tricks.

The Sor Studies For Classical Guitar - "Complete Technique" for Classical Guitar plus videos. The Sor Studies contains superb professional classical guitar performances of Fernando Sor's celebrated studies for guitar (Opus numbers 6, 29, 31, 35, 44, and 60, complete). PG Music recorded live, complete performances by this top classical Guitarist"many with full-motion close-up videos"bringing new technology to classic masterpieces.

This definitive collection of studies for the classical guitar is an essential learning resource. It is accorded the same significance in the study of the guitar as that given to Bach's Well Tempered Clavier in the study of the piano. All performances are taken from the earliest available facsimiles of the music"the VOB collection. PG Music's innovative multimedia presentation of the material adds exciting dimensions to the study and appreciation of Sor's timeless works.

The Jazz Saxophonist - A must-have program for students, teachers, and Jazz buffs. The Jazz Saxophonist contains studio-recordings of great jazz saxophone music. PG Music recorded each instrument (sax, piano, bass, and drums) on a separate track, allowing you to listen to each part independently. Powerful multimedia features let you study the arrangements, hear the music, and play along with top studio musicians.

The Barbershop Quartet - 2 Volume Set - Made with the assistance of SPEBSQSA, the leading authority of barbershop in America, this interactive program contains nearly an hour of high-quality vocal music plus a fascinating history of Barbershop quartets and "the songs that made America a singing nation." With seamlessly integrated MultiTrack audio, MIDI, chord symbols, lyrics, and music notation, The Barbershop Quartet turns a typical soundcard-equipped PC into a vocal performance powerhouse.

The Rock Guitarist - Hot players, cool licks, neat tricks. The Rock Guitarist contains studio recordings of great rock electric guitar music. The Multimedia features of The Rock Guitarist give you the ability to mute or solo any audio track independently and study or play the part yourself. Onscreen notation shows you the music, tablature, and chord progressions as it scrolls by in perfect time with the band. Unlike an ordinary CD recording, you can precisely control the audio mix by adjusting the volume and balance controls for each instrument.

The Bach Chorales - 2 Volume Set - The foundations of vocal harmony plus multimedia fun. The Bach Chorales contain inspiring performances of Bach's famous Chorales. Listen to a professional choral ensemble sing some of J.S. Bach's most enchanting compositions, complete with a detailed multimedia history of the life and times of Johann Sebastian Bach.

The Rock Saxophonist - The Rock Saxophonist contains studio-recordings of great Rock n' Roll saxophone music. Play The Rock Saxophonist through your computer speakers in jukebox mode for listening enjoyment or jamming. Playback continues in the background of other programs so you can listen to your favorite music while you work. Select your own playlist of favorite songs, or let the program automatically play the entire library. All you need is a personal computer and a love of great rock 'n' roll.

The Pianist Performance Series - Live "Pro" Performance Programs and More
The Blues Pianist - 2 Volume Set - Great "down-home" blues, virtuoso piano performances. The Blues Pianist contains a huge library of original blues tunes that cover a wide variety of piano styles: Boogie Woogie, Slow/Fast Boogies, Jazz Blues, New Orleans style, Chicago Blues, and many more. These are the styles made famous by Pete Johnson, Albert Ammons, Jelly Roll Morton, Jerry Lee Lewis, etc."hours of listening pleasure.

The Latin Pianist - Authentic Latin and Salsa stylings, hot piano performances. The Latin Pianist is an exiting new addition to our Pianist series of music software programs. With over 50 tunes played on MIDI keyboard by top Latin Pianist Rebeca Maule³n-Santana, The Latin Pianist includes authentic Latin and Salsa piano songs and styles such as Conga, Cumbia, Merengue, Son, Mambo, Cha-cha-cha, Guaracha, Samba, Partido Alto, and much more.

The Modern Jazz Pianist - It's too easy to learn from these great jJazz pianists. Top studio musicians Renee Rosnes, Miles Black, Ron Johnston, and Brad Turner perform over 50 tunes in a wide variety of modern jazz styles, such as those by Herbie Hancock, Fred Hersch, Cedar Walton, Mulgrew Miller, and many others. With the on-screen piano keyboard, you can see exactly what the pianist is playing. Slow down the piece or step through it chord by chord. Learn the music note-for-note by watching the notes onscreen, or load the MIDI files into your favorite programs for further study.

The New Age Pianist - Beautiful piano music inspired by nature. The New Age Pianist is a beautiful collection of solo piano compositions that draw their inspiration from the natural world. A full-range of piano techniques are presented, from the ambient music style of George Winston to the New Age-jazz styles of Chick Corea and Keith Jarrett. Over 4 hours of beautiful music. Whether for listening or for study, this program makes a great addition to your MIDI music collection.

FEATURES
Includes Band-in-a-Box MegaPAK 2010
PowerTracks Pro Audio PowerPAK Plus
Entire Pianist Series
Multimedia Performance Series
Styles Sets 0-77
RealDrums Sets 1-29
RealTracks Sets 1-82
Soloists Sets 1-11 and 16-20
Melodist Sets 1-8
Band-in-a-Box Video Tutorial PAK
Andy Laverne Artist Soloist Series
101 Essential Phrases and Riffs Series
The MIDI Fakebook, Volumes 1-3
Soundtracks MIDI Fakebook Volume 2
50 Novelty Piano Riffs for Band-in-a-Box
50 Duets with Miles Black
CopyMe
200 Folk Songs
50 Country Guitar Solos
More
Pre-installed on sleek 2.5" USB drive with up to 480Mb/s transfer rates
USB Cable included
Band-in-a-Box MegaPAK 2010Band-in-a-Box 2010
Use standard symbols to enter chords for your song into the Chord Sheet window"it only takes 3 minutes to enter chords for a typical song
Arrange and edit your song using automatic intros, endings, style variation, drum fills, and much more
Choose styles from a wide variety of genres using the searchable and informative StylePicker window
When you play your song, it generates an original, professional quality arrangement using the style of your choice
Loop parts of the song, transpose each chorus, play along with your keyboard, and much more
RealDrums can replace the MIDI Drum track in any style with real recordings of top studio jazz/rock/country drummers and play in perfect sync with other Band-in-a-Box tracks
RealTracks can be added to any song giving it an ultra-realistic feel, since RealTracks use audio recordings of actual musicians
The Melodist can create an entire original song from scratch, including chords, melody, arrangement, solo, intro, and title
The Medley Maker allows you to combine multiple Band-in-a-Box song files into one continuous performance
Use the Soloist to automatically create and play original, professional quality solos in the genre and style of your choice
Automatic harmonization of Melody track, Soloist track, or live playing on Thru channel: Select from over 200 included harmony types, with 2 to 5 part harmonies like SuperSax, 5 part trumpets, etc.
Render your songs to WAV/MP3/WMA for further editing in other programs, for use on the internet, or to make audio CDs of your music
Audio Chord Wizard automatically figures out chords in MP3/WAV/WMA files and CD-Audio tracks, and displays them
Record your own MIDI part to the Melody or Soloist track from a MIDI keyboard, MIDI guitar, or MIDI wind controller
Full-featured Notation Window displays chords and lyrics, as well as musical notation for all instrument tracks
Notation Window's 'Editable' and 'Staff Roll' modes allow you to quickly and easily enter or edit notation and lyrics
You can view and edit all MIDI and lyric events in the Melody and Soloist tracks using the Event List Editor
Lead Sheet window allows you to view multi-line, full-page notation, lyrics, and chords in typical lead sheet style
Your Band-in-a-Box songs can be printed, producing a lead sheet style printout, or you can save the song as a graphics file (e.g. BMP, JPG)
Piano Roll Window allows you to edit your tracks using an intuitive graphical window similar to the type found in many sequencer programs
Sequencer Window allows you to control multichannel Melody or Soloist tracks (i.e. tracks with than one instrument), selecting the patch and volume for each channel, and more
Record an audio track along with your Band-in-a-Box song, then edit the track, adding audio effects and harmonies
TC Helicon Harmonizer to automatically create up to 4 part audio harmonies to recorded vocals and other audio
Load and save many file types, including standards like MID, KAR, WAV, WMA, MP3, and CD-A
The SongPicker window provides an easy way to organize, search, and open all of your songs
Export your songs as standard MIDI files, enabling you to play or edit them with other software, etc.
MIDI File Chord Wizard will analyze any MIDI file, figure out the chords, and import chords and melodies
Chord Substitution Wizard will reharmonize a song so you can perform or practice a familiar song in a brand new way
Melody Embellisher automatically adds notes (e.g. grace notes) and effects (e.g. vibrato) to the Melody track, making it more lively and realistic
Use the Reharmonist to automatically develop chord progressions in the genre of your choice, based only on the melody
Jukebox will load and play an entire folder of songs, great for listening, practicing, and live performances
Conductor Window allows complete control of your song while it is playing by pressing hotkeys on your computer or MIDI keyboard"excellent for live performances
Supports the TranzPort hardware device, which allows you to control Band-in-a-Box remotely through walls from 30 feet away
SoundTrack Generator will create royalty-free music of a specified length, for you to use in home videos, presentations, jingles, etc.
Big Piano window displays the notes of any track on a resizable piano keyboard
Animated Guitar Fretboard window displays any track on guitar, bass, ukulele, mandolin, banjo, and violin
Guitarist feature intelligently creates a guitar chord solo based on an existing melody track, using correct guitar fret positions
Guitar Tuner includes a tone generator, a pitch meter, fine-adjustment controls, a hum filter, and much more
Improve your ear using the Interval and Chord Tutor modules in the Ear Training Window
Pitch Invasion is an arcade-style music game designed to teach you to recognize specific pitches from a variety of instruments and octave ranges
Music Replay, another ear-training game, is designed to teach the player to recognize and play back melodies and rhythms
Convenient Practice Window is where many features and add-ons useful to learning can be launched
StyleMaker allows you to create your own new styles from scratch, or edit existing styles
Hybrid StyleMaker allows you to easily make a new style by combining instruments from different styles
StyleWizard automatically creates a style from a MIDI file
MultiStyles can be used which have anywhere from 4 to 24 substyles (average is 2)
MIDI Monitor displays a listing of data received from computer MIDI Input and/or Band-in-a-Box output, useful for educational or diagnostic purposes
Animated Drum Kit Window is an animated, 3D display of a complete drum kit
Use the Big Lyrics Window for a Karaoke style display of chords and lyrics while your songs are playing
Will play through an internal or external MIDI synthesizer of your choice, including DXi and VSTi synthesizers
Many specialized MIDI options are available, which can help you customize it to make the most of your specific MIDI setup
Look can be customized with various chord sheet fonts, colors, floating/dockable toolbars, and more
Vocal Wizard transposes any song to the best key for your vocal range"ideal for vocal practice, karaoke, and live performances
Chord Builder allows you to hear and build chords up by clicking on the root, extension, and alternate slash root, if applicable
Using MIDI Chord Detection, play any chord on your MIDI keyboard, and Band-in-a-Box will recognize it instantly and insert it onto the Chord Sheet
The Transpose dialog has options to automatically transpose live playback to a different key, transpose a song every chorus, and more
Automatically add a smooth fadeout to the end of your song
The Find File feature is a "Swiss Army Knife" that allows you to search for files using keywords
Supports entry, display, and printout of song forms using repeats, 1st/2nd endings, and DC/DS al coda
Track-to-Track Copy dialog allows you to freeze Band-in-a-Box generated tracks by copying them to the Melody track, and more
Multiple options to customize the count-in and metronome sounds according to your preferences.
Descriptive hints and keyboard shortcuts throughout the program, a comprehensive help file and manual, and dedicated customer support help make it easy to use
New-to-the series features
Plug-in mode makes BIAB open as a small, always-on-top window, and acts as a plug-in for your favorite DAW/sequencer so that you can drag-n-drop MIDI and audio (AIFF) tracks from BIAB to your favorite sequencer (Work in your favorite sequencer, type a progression in Band-in-a-Box, and then simply drag the track from Band-in-a-Box to your sequencer's track at the desired track and bar location)
RealTracks generate much faster, 4X faster on average (down from 20 seconds to 5 seconds) generate will generate now in about 5 seconds
If you freeze some, or all tracks, in the song, playback of RealTracks is almost instantaneous
Time for generation of MIDI arrangement is much faster (less than 1 second)
Freezing (locking) MIDI or Real tracks/RealDrums so it won't be changed or re-generated, saving time when replaying previous songs, and allows you to freeze an arrangement that you like
Soloist generated RealTracks are now saved with the song, so you will hear the RealTracks play the same solo when you reload the song
RealTracks now support new features, including Shots, Holds, and Pushes: Simply type in the chords as you normally would, adding periods (...) for shots and holds, and the RealTracks will play them
RealTracks endings have been enhanced, and are now 4-bar endings instead of 2 bar, allowing time for a natural decay of the instruments
Multiple Undo support for up to 999 levels of undo (configurable)
Now all settings are saved with songs, including patches, reverbs, volume etc., so that the song will play the same way each time, without having to set this in the Save With Patches dialog
Reverb control added for individual tracks with RealTracks or RealDrums, so you can easily add reverb (0 to 127) for any RealTrack
Reverb type also settable, and saved with the song
Bass/Treble Tone Control added for individual tracks with RealTracks or RealDrums, so you can easily adjust the bass/treble EQ for any RealTrack (Settings save with the song)
Band-in-a-Box window is now sizable: when size changes, chord sheet, notation, and other windows redraw in proportion to the new size, allowing you to have BIAB open as a small window on screen with other programs, and you still see a full chord sheet
The screen size is remembered between sessions
New favorite songs/styles dialog, with separate lists of recently played and favorite songs or styles: Now there are 2 tabs in this dialog, showing you both recently used songs/styles, and a new list of favorites that you select as a favorite songs or styles (You can add an unlimited number of favorites)
Double time and half-time support for RealTracks added
Tempo swapping of similar RealTracks happens either automatically or manually
If you set "Auto RealTracks substitution based on tempo" to true in RealTracks Settings dialog or Additional Song Settings dialog, BIAB will automatically choose the best one to use
Rendering now has a Normalize option to normalize individual tracks or the complete arrangement, boosting the volume to a maximum level without distortion
RealDrums picker dialog has been enhanced with information about Artist name, Artist bio, and Real Drums Set number
Songs saved as a different name now have the new name added to the Recently Used song dialog
Support enhanced for non-concert instruments (Bb/Eb sax, trumpet etc.) so when chord sheet is transposed, you can type in chords in the transposed key, and they will show up as you have entered them instead of requiring you to enter the chords in the concert key
Rendering songs to audio is now much faster for songs with no MIDI, such as RealStyle
Rendering RealTracks no longer require you to have a DXi or VST in use
More Soloists are now available (up to 2000)
RealTracks Picker dialog enhanced: opens up faster, and New Columns added (tempo swappable, holds type), and column are sizable
Undo added for entry of individual lyrics
'Enter' and 'Close' button added to lyric entry
Lyrics toggle to editable notation view if lyric mode is entered in note roll mode, so that lyrics are visible
And many more
PowerTrack Pro Audio PowerPAK Plus
Up to 48 tracks of stereo recording, with awesome effects and audio plug-ins
"Plug-in" mode, allowing you to Drag n' Drop tracks to another sequencer or DAW
Monitor audio levels with Stereo VU meters for Input and Output.
Full screen Lead Sheet notation display and printout - enter, edit and display music in standard notation with chord symbols, lyrics and a Karaoke style 'Big Lyrics' window
On-screen piano keyboard and guitar fretboard show notes as they are played
Comprehensive support for guitar including tab display and printout and a built-in Guitar Tuner
Cool animated 3D Drum Kit window - play and record the dynamic drum kit with your computer keyboard!
Great Jukebox player with user friendly controls
Conductor - Live Looping/Playback control with over 80 functions
Tempo mapping for free-time MIDI performances
Audio Chord Wizard: automatically figures out the chords from any audio CD track, MP3, WAV, or WMA (Windows Media) file and displays them in PowerTracks Pro Audio
MultiTracks Volumes 1 & 2 included
SPECIFICATIONS
System Requirements
Windows NT/2000/XP/Vista/7
128MB RAM
400MB hard disk space plus 100MB per RealDrum set, and 800 per RealTracks set
PC soundcard
This oversized item has special shipping requirements
Restrictions
true
true
Reviews
Questions & Answers
View All
/pdp/reviews/productReviewsDisplay4.jsp
Loading....
{ "pageType" : "item_page", "placements" : "2", "placementNames" : "OOS,rr2" }