Back to Top

Overview

Jump to Overview

Features

Jump to Features

Warranty

Jump to Warranty

Reviews

Jump to Reviews

true
Zoom
tier1
PG Music

Band-in-a-Box 2011 UltraPlusPAK (USB Hard Drive) (WIN)
false
false
Product

H76036
YUF
true
MMGS7/H76036000000000_MEDIA_SET
false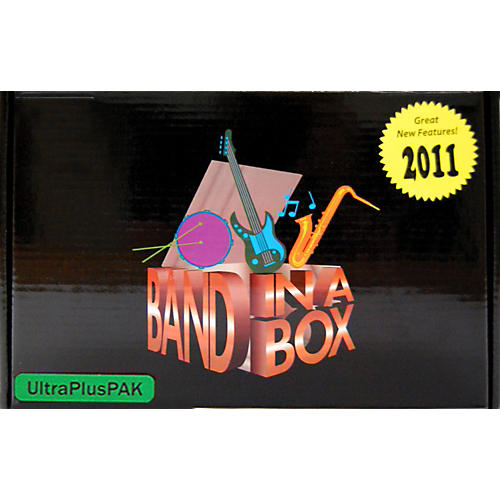 Lowest Price

Ships Internationally
(48 Contiguous U.S. States)
Free
Free Shipping With Backstage Pass
2-Day Standard Ground
{showBrandNameWithProduct=true, download=false, productId=site1prodH76036}
Free Shipping With Backstage Pass

(48 Contiguous U.S. States)
USD
The Band-in-a-Box UltraPlusPAK 2011 Upgrade/Crossgrade from any Version (Windows) is that gives you the opportunity to catch up to the state-of-the-a...Click To Read More About This Product
We're sorry-this item is unavailable.
Find a similar product below or contact our experts for a recommendation of great alternatives. Call us at 800-449-9128.
Customers Also Viewed:
OVERVIEW
Upgrade to the cutting edge.
The Band-in-a-Box UltraPlusPAK 2011 Upgrade/Crossgrade from any Version (Windows) is that gives you the opportunity to catch up to the state-of-the-art! Ships preinstalled and ready to use on a 160 GB USB Hard Drive.

Band-in-a-Box is an intelligent automatic accompaniment program for your multimedia computer. You can hear and play along to many song ideas and go from œnothing to œsomething in a very short period of time with Band-in-a-Box as your œon demand backup band.

Band-in-a-Box is so easy to use!
Just type in the chords for any song using standard chord symbols (like C, Fm7, or C13b9), choose the style you™d like, and Band-in-a-Box does the rest, automatically generating a complete professional-quality arrangement of piano, bass, drums, guitar, and strings or horns in a wide variety of popular styles plus optional live audio tracks with RealDrums and RealTracks.

And that' not all...
Band-in-a-Box is a powerful and creative music composition tool for exploring and developing musical ideas with near-instantaneous feedback.

Over the years many features have been added to Band-in-a-Box " Notation and Lyrics, Piano Roll, 16-channel MIDI Multitracks, Harmonization, the StyleMaker and StylePicker, a live performance Conductor window, Medley Maker, and 24 "substyle Multistyles. The Soloist and the Melodist are popular œintelligent features that generate professional solos or even create whole new songs from scratch. RealDrums adds the human element of a live drummer while RealTracks add even more live session musicians, bringing the entire Band-in-a-Box arrangement to life. The Audio Chord Wizard has the amazing ability to analyze, extract, and show the chords from audio recordings on-screen and then write them to the Band-in-a-Box chord sheet.

The inclusion of digital audio features makes Band-in-a-Box the perfect tool for creating, playing, and recording your music with MIDI, vocals, and acoustic instruments. Band-in-a-Box for Windows can also record an acoustic instrument or voice to add to the composition, with processing through its own DirectX audio effects. Its built-in TC Helicon audio harmonies will turn your audio track into multiple harmony parts or adjust its pitch, with vibrato and scooping effects for realistic vocal styles and up to sixteen choral parts.
You can print out your finished creation with lyrics, chords, repeats and endings, DC markings and codas, or save it as a graphics file for web publication or to e-mail to a friend. And when you're ready to let others hear your composition, you can burn it directly to an audio CD. Or save your composition as a Windows Media File (or in any other compressed formats you have) for a file that' œInternet ready.

You'll have even more fun making automatic medleys, playing your favorite song lists in the Band-in-a-Box Jukebox, and singing along to your Karaoke files with CDG graphics.


Band-in-a-Box 2011 has over 50 new features and enhancements!
There were over 90 new features added in Band-in-a-Box 2010 & 2010.5, and now version 2011 adds more than 50 more! These include tons of RealTracks enhancements, increased file format support, support for the Band-in-a-Box iPhone App, and more!

The new features in Band-in-a-Box 2011 for Windows are...
Band-in-a-Box has made big improvements to the sounds of the RealTracks, so that they sound more natural over a much wider range of tempos with the lastique Pro V2 time stretching engine by zplane.development. These improvements are built-in, so there's nothing you need to do to get them working. Your existing songs will just "sound better" over a much wider range of tempos. Please watch the demo videos for audio examples of the improvements.

The size of the RealTracks is much smaller so that they now only take up 30% of the space that they used to. After you install the program, you can run the feature in the RealTracks Settings dialog (Preferences), which will shrink the size of your RealTracks folders. The previous Band-in-a-Box 2010.5 "Everything Pak" had 100GB of RealTracks; this now shrinks to 30GB. The Audiophile version also shrinks by 70%, so that it is only 30% of the previous size. And the audio fidelity is improved, since it sounds better over a much wider range of tempos with the lastique Pro V2 time stretching engine!

iPhone and Android versions of Band-in-a-Box are now available from the Apple App Store and Android Market. These apps work by connecting to your Windows desktop version of Band-in-a-Box 2011 and allow you to generate, play, and save songs on your iPhone, iPod touch, iPad, or Android device. And your generated songs have the same high quality RealTracks sound.

If you have a copy of Band-in-a-Box 2011 for Windows, then with the iPhone or Android version you can:


Quickly transfer your existing library of songs from BB Desktop to BB iPhone, including chordsheets and audio (M4A). See the chordsheets and play the songs anytime on your iPhone, without re-connecting to the Band-in-a-Box desktop.
Enter songs from scratch on your BB iPhone by typing in chord symbols to the song.
Generate audio on your BB iPhone for the songs by pressing play. The songs play on the iPhone and are stored on the iPhone as M4A files. This connects across your home network (LAN) or the Internet (from anywhere) to your desktop version of Band-in-a-Box.
Send songs from BB iPhone to BB Desktop.
The iPhone version communicates with Band-in-a-Box for Windows using a utility program called Band-in-a-Box Server (c:\bb\bbhelper\BandinaBoxServer.exe). This program runs in the system tray (lower right of Windows taskbar).
The iPhone version will see the "BB2Go" folder (c:\bb\BB2Go). Any Band-in-a-Box songs that you put in this folder are visible to the BB iPhone. You can send files back and forth from BB iPhone to Band-in-a-Box for Windows, and the files go to the BB2Go folder.
You can add audio to the Band-in-a-Box files in the BB2Go folder from the Band-in-a-Box Windows menu with the BB2Go command, and select the files that you want to have MP4/M4A audio added. You can also generate the audio from the iPhone version.
Note: These features require QuickTime for Windows to be installed, which you can download from www.apple.com.
Band-in-a-Box has more documentation for the iPhone and Android versions.

Important: You need to also have a copy of Band-in-a-Box 2011 (or higher) for Windows to use this app fully! Band-in-a-Box for iPhone (BB iPhone) is an app for iOS devices including iPhone, iPad, and iPod touch. The Android app is an app for Android enabled Smarphones and Tablets. The apps are meant to function as a client to the regular Band-in-a-Box desktop version. If you don't own a copy of the Band-in-a-Box Desktop software, the usefulness of the BB iPhone version will be quite limited.
Band-in-a-Box has added a huge number of new RealTracks (101), with great new Jazz, Pop, and Country Styles.
33 New Jazz RealTracks!
Jazz Swing Piano comping and soloing with NY Jazz great Mike LeDonne.
Vibes Swing/Bossa comping and soloing with Steve Nelson.
Gypsy Jazz: John Jorgenson (guitar), Gonzalo Bergara (guitar), Tim Kliphuis
(violin), Simon Planting (bass), and Rick Reed (drums).
Smooth Jazz Piano Soloing from Jeff Lorber.
Smooth Jazz Guitar with Dwight Sills.
Swing Jazz Guitar with Oliver Gannon.
...and much more!
Plus, existing Jazz RealTracks have been enhanced with more natural phrasing (more pushes), better playing over non-Jazz chords (triads), better playing over m6 and 6th chords, RealCharts notation for some Acoustic Bass parts, and options for "simpler" playing in some RealTracks (e.g. Acoustic Bass Jazz Swing).
35 New Pop/Rock/Folk RealTracks!
Celtic (Irish) Jigs and Reels: Guitar, Piano, Bass, Bodhran (percussion)
Reggae: Guitar, Organ, Bass, Drums
Calypso: Guitars (2), Accordion, Bass, Drums.
Pop Waltz, Hard Rock Waltz, and more.
Brent Mason Pop/Rock Guitar Soloing (3 styles).
...and much more!
33 New Country RealTracks!
Praise and Worship: Styles: "Shining" and "Uplifting" - 14 RealTracks (Piano, Synth, Bass, Guitar, Drums).
Brent Mason Pop/Rock Guitar Soloing (4 styles).
Tex Mex Styles: "2-beat" and "Country" (Accordion, Bass, Guitar, Drums).
...and much more!
Many more new features in Band-in-a-Box 2011!
Change of RealTracks Styles at any Bar. With previous versions of Band-in-a-Box, you were limited to one RealTracks style per song. Now you can change styles with RealTracks at any bar. Just select the style in the Edit | Edit Settings for Current Bar dialog. For example, switch from Jazz Swing to Bossa style at any bar.
MultiStyles (with up to 16 substyles) can now be made with RealTracks.
Change of individual RealTracks instrument can be added to any track at any bar. You can insert a specific RealTracks instrument at any bar to create a customized performance.
Soloist "Medleys," where the RealTracks is made to switch instruments every "N" bars or every chorus. For example, you can add a Bluegrass Medley Soloist that switches between solos from Mandolin, Guitar, Banjo, and Fiddle every 4 bars. Or a Jazz Medley Soloist that switches between Alto Sax, Trumpet, Piano, and Guitar solos every chorus. Or insert "Silence" as one of the instruments, which allows you to play your own instrument. Use the pre-existing Soloist Medleys that we make by simply choosing a RealTracks, or create a custom one yourself on any track.
Multiple RealTracks at the same time on the same track. You can add up to 10 RealTracks to play simultaneously on the same track. This is useful if you want to generate a lot of RealTracks, the theoretical limit would be 7 tracks x 10 per track = 70 RealTracks instruments playing at the same time.
Re-Generate part of a Soloist track, without erasing the existing part. This allows you to customize your Soloist track by regenerating parts of the solo with the same or different RealTracks. For example, generate a 4-bar clarinet solo at bar 9. Then generate an 8-bar flute solo at bar 49. The file plays back with both solos intact.
Options to auto-replace MIDI styles with RealTracks styles. If you have made a lot of songs using older MIDI styles, and would prefer that they play with RealTracks, you can now do this easily by selecting the menu option Styles | Auto Replace MIDI styles with RealTracks. Then, if you have the needed RealTracks installed, your MIDI style will be intelligently replaced with a RealTracks style. There is also a manual option to do this on as-needed basis, disable the feature for a certain song, or to reverse it if you prefer the MIDI style.
"Triple-Time" RealTracks have been added. These allow you to use fast waltz RealTracks as slow 4/4 RealTracks (with a 12/8 feel). We have made some new 12/8 RealStyles that use this feature.
RealTracks can be made as Half-Time/Double-Time/Triple-Time, so it is easier to select them, and they show up in the RealTracks Picker with tempos indicating when they can be used. For example, Alto Sax, tempo 140 will also show up in the RealTracks picker as Alto Sax, tempo 70 [Double-Time] so you can easily choose it.
Any RealTracks can be made as a "Bluesy" RealTracks by selecting this checkbox in the RealTracks Picker. "Bluesy" RealTracks will play more using blues scales (e.g. Bb note on a C chord).
RealTracks sound more "musical" when stretched to extreme tempos. In addition to the major audio improvements when tempo is stretched by lastique Pro V2, the RealTracks soloists sound more musical when stretched to extreme tempos. This is because musicians tend to play more ahead/behind the beat at slower/faster tempos. This is a done automatically.
New "Practicing" Feature: Change tempo of all loaded songs by X. When this is set, song tempo will be increased (or decreased) by the specified amount, allowing you to "bump up" all of your tempos easily when practicing lots of songs, or in a jukebox mode.
Option to change all songs in a folder to your Default Mix. This would insure that all of your songs have the same mix of Volume, Reverb, and Pan settings.
MP4 and M4A files are now supported. MP4 and M4A files are the popular high-quality format used by Apple in iTunes. These MP4/M4A features require QuickTime for Windows to be installed from www.apple.com.
You can open MP4/M4A files in Band-in-a-Box using File | Open.
You can save (render) files as MP4/M4A using Drag-and-drop (DAW) from the Combo button to the Windows desktop (or to the Drop button at the top left of the Band-in-a-Box main screen). You can also save from the SoundTrack window, or the Render to Audio dialog (.WAV button).
Scales Wizard added. When students are practicing Jazz tunes, it is helpful to see the scales that are used for each chord. The Scale Wizard allows you to easily generate these scales, which appear as notation on the Soloist track. Options include Instrument Range, Patch Selection, Jazzy Mode (will use Lydian dominant scales for some 7th chords), and Diatonic Mode (keeps scales relative to the song key). Menu items on the Soloist menu allow you to generate scales for a certain song, or generate them for all loaded songs. View the scales in the notation or the on-screen guitar and piano.
StylePicker Enhancements
New StylePicker Filters show you only the styles that match your search terms. These help you to select the style that you want, by allowing you to specify:
Even/Swing feel,
8ths/16ths,
tempo range,
# of instruments,
specific instruments (e.g. styles with "Banjo"),
specific RealTracks Artists,
RealDrums Artists,
Real styles or MIDI styles.
For example, if you are searching for a Jazz Ballad style that is all RealTracks, has bass, drums, and guitar, works for a tempo of 60, with Swing 8ths you can set this filter and then only see styles that match these criteria, instead of a list of thousands of styles.
New StylePicker Columns added
# of instruments in style, e.g. 4.
Whether any required RealTracks, RealDrums are not installed, e.g. NA.

Whether a RealTracks substitute for a MIDI style is available, e.g. sub.
The StylePicker display is wider on bigger monitors.
Auto-Generated style memo added for each style. This lists names of all instruments, # of instruments, RealTracks/RealDrums used, whether any required RealTracks or RealDrums are missing, and more.
Other New Features include:
Easier Entry of Guitar Notation on Notation Window. If you hold down the number keys 1-6 as you click on a note, then the note will get inserted on MIDI channels 11 to 16, which are the guitar strings from high E to low E. If you also hold down the Q key, the note gets inserted as a bend. You can also click on notes on the guitar to insert guitar notation when in Editable Notation mode.
RealCharts Notation and the Guitar fretboard are improved for some guitar styles (e.g. Brent Mason). Now you can see bends in blue on the guitar fretboard.
RealDrums pushes are quieter, and RealDrums pushes and shots velocities are now adjustable in the RealDrums Settings dialog.
You can now get a list printed out of current contents of the RealTracks Picker dialog. Hold the Shift key and press the [Update] button.
Playing from a certain bar in a certain chorus is faster, as the right-click menu now shows the chorus options without a submenu.
The Select Soloist dialog has a [Show All] button that removes any filters.
The Soloist Editor dialog now allows editing of many RealTracks parameters.
On the first run of Band-in-a-Box, the program will auto-hook up to Coyote Wavetable, without requiring the user to visit the MIDI Drivers dialog.
Audio-related "BT0" files are no longer generated (which was a time consuming procedure when using the audio track, or Audio Chord Wizard). Now "BT1" files get generated, which are generated very quickly.
Render options for individual wave files. Instead of always making stereo files, there is an option to match the stereo/mono type of the original RealTracks file.
RealBand 2011 - cool new features and enhancements!
RealBand 2011 is more powerful and easier to use than ever, and now it sounds better than ever too.
Big improvements have been made to the sound of the RealTracks with a new lastique Pro V2 time stretching and pitch transposition engine so that they sound more natural over a much (3x) wider range of tempos. And we've made the size of the RealTracks much smaller, so that they now only take up 30% of the space that they used to. The new version will shrink the size of your existing RealTracks too, so that you can free up lots of space on your drive.
Plus...
You can now have RealTracks styles changes within a song, and generate Soloist Medleys " solos that play RealTracks instruments during the solos. Soloists can now have a "bluesy" setting.
RealCharts have been added, so you can see, and print, notation for the RealTracks you generate.
There are lots of improvements to the StylePicker, including additional columns of information, new filters, auto-generated memos, and the ability to use Band-in-a-Box MultiStyles (up to 16 substyles) with RealTracks.
There are new MIDI and audio transpose options for key signature changes, replacing the previous Yes/No dialog for MIDI transpose. Tempo changes are easier too, with improved audio time stretching from the new lastique Pro V2 time stretching and pitch transposition engine.
You can now generate MIDI solos and MIDI harmonies, and also add audio harmonies to audio tracks using the built-in audio harmonies feature in Band-in-a-Box and PowerTracks Pro Audio.
Plus there are lots of helpful improvements like clicking on the Chorus Start/End buttons to assign the bar number, updated fly-by hints including volume and pan settings in the fly-by Track window hints, a new "Mini-View" mode for the Track window, support for long track names and long Band-in-a-Box style names, and many more!
FEATURES
Band-in-a-Box UltraPlusPAK includes:
Band-in-a-Box
RealBand
All RealTracks Sets 1-136 & RealDrums Sets 1-29
All Style Sets 0-77
Soloist Sets 1-11 & 16-20
Melodist Sets 1-8
Ships preinstalled and ready to use on a 160 GB hard drive
Have a backup band whenever you need it!
SPECIFICATIONS
System Requirements:
Windows 2000 / NT / XP / Vista / 7 (32 or 64-bit)
Minimum 512 MB RAM
Hard Disk space: Minimum 400 MB for the main Band-in-a-Box and RealBand programs. More space is required for RealTracks, depending on which package you buy...
RealTracks & RealDrums: 100-400 MB per set
Pro RealCombos: 2 GB
MegaPAK RealCombos: 6 GB
Full UltraPlus/EverythingPAK when installed to internal hard drive: 40 GB
Hard Drive versions of the EverythingPAK or UltraPlusPAK do not require any hard disk space when run directly from the external hard drive they are shipped on.
DVD drive for shipped versions of the MegaPAK or Pro version.
Sound card or MIDI module
This oversized item has special shipping requirements
Restrictions
false
{ "pageType" : "item_page", "placements" : "2", "placementNames" : "OOS,rr2" }