Buying Guide:Charvel Desolation DS-1 ST and DS-2 ST Electric Guitars
Welcome to the Desolation Nation
By Tom Foster, Contributing Editor, Harmony Central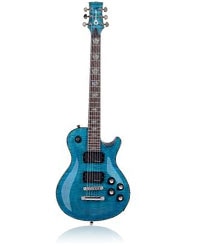 Why is it that your first electric guitar often tends to be your most forgettable? The only thing I remember about my first guitar is that it had strings like a cheese cutter and came with a beaten-up case. It took many years of trading and selling before I finally could afford my first decent electric. Charvel Guitars has found a way to break this dubious tradition with its Desolation guitar series, a line of electric solidbodies aimed squarely at the rock and metal markets. Recently I had the opportunity to try out two of the first models, the Charvel Desolation DS-1 ST and DS-2 ST single-cutaway guitars. I was extremely impressed—the Desolation guitars are amazing, providing options galore and incredible playability, all at a great price.
Tradition of cool

To fully appreciate the lineage of the Desolation guitar line, you have to know a little about Charvel history. Set the way-back machine to the late 1970s, when Wayne Charvel started up as the ultimate mod shop catering to the likes of Eddie Van Halen, Warren DeMartini, and many other rock gods. Wayne was the go-to guy for these top players, who would have Wayne swap out necks, pickups, and anything else in an effort to carve out their individual sounds.
Today Charvel continues to be the hot-rod of guitar vendors, offering both standard production models and premium custom shop guitars. Amazingly, many of the people who worked in the custom shop in the 1980s are still crafting guitars in Charvel's custom shop today. The lineage of quality and pride in the craftsmanship continues.
You've got options

To bring the new guitarist to Charvel, the Desolation line offers a variety of options while keeping to a low and competitive price point. First, you can choose a mahogany body style in single-cutaway, double-cutaway, or Skatecaster models. Each style offers a scalloped heel, allowing easy access to the upper regions of the fretboard.

Then you can pick your colors from flat black and white to transparent red, black, and blue stains on a flamed maple top. I found the flat black especially nice with its silky, stylishly classy look.

Next you select a neck style from either the low-cost bolt-on neck to the top-of-the-line neck-through models. Each of the necks are solid mahogany with a rosewood fretboard and beautiful abalone binding on the neck, body, and headstock. If that weren't enough, the neck-through Charvel Desolation models offer the option of a Floyd Rose tremolo.

Active pickups

To help further craft that high-end metal sound, the Charvel Desolation series uses active pickups on all models. At the high-end, with the Floyd Rose and neck-through models, you'll find Seymour Duncan Blackout active pickups (AHB-1B and AHB-1N for bridge and neck, respectively), while other models sport either EMG-85/81 or Charvel's own Custom Active Pickups (which appear on the entry-level single-cutaway bolt-on model).

That's one sweet neck

Yet where the Desolation line of guitars truly shines is in its amazing neck. According to Charvel, the one place that was critical in the development of the Desolation series was the neck—and it shows. The necks on all the Desolation guitars use a hybrid, compound-radius design, where the neck starts with a 12" radius at the nut and gradually widens out to a 16" radius at the 24th fret.

The neck profile is a thin D shape that is ideal for spinning out blinding fast runs, twisty phrasing, and super dexterous shredding. Another plus on the necks is that they all have a smooth, natural finish that is lightly oiled, just enough to seal the wood, giving the neck an instant "broken-in" feel and facilitating quick left-hand movement.
   
In session

As the Desolation guitars are very scarce (for now, so early in their introduction), I headed over to Charvel headquarters to test drive two models, the DS-1 neck-through and DS-2 set-neck single-cutaway guitars. The first thing you feel is the weight of these Charvel guitars—not too heavy, but with enough heft to feel substantial and provide sustain. The neck on each of the Desolation models is truly a thing of beauty. The hybrid neck is amazing, allowing you to move effortlessly from open chords at the neck to blazingly fast runs all the way up the fretboard.

A great first guitar

I truly wish the Desolation guitars were around when I was ready for my first guitar. The craftsmanship is flawless, and the feel and options for this series are amazing—especially at these prices. If you are watching your budget, but are still ready for a professional guitar that builds on decades of custom guitar expertise, then you owe it to yourself to rock out with the new line of Desolation guitars from Charvel.
Charvel Desolation DS-1 and DS-2 Features:
Mahogany body with flamed maple top and transparent colors
Single-cutaway shapes (double-cutaway and Skatecaster body also available)

Carved top

Rosewood fingerboard

Compound-radius fingerboard (12" to 16")

Seymour Duncan AHB-1B and AHB-1N active pickups (DS-1)

Desolation Active Pickups (DS-2)

Locking Charvel tuners (non-locking on single cutaway models)

Floyd Rose-equipped models available
For a great hard-rockin' solidbody electric that blends a history of craftsmanship, awesome tone, and a low price, check out the Desolation series from Charvel. Order today from Musician's Friend and get our 45-Day Total Satisfaction and Lowest Price Guarantees.