Buying Guide:Fano Guitars Alt de Facto JM6
Jazzy classic
By Russ Kent, Contributing Editor, Harmony Central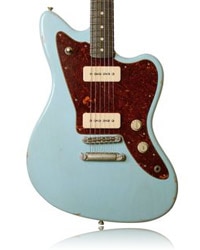 Great art can come from strange places. Who knew, back in the day, that one of the most appealing qualities of a brand-spanking new handcrafted guitar would be that it looked like it had been run over by a tour bus with a chemically assisted roadie at the wheel? Yet the seriously distressed finishes of Fano Guitars' Alt de Facto creations reflect the topnotch craftsmanship evident across the company's entire line of hybrid instruments. These guitars capture vintage looks and feel augmented by the finest components and options.
There is method in designer Dennis Fano's finish-mangling madness, and a few days spent with one of his guitars is a lesson in how unique styling and uncompromising build quality can combine to produce a perfect instrument for any musical style or situation. No wonder they're played by artists as diverse as Chris Difford, Johnny Marr, and Pete Yorn. My first Fano fun came with the JM6, a "beaten up" beauty that evokes a Jazzmaster with Les Paul hardware and pristine soapbar tone.
Look and feel

The JM6 guitar, like all the Alt de Facto guitars, uses a mix of the highest-quality woods and hardware in thoughtful combinations. The model I received was built around an alder body with a maple neck and rosewood fingerboard sporting dot inlays. The uniformly aged nickel hardware featured Gotoh Kluson tuners on the inline headstock, TonePros Tune-O-Matic bridge and stop tailpiece, and custom Lindy Fralin P-90s. The pickup covers, three-position toggle (upper horn), and control knobs were a stylish black. The tone control was a notched ToneStyler.
The nickel and black accents were a great complement to the nitrocellulose-lacquer finish on my review model. The JM6 distressing is subtle when viewed from the front (Note: the amount and nature of distressing will vary from guitar to guitar). The most obvious "flaws" on this review guitar are on the back and neck, and the calculated deterioration of the neck is what makes the JM6 one of the finest electrics you'll ever play. At the same time, the meticulous carving of the headstock and neck end is thoroughly modern. Just look at the parallel contouring where the neck, body, and four-bolt plate are joined.
Playing around

There was little doubt when I strapped on the Fano JM6 guitar that its road-weary appearance accompanied a fully fresh, tight, and expertly machined axe. The guitar was as light as a Strat, thanks in part to the alder body, and the 25-1/2" scale was a natural comfort zone for me. Best of all, the silky-smooth neck with its narrow C-shaped profile, which fades from newly finished gloss at the middle of the first fret and returns to it at the 12th, was the most playable I've encountered in a new guitar. The instrument felt like an old friend when I barely had it out of the box. The Fano guitar was perfectly intonated as well; the medium-low action was ideal for the Dark Horse 10 set that came on the guitar.
Sonically, the Fralin P-90s were a kick—just the right mellow roll-off of single-coil bite in the rhythm channel of a Tone King Imperial combo tube amp. The JM6 can create the bite of a Strat when strings are popped aggressively, or become a mellow backup instrument without sinking in mud. The Stellartone ToneStyler control is a great match for the Fralin P-90s, bringing out all the nuances of the pickups' bottom end at different stops on the knob without any loss of clarity—like an active circuit but with no batteries required. With its bridge P-90 switched on and some judicious overdrive, I could crunch chords or wail on solos in that sweet tonal spot between Les Paul heft and Fender clarity.
Distressingly awesome

The Fano JM6 is a beautifully made electric guitar whose quality is self-evident before it's plugged in. It combines some of the greatest features of vintage single-coil designs with modern components maximized for durability, playability, and tone. Its painstakingly pummeled patina is a great way to associate it with the greatest classic axes that have been to hell and back for art. But the JM6 is an art unto itself in playability, tone, and features. Don't hesitate to check out this swan of an axe.
Features & Specs:
Alder, swamp ash, or mahogany body

Front and back contours

Maple neck; rosewood fingerboard

25-1/2" scale; 22 frets

1.65" nut width

7.25"–9.5" compound radius

6105 fretwire

Early-'60s C-shaped profile

Aged nickel hardware

Gotoh Kluson tuners

TonePros Tune-O-Matic bridge and stop tailpiece

Custom Fralin P-90s

Volume, ToneStyler, 3-way toggle

Distressed nitrocellulose lacquer finish

Dark Horse strings (.010–.046)

Includes hardshell case

Choose Sonic Mary or candy apple red finish

Several upgrades/options available
Call our Private Reserve experts, Chris and Scott, for more info at 800-343-9795.
Check out the vintage styling, playability, tone, and craftsmanship of Fano Guitars' Alt de Facto JM6. Order today from Musician's Friend and get our 45-Day Total Satisfaction and Lowest Price Guarantees