Buying Guide:Olympus LS-20M Linear PCM Recorder

An innovative video/audio recorder that's ideal for musicians
By Jon Chappell, Senior Editor, Harmony Central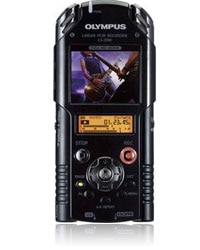 Olympus is an established player in consumer electronics and cameras, but they recently entered the professional music arena with the release of their high-quality, musician-oriented, hand-held LS-10 audio recorder. Building on that success, Olympus has again captured the attention of discerning musicians with their LS-20M Linear PCM Recorder—a hand-held, dual-mode audio/video recorder. It features several technological and design innovations that will have particular appeal to musicians and other creative chroniclers who require quality multimedia content from their hand-held device.
Overview

The Olympus LS-20M is a slim, sleek, lightweight (5.4 oz.), and handsome recorder & player that looks more like a stylish smartphone than the bulkier, boxier video recorders already on the market. It's both a high-definition video camera and high-resolution stereo audio recorder, and you decide the function by sliding a mode switch on the unit's edge. It sports two very readable displays—a larger, 2" square for viewing video and navigating the unit's interface, and a 1.4" horizontal amber-lit readout for metering, elapsed time, and other data. All transport controls are clearly labeled and nicely placed, making it a snap to operate with one hand (using your thumb for all the button presses), with the controls spaced widely enough that you won't hit the wrong button—even in the dark or when you're watching your subject and not the front panel.
The portable recorder is powered with a lithium-ion battery that can be charged via AC or a computer's USB port (handy when an outlet isn't near but your laptop is). The battery offers over an hour of continuous video recording and over an hour of continuous audio recording, with longer times for both in playback so battery life is a non-issue. The LS-20M ships with a 2GB SD card that will hold three hours of CD quality or 16 hours of MP3 files, 30 minutes of 720p video, or one hour of 640x480 video. Of course, you can add your own higher-capacity cards.
Connections

In addition to the battery, the LS-20M features other connections and access points into and out of the unit, including stereo Mic in, stereo Ear out, a Hold/Power switch (a lock that keeps the unit always-on or always-off), the aforementioned video/audio mode switch, an SD card slot (covered by a hinged door), an onboard speaker, a remote jack (for plugging in the optional RS30W remote), and USB 2.0 (cable included) and HDMI ports. There's a threaded collar for mounting the unit on a desk stand or tripod—very handy for recording set-and-forget performances.
A la mode

As noted, the Olympus LS-20M is a full high-definition/high-resolution recorder that goes up to 1920x1080p/30fps for video and 24-bit/96kHz for audio. Of course, lower-resolution modes are available for conserving storage space and battery power, or for online destinations like Facebook, iTunes podcasts, and YouTube. Each of the three video settings (1920x1080p, 1280x720p, and 640x480p, all at 30fps) can have an audio setting of 24-bit/96 or 88.2kHz, 16-bit/48 or 44.1kHz (CD format). This means the LS-20M is just as at home with audio-for-video modes as it is for traditional digital audio. In addition to the three high-res audio formats, the audio-only mode includes two MP3 settings, 320kbps and 256kbps (both at 44.1kHz). As an audio person, I never record anything lower than 256kbps (even spoken-word material), and 320kbps is considered the CD-equivalent, so Olympus has chosen wisely here by including the two most important and popular resolutions in the MP3 domain.
Features

Several features make the LS-20M recorder special, including a 4X digital zoom, an image stabilizer, and a low-cut filter (for eliminating stage rumble and wind), among others. Beyond its excellent audio and video capabilities as a straight-on recorder, the LS-20M can be used as a webcam. By simply connecting the unit with a USB cable, your computer will instantly recognize the LS-20M as a Mac/PC platform-compliant (no additional drivers or software needed) camera, allowing you to use it seamlessly with Skype, Google Talk, or other programs that support a video stream. And if looking good is a concern (and who doesn't want to look good?), you're much better off with the quality offered by the LS-20M than some $29 orb you clip onto your monitor.
You can do magic

Also unique to the LS-20M are the Magic Movie settings—four special effects or filters that stylize your videos in distinctive and artistic ways. "Pop" adds brilliance and saturation to the colors, but not at the expense of natural-looking skin tones. "Rock" gives your vids that "poster-ized" look by super-saturating the blacks with a choice of blue, green, or magenta. (I especially liked the blue effect!) "Pinhole" is named for the vintage photography technique where the area around the center is darkened slightly (and the edges softened), giving a glowing effect to the subject. This is particularly good if, say, you want to highlight a soloist on a wide, well-lit stage. The fourth filter is "Sketch," a rotoscope-style effect where the objects are turned into animated pencil-sketch outlines, as in the 1980s video Take Me On by the Norwegian synth-pop band A-Ha.
Ready . . . action!

The LS-20M's boldest innovation is positioning the lens of the video camera so that it points out of the top of the unit—parallel with the mics on the side of the unit. The camera's view is thus aligned with the directional stereo microphones' pickup pattern, making for a very intuitive recording experience: Just point the unit wherever the focus is, the same as you would with a flashlight. The lens of the camera captures, on-axis, what the stereo mics hear, and vice versa. Olympus understands that people sometimes hold cameras over their heads to "get a better view," and so provides a "Reverse Angle Recording" view that inverts the image so it's right-side up when viewed from below. Clever.
The quality of the video is amazing: bright, deep colors without evidence of overexposed or blown-out highlights, and crisp focus. The camera also does well in low light situations, which is especially important for musicians who frequently perform in clubs. In the low-light open jam I attended, the LS-20M produced clear and balanced images, displaying very low graininess. Its audio quality and features are outstanding—which isn't surprising, as "Linear PCM Recorder" is built into the unit's name. As an audio-only recorder, the LS-20M was indispensable for rehearsals, interviews, voice logs of my daily routines and writing efforts, and other audio duties. The interface, and particularly the file-management system, is topnotch, allowing you to organize, split, and trim files while right in the recorder.
Conclusion

The LS-20M is as strong as a video or audio recorder, and its multiple resolutions in both video and audio domains allow you to optimize the unit for any situation. If you're a musician looking for one recorder that will handle both your video and audio recording needs, the LS-20M offers high quality and a wealth of features in one slim, professional, and affordable unit.
For an outstanding hand-held recorder that excels equally in the video as well as audio domain, check out the Olympus LS-20M Linear PCM Recorder. Order today from Musician's Friend and get our 45-Day Total Satisfaction and Lowest Price Guarantees.