Buying Guide:Tone King Imperial Combo

Regal tone
By Russ Kent, Contributing Editor, Harmony Central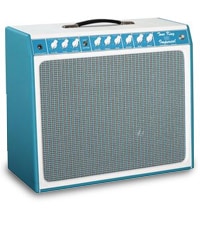 Amplifier makers frequently chase the holy grail of tone: the beloved sound of the tweed and blackface tube amps made by Fender® in the 1950s and '60s. Some companies succeed at the quest better than others, and a few manage to bring their own impeccable style to their recapture of the classic crunch and bite associated with those classic amps. Tone King's Imperial Combo succeeds at both tasks, evoking the classic vibe of a vintage Deluxe Reverb (while adding some cool circuitry of its own) and attracting eyes as well as ears with a cool turquoise, blazing red, or black cabinet with white accents. It's a great combination of vintage tone and modern design.
Ground up

The Imperial Combo is a 20-watt, 1x12 amp with the size, shape, and grille cloth of a classic Deluxe Reverb, but cosmetically the similarities end there. The turquoise (or black or red) vinyl side coverings and control faceplate are offset by a white top, grille trim, and chicken head knobs, making for a visually distinctive amp you can spot from across a coliseum.
The amplifier section features separate lead and rhythm channels enhanced by a tremolo section and a built-in spring reverb, bolted to the bottom of the open-back cabinet and covered in black vinyl, as you would expect from a faithful homage to the Deluxe Reverb. A single instrument input sits to the left of the front panel, followed by the lead-channel controls (Volume, Tone, Mid-Bite); a classic toggle switch for selecting channels; the rhythm channel controls (Volume, Treble, Bass); the Reverb level control; and the tremolo section (Speed, Depth). The Tone King emblem and a power and standby indicator (light gray when in standby) complete the front panel.
The rear panel hosts just what classic-amp lovers would expect: power cable receptacle, two-amp fuse holder, power and standby toggle switches, quarter-inch jack with connected cable to the internal speaker, and a footswitch input. A Tone King "33" speaker (eight ohms) outputs 30 watts maximum RMS. The amp uses four 12AX7 tubes and a 12AT7 on the preamp, two 6V6 tubes at the output stage, and a 5AR4 rectifier.
These familiar components are selected and installed by designer Mark Bartel. Bartel's detailed specifications apply to speakers and transformers obtained from outside suppliers, and upon a close inspection, the quality of each part is obvious, down to the stainless-steel hardware in the chassis and military-spec components inside.
Amped up

The Imperial was a blast to play through, in more ways than one. I initially plugged in my three-pickup Telecaster Nashville to take the amp through its paces and was wowed by the first notes after the amp warmed up. The clean but warm rhythm channel instantly brought back memories of my old '60s-era Princeton Reverb, but with the extra power of the Deluxe and the advantages of modern components: smooth reproduction and full control of tonal variations without unexpected distortion. The five-position selector of my Tele let me try endless variations of country lead lines and chords using the rhythm channel, and when I wanted some crunch strumming, the channel responded beautifully at full guitar output.
The spring reverb, driven by the 12AT7 driver and 12AX7 receiver tubes, was a ringer for the classic echoes of mid-century Fenders, but with the smooth in-and-out of modern circuitry; while the tremolo section, which modulates the bias current of the output tubes (as opposed to the opto-coupler method used in the Fender blackface-era amps), was a big improvement in depth and clarity over the vintage designs. You couldn't ask for more in a "clean" channel.
When I switched to the lead channel, the Imperial's versatility became obvious. The Mid-Bite control is the Imperial's secret weapon—it completely transforms the overdrive character. I was able to reproduce distortion as complex as Hendrix's bluesy neck-pickup Strat leads and Pete Townsend's crank-'n'-spank specials with ease, thanks to the Mid-Bite control. I switched to a dual-humbucker Godin solidbody and was knocked out by the overdrive as I cranked the Mid-Bite. The amp seemed to change personalities as it modified distinct-attack crunch into heavy sustain, sounding more like a Marshall on early Clapton or metal solos. The cathode-biased output stage created a natural compression that kept every tone in check as bottom increased and brightness was modulated.
King of combos

The Tone King Imperial amp gets everything right and in a completely first-class way. Despite the bright colors, this amp is all business, and can go as dark as you would ever want to in a small club or studio. Its components are unassailable, and its tone is unbeatable. It's a great amp for recording and will handle any signal—from ultraclean to heavily processed—and reproduce it exactly as you instruct, the first Imperial to take orders from the axeman. This is an amp that will repay its investment with many years of flawless and fantastic tone.
Features & Specs:
Output power: 20W

Speaker: 12"

Output tubes: 2x6V6

Preamp tubes: 4x12AX7, 1x12AT7

Rectifier tube: 5AR4

Preamp channels: 2 (Rhythm, Lead)

Rhythm channel controls: Volume, Treble, Bass

Lead channel controls: Volume, Tone, Mid-Bite

Reverb: Tube-driven, full-size 2-spring pan

Tremolo: Bias modulation type

Footswitch: Included; controls both channel switching and tremolo

Finger-jointed birch

Weight: 30 lb.

Dimensions: 22"W x 19"H x 10"D
Check out the amazing tone, style, and build quality of the Tone King Imperial Combo. Order today from Musician's Friend and get our 45-Day Total Satisfaction and Lowest Price Guarantees.