Alan Parsons
Engineer for Pink Floyd's Dark Side of the Moon
This month's cover feature is a bit of a departure from our normal artist coverage. We arranged to have esteemed producer, engineer, and artist Alan Parsons visit the home studio of Musician's Friend customer Adam Fazel and give him detailed recommendations on how to improve his setup. We also threw in $5,000 to help Adam implement Alan's suggestions. It all made for an exciting foray into bringing a highly successful and influential professional into your world, and Alan's recommendations will certainly help any home recordist.
Featured Gear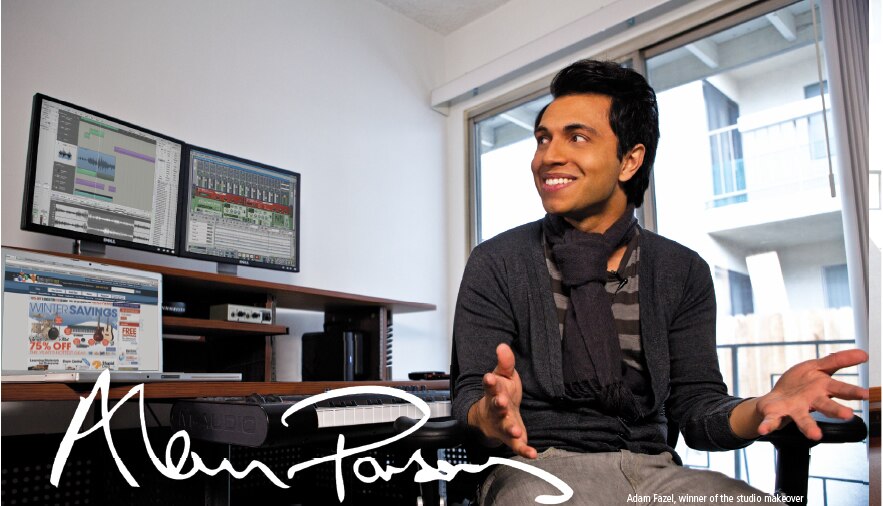 Home Studio Makeover
By Ara Ajizian, Musician's Friend Managing Editor
Multi-platinum producer, engineer, and artist Alan Parsons has certainly had a storied career. When your first gig is at Abbey Road Studios serving as assistant engineer on The Beatles' Abbey Road album, you've got to be destined for greatness. And although he still performs and produces, these days his interest has turned toward educating the next generation of studiophiles, as evidenced by his DVD tutorial series The Art and Science of Sound Recording. "Anybody with a laptop can now make a record," says Parsons. "But you know, the man in the street can lack the experience and the knowledge, so that's, in a way, my new role in life-to give advice."
Musician's Friend community member Adam Fazel is a testament to Alan Parson's view of the home recordist not necessarily having the knowledge of how to produce high-quality recordings. "I don't come from a musical background per se," says Fazel. "I didn't go to school for composition or any of that. I just have a passion for it, and I didn't let my lack of knowledge hinder that passion."
At the core of Adam's passion is a love for storytelling, which originally manifested itself in the form of short films he would make with his cousins as a kid. Now 23, Fazel got into composing and producing music during college as an extension of his film work and studies. He explains, "Music can tell the story when the visuals can't. It can act as a voiceless narration that talks to the audience and gives them emotional cues. That's how I naturally fell into doing music."
We wanted to connect Alan with one of our customers in order to bring an established veteran into your world, and after listening to a pile of demos from Musician's Friend customers he singled out a recording made at Adam's modest studio in Los Angeles and decided to pay him a visit. "Adam did an incredible job with the equipment he has, but everybody can improve their setup by spending a bit of money," said Parsons. For the self-described "starving artist" Fazel, budget is certainly a limitation, so we decided to help him out with $5,000 to implement Alan's suggestions.
The Big Day
We arrived at Adam's modest three bedroom apartment early on the day of the shoot to get everything ready. The usually boisterous, energetic Fazel was slightly subdued as the reality of what was about to happen finally set in. "I'm really excited to have Alan Parsons come to my home studio and tell me how I can improve it. Even a phone conversation would have been enough, but not for him to come from Abbey Road, and working with Pink Floyd, to my house? It blows my mind!"
By the time we got the call that Alan Parsons had arrived, Adam's exuberance was back in full force. "What do I say when I open the door? Can I give him a hug?" Finally there was a knock at the door, and the two were soon exchanging pleasantries. Parsons, though a tall, imposing figure, was precisely the English gentlemen you've heard he is, and Fazel was immediately at east. Then came the time to get down to business.
Talkin' Shop
The two made their way back to Adam's bedroom studio as his roommates curiously peaked around the corner at the tall Englishman in their tiny apartment. Parsons had seen pictures of the space, but being there in person allowed him to take full stock of the situation. One thing was readily apparent to him. "The first thing I noticed ... is that you don't have any speakers," Parsons noted. "I know, I have to use the laptop speakers or these," Fazel replied, motioning toward the Sennheiser headphones on his desk.
Parsons chuckled, "Well that might be the first thing on the shopping list yeah?" They both erupted into laughter, and the ice was fully broken. Quickly the two sank into the subject at hand, with Parsons asking Adam detailed questions about his gear, his techniques, and his craft.
One of the most impressive things about Fazel was how at ease he was speaking to a professional of Parsons' stature. Although he's a self-taught composer and recordist, he didn't flinch in the face of any of Parsons' questions and responded with confidence and accuracy. There's a confidence present in Adam that shows that even if he's not sure that the way he creates is technically correct, he knowsthat it sounds good, and that's what really matters.
As Fazel explained how he records by feel—watching the scene he's scoring as he lays down tracks—Parsons saw an opportunity to educate. "In the old days, before computers started dominating our lives, you used to choose a tempo based on certain points in the film, hitting certain downbeats. There's software to do that now, where you can actually map it out so that at the third beat of the seventh bar, the guy shuts the car door or whatever. Maybe we'll investigate that too. Fazel agreed intently.
Parsons sized up the room quickly, as one might expect. He did after all run the massive, legendary EMI console at Abbey Road Studios for Dark Side of the Moon (among other albums), which probably wouldn't even fit in Fazel's tiny bedroom. At Parsons' request, Fazel cued up a clip he composed for an action sequence in a short film. Even through his MacBook Pro's tiny speakers, Adam's talent for composition and production was apparent. And despite his modest setup, Fazel's optimism about recording also shone through
"I'm realistic. I know this is a very humble setup, but I don't let that suppress my creativity. I just try to make it so that the listener thinks I have a live orchestra at my disposal, he told Parsons.
"Well, it's true. That's why I selected you, because your studio is so humble in its makeup, and I was amazed when I heard the piece, said Parsons.
Fazel decided then and there to ask a question that was clearly burning up his mind. "So, you listened to it … and you liked it? "Yeah, very much. "That's incredible! For someone like you—Alan Parsons— to say you like it, that really means so much.
Those three words from Parsons clearly meant a great deal to Fazel. Although self-assured in his work, he would explain later that because he never had formal training, he couldn't ever be 100% sure that he was doing things right, regardless of how good the final product sounded. He had met so-called professionals who were quick to tell him, "You can't do it that way when he would explain how he built his compositions layer by layer. But he had learned that you could, in fact, do it that way. And when Alan Parsons tells you you've done a good job recording a piece of music, there's no argument to be had.
Over the course of an hour, Parsons gave Fazel a number of options for spending his $5,000, which you can see detailed in the sidebar to the right along with Adam's pre-makeover setup.
When asked how the experience would affect his life going forward, Fazel stayed true to form as someone who is living out his dream of making a living— however modest—through making music. "I hope with the knowledge I got from Alan and the gear from Musician's Friend, I can enhance the quality of my work. And to have Alan Parsons say my work is good, I hope that for the business side of things that gives me credibility. I'm very grateful for this whole experience.
Featured Gear

Alan Parsons was impressed with what Adam was able to create with his modest setup, built around an aging 2.4ghz dual-core MacBook Pro, Logic Pro 9, Reason 4, an M-audio Axiom 61 MIDi keyboard, and a pair of Sennheiser HD 201 headphones. Alan recommended the following gear, with the $5000 allowance in mind, to beef up Adam's setup:
Adam Fazel was selected by legendary producer/engineer Alan Parsons for a $5000 Home Studio Makeover. See how Parsons explored Adam's modest home studio and made suggestions on how he can increase his toolset to further advance his creativity!