Dave Mustaine Musician's Friend Exclusive
Perhaps more than any other metal luminary, Dave Mustaine of Megadeth knows great tone. And his new partnership with Zoom, on the G2.1DM Dave Mustaine Signature Multi-Effects Pedal, is going to give you direct access to all the blistering metal sounds he's pioneered during his decades fronting metal's most dominating force.
Loaded with 50 original patches created by Dave Mustaine and based on his signature sounds, the G2.1DM also boasts 50 patches that Dave handpicked from Zoom's G2.1Nu multi-effects pedal. Custom-designed body graphics also come standard, and the expression pedal is modeled after the accelerator of Mustaine's favorite sports car.
As a special bonus just for Musician's Friend customers, Dave Mustaine personally hand-signed 100 of these pedals! Not only do you get all of his groundbreaking tones, but a little mojo from the hand of the man himself. Get yours before they're gone!
Featured Gear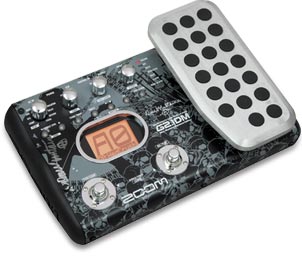 We were thrilled to meet with the four main members—lead vocalist Gerard Way, bassist and Gerard's bro Mikey Way, and guitarists Ray Toro and Frank Iero—who told us about their approach to songwriting, what gear they prefer, and how they get their sound. Frank talks about the inspiration behind his signature Epiphone Wilshire—enter to win it in the My Chemical Romance Epiphone Wilshire Guitar Giveaway!