Back to Top

Overview

Jump to Overview

Features

Jump to Features

Warranty

Jump to Warranty

Reviews

Jump to Reviews

true
Zoom
tier1
Korg

Pandora PX4D Guitar Multi Effects Processor
Product

152176
HBCA
true
MMGS7/152176000000000_MEDIA_SET
false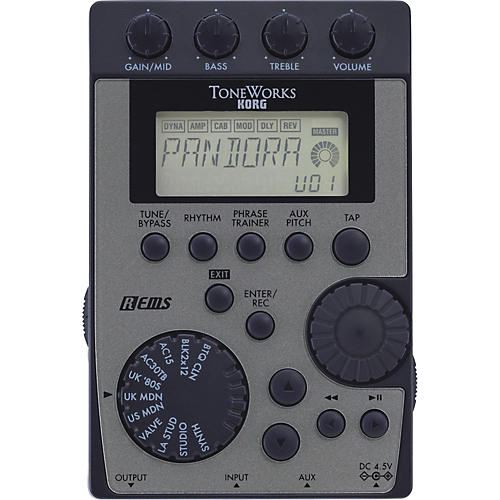 (48 Contiguous U.S. States)
Free
Free Shipping With Backstage Pass
2-Day Standard Ground
Free Shipping With Backstage Pass

(48 Contiguous U.S. States)
USD
The Toneworks Pandora PX4D Personal Multi-Effect Processor combines vintage amp models, a wide range of cabinet models, plus a combination of classic...Click To Read More About This Product
We're sorry-this item is unavailable.
Find a similar product below or contact our experts for a recommendation of great alternatives. Call us at 800-449-9128.
Customers Also Viewed:
OVERVIEW
A Pandora that works for guitar AND bass!
The Toneworks Pandora PX4D Personal Multi-Effect Processor combines vintage amp models, a wide range of cabinet models, plus a combination of classic and unique effects for great guitar or bass sound whether practicing, recording, or even playing live. The processor's 158 effects deliver fantastic tones, including 25 amp types from high-end tube amps to rare vintage amps and everything in-between. Each of the 23 cabinet effects that reproduce the acoustic and structural resonances of a speaker cabinet were newly created especially for the PX4D. The creative possibilities are practically limitless. For example you can combine a guitar amp with a bass cabinet.

The PDX4 delivers a versatile range of tones with numerous realistic modeling effects in addition to standards such as compressor and wah. Pickup modeling transforms the sound of a single-coil pickup into that of a humbucking pickup (or vice versa), a guitar (bass) synth that lets you play synth sounds, an intelligent pitch shifter that automatically harmonizes with your playing, a talk effect that produces the impression that your guitar is speaking, a slow attack effect that creates violin-type swells, a feedback effect that allows feedback playing techniques that are normally possible only at high volumes, a rotary speaker that changes speed in response to your picking or fingering dynamics, a fretless bass effect that simulates the distinctive sound of a fretless bass, and many more are all at your fingertips, ready to spur your creativity.

The PX4D Multi-Effect has 200 programs, including 100 preset programs and 100 user programs.

Like other Pandoras, the PX4D offers an intuitive, knob-based interface and backlit LCD display. The TAP button can be used to set delay times or a rhythm pattern tempo.

A sophisticated phrase trainer can record up to 30 seconds from an external audio source for looped playback, which can then be slowed down without affecting the pitch. While in Phrase Trainer mode, users can record any of the 100 PCM-based, built-in rhythm and bass patterns and their instrument simultaneously, then practice soloing over the recorded phrase. The AUX IN jack lets users play along with external audio sources, and a key transpose function can shift the key of the external audio for versatile rehearsal. An auto chromatic tuner with a mute function is also included.

The Toneworks PX4D can be powered by 4 AAA batteries for up to 10 hours of continuous use, or by an optional AC adapter.

FEATURES
Built-in, high-quality REMS effects
158 effect types from realistic amp sounds to sophisticated effects
200 programs: 100 preset and 100 user programmable
Up to 7 effects simultaneously
Knob-based interface for quick and intuitive editing
Phrase Trainer function helps you learn by ear  and master difficult passages
100 rhythm and bass patterns cover a variety of styles with realistic PCM sound
AUX IN jack lets you play along with external CD, MD, or MP3 audio sources
Key Transpose lets you shift the key of an audio source input
A Bass Canceler function removes the sound of the bass from an external audio source
Auto chromatic tuner also provides a Mute function for silent tuning
Semitransparent LCD illuminates the characters in inverse video when backlit
2-way power supply lets you use either batteries or a separately sold AC adapter

Effect Types:
DYNAMICS & PICKUP: COMP, DYNAEXC, VOX WAH, WAHUP1-2, WAHDWN1-2, SLOWATK, OCTAVE, RING, RINGUP, RINGDWN, AC SIM, HUM>SGL, SGL>HUM, HF TONE, PHASOUT, COMP2, LIMITER, B OD, B DIST, B FUZZ, PREAMP1-2, BALANCE, LOWCUT, FRETLES
AMP: BTQ CLN, BTQ OD, TWD1X12, TWD4X10, BLK2X12, AC15, AC30, AC30TB, UK BLUES, UK'70S, UK'80S, UK MDN, US HI-G, US MDN, FUZZ, VALVE, VALVE2, CLASSIC, SCOOPED, LA STUD, GOLDPNL, JAZZ, STUDIO, AC100, UK MAJOR, SYNTH
CABINET: 1X8TWD, 2X10BLK, 4X10TWD, 1X12TWD, 1X12VOX, 2X12BLK, 2X12VOX, 4X12VOX, 4X12CLS, 4X12MDN, 4X12VIN, LA4X10, MDN4X10, MTL4X10, CLS8X10, UK4X12, STU1X15, JAZ1X15, AC2X15, US2X15, UK4X15, LA1X18, COMBI
MODULATION & FILTER: CHORUS1-2, FLANG1-4, PHASER1-3, U-VIBE1-2, TREM1-3, ATPAN1-2, ROTARY1-3, PITCH1-3, MAJ3UP, MAJ3DWN, MIN3UP, MIN3DWN, PER4TH, PER5TH, MAJ6TH, FEEDBK1-4, FILTER, FILTUP1-2, FILTDN1-2, TALK1-4, RANDOM1-4
DELAY: SLAP1-5, DELAY1-5, PPDLY1-5, ECHO1-5, MULTI1-5
REVERB: DRYAIR, WETAIR, ROOM1-2, PLATE1-2, HALL1-2, SPRING1-2
NOISE REDUCTION

Buy the Pandora PX4D today to fire up your creativity with a huge arsenal of effects. And all the practice tools will help make you a better player.
SPECIFICATIONS
Inputs:
Guitar input (1/4" jack)
AUX (mini stereo jack)

Output:
Line/headphone dual-purpose output
(stereo phone jack)

Tuner section:
Detection range: 27.5 Hz-2,093 Hz (A0-C7)
Calibration: A = 438 Hz-445 Hz

Rhythm section:
40-208BPM

Power supply:
4 AAA alkaline batteries,
Allows 10 hours of continuous use (backlight OFF),
Allows 7 hours of continuous use (backlight ON), separately sold AC adapter (DC4.5V)

Dimensions (W x D x H):
2.99" x 4.41" x 1.06"
76mm x 112mm x 27mm

Weight:
0.30 lbs./138g (not including batteries)

/pdp/reviews/productReviews.jsp
Loading....
I have been playing for over 30 years and have owned many amps , heads , pedals and processor . My main rig is rather large in order to get my sound . Recording wise this thing comes pretty close, but live nothing beats an old fashion tube amp for ball crushing earth quacking sounds . I got this because I like to play late at night when the wife is sleeping and this unit lets me do that using my bose computer speakers as an amp thru the computer.
I read alot of equipment reviews, but have written very few. Just thought I had to say a few words about this unit. I own 2 PX4D's and 2PX4's. I perform approx 275 shows a year with these boxes. I use a alot of backline amps usually Fender's and needed an effects unit I could use with virtually any amp and still get a consistent sound. I have spent hundred's of dollars on effect units still I settled on this one. I carry 3 units with me at all times, one primary and two backups. I am very pleased with the way these boxes get me up and running in no time and my sound stays consistent from show to show. I use only 2 presets, one clean and one with a little crunch. I then use 2 tube screamer pedals and an EB volume pedal. The tube screamers are placed in line to the PX4D and the volume pedal is placed between the PX4D and the amp input. I do some light tweaking on the amp eq, set the amp level and I'm ready to roll. I play mainly classic rock and country using PRS Guitars.If you are in the situation I'm in having to use various amp setups, then you want to give this a try. It works for me and really sounds good when I get to use my own fender twin setup. Thought this review might help the working musician having to deal with similar situations.
I just got this little guy in Friday and let me say that when I first opened it, to reveal a small electronic hand-held device only the size of an iPhone .. I thought to myself, theres no way this thing can do all it says it can and it sound great at the same time, boy was I WRONG WRONG WRONG!! Every effect you ever need is here! Along with the Amp Modeling & Cabinet Modeling, and this is also goes for Bass Players also ... The WAH features completely blow Boss's Dynamic-Wah Pedal away ... And you can pay the same price almost for this and have everything you need. Also it will record you playing a rhythm, then you can loop it playing continuously thru your AMP, as you solo to it or whatever you desire .. Do not look any further, do NOT waste money on single effect pedals, get this now!!!
I purchased the PX4D 3 days ago and I haven't been able to put it down. The jam tracks are excellant for warming up before going on stage. It is the 21st century "Rockman". Some of the patches are not that great i.e. ( the feed back effect doesn't react to vibrato) but the good patches make up for the limitations. I'm puzzled as to why this product hasn't been promoted more.Ace P.
The most inspirational piece of equipment you'll ever buy. This hand sized box is what a guitarist needs in the studio and on stage for easy access to great sounds and amazing tones. I use this religiously in my music and it is apart of my guitar as much as the strings or volume knobs. This should be in any musician's arsenal
I have been playing acoustic for maybe 5 years and started electric maybe 2 years ago. I started looking into effects and wanted a single unit that would let me play around with the various types of effects. I could not have made a better choice.I do not have enough money nor enough guitarist friends to play with all of the various pedals out there. That is why I wanted a single unit that I could experiment with. This single unit covers most of the types effects you will see out there... acoustic simulator, auto-wah, phasers, distortion, harmonizers, synthesizer.. etc,etc. I did not see a single other unit that had so many options.When I got it I spent about two hours going through the presets and felt that 70-80% would be fun to experiment with. 30% are sounds I think I will use regularly over the next few years.The sound of multi-effect pedals is kind of controversial. Many will say they sound great, others will say it sounds fake (maybe like records vs. cds). I would bet that most people who are not pros with all kinds of effects already would enjoy the sound... and maybe someone who already has 10 pedals and a tube amp might feel that it does not make the sound they want. I love the sounds.The other aspect that makes this fantastic for intermediate guitarists is that it comes with 100 drum patterns with associated bass lines. If you go into "chain" mode, you can put the patterns together and set the note for the bass for each bar. Its like a band in a box.The phrase trainer is fun to play with.. but this is the only part of the unit that I feel is not good enough for recording. The sound quality is muddy.. good enough for practicing but nothing like a dedicated looper.If you are a professional musician with a juicy expensive tube amp and maybe 10 pedals on the floor... perhaps this is not going to make the sounds you want. For anyone who is learning about effects or how to jam with other musicians... I couldn't recommend it more.
I would like to say that this is one of the best multi fx boxes i have ever used. Ive been playing guitar for a little over five years and in all my experience i have yet to see a multi fx unit for the price that is not better than this little guy. I use this box at my guitar school alot to practice my chops and write songs. Every effect will literally inspire you to new heights! I recommend this unit to any bands or individuals who want to add some good quality sound to their recordings or practice sessions. However this unit is highly impracticable for live sessions for obvious reasons. takes too long to find your effects on stage. other than that korg has made a really really good unit for the budget minded musician!
I haven't been playing for very long, and this is the first effects processor that I have purchased. It's smaller than I expected, but it has good sound. I purchased the power cord with it and I'm glad I did. It sounds kinda tinny running on batteries. Overall I really like this thing. It's worth the money.
I live on a college campus where we arent allowed to have amps, and after 3 years of owning a guitar and never really playing it because I had a crappy amp, I bought this. Its a very good tool for just practicing along with songs or hearing what you play. Dont let the size or price fool you, you can get some pretty decent tones out of this for whatever style you play. Tuner isnt the best, and I havent messed around with the drum settings all that much, but for practicing and jamming while keeping the noise low, it gets no better than this.
This box is incredible, damn near every amp and sound effect from the past five decades not to mention it's ability to help teach you. I have no idea why Musicians Friend doesn't put this on the cover of every magazine. Be sure to check out the Px4A, it's the acoustic version.
I run this as a preamp for my bass rig which is a peavey nitrobass which powers two cabs a 4x10 hartke and a 1x15 peavey equipped with a black widow. This added a lot of flavor to my tone before it was a bit dry. Out of the box it isn't great but with a bit of tweaking I was able to get some really usable tones nothing like a tube amp but still very usable.
GREAT little piece of hardware. I meen sure, some of the effects are pretty useless,and some of them have dilluted sounds. but not ALL are completly useless. I play metal, so I need something with a bit of a crunch...and this little thing can produce that crunch I need. The drum prests are awesome, you can jam right along with it for HOURS ON END. You can even record a 30 second rhythem rifff and just shred the crapp out of it.I havent giged with it yet, but I think I'm going to give it a try... seems like it could handle itself.GET IT
The ToneWorks Pandora PX4D is totally amazing. It's got great sound and some really musical effects. Sure, it's got it's presets that you'll never use in a million years but for the most part, this is a very serious tool. I travel a lot so it's so easy to throw this in a gig bag and have a complete rig to practice with where ever I'm at. I've learned a little trick. I found turning it up and leaving the headphones around your neck will make your ears last a lot longer that having the phones over your ears. This thing gets loud. Or maybe I just like to play too loud! All in all, the PX4D delivers on what it sets out to do. It's portable, sounds great, is solidly built and is an excellent practive/training tool. I've been playing for over twenty five years and if these were around when I was starting out life would have been so much easier. Amazing what you can get these days and what you can get it for! Get one and get better!
I have used Digitech units for about 20 years. NOT ANY MORE.I bought the Pandora PX4D because I wanted something small and convenient for practicing and warm-up. Since Korg designed it with both guitar and bass in mind, I thught I might kill two birds with one stone. Boy, did I ever kill some birds.The tones in this little sweet-heart are far beyond what I expected. The presets are actually good, usable presets (for both guitar and bass).The tones are clear and defined. Each string rings true without the muddy results that many other brands offer up for more than twice the price. I can't say enough about this little gem. I have actually recorded a few demo tracks using only the PX4D for guitar and bass. Very impressive.I have pressed this sweet-heart into greater service (literally). I am currently using it as my complete bass rig in the Moss Bluff Bible Church praise and worship band.Obviously, the lack of a floor control seriously limits it's performance versatility (for me) where guitar is concerned. That is why I am dumping Digitech after 20 years and buying the Toneworks AX3000G.Do not let the lower prices of the Toneworks line fool you. They are far better that anything that I have heard for twice the price.
I just recently bought the pandora's box, I had used an older version at a friends place and loved it then. The great thing about this, is that it has everything you could possibly need, and it's easy. The little downside though...is you cant switch through effects too quickly because there are no direct cuts, and it's not footswitchable. You have to scroll through to get to the desired effect. But other than that....its definately worth it. Perfect for recording.
We have these at the guitar lab at Nashville school of the arts and they are great. You can get a whole lot of sounds by pushing an arrow. The only thing is it?s an awkward size, but its worth buying.
I have owned nearly EVERY portable mutli-effects unit made. POD, Rocktron, Behringer Vampire, J-Station, RPX-400 and GNX3. I owned all of them. I also owned a Pandora's Box PX3 which I felt was a exceptional unit! So I bought the PX4D. The unit has a unreal amount of features even compared to the PX3. Korg really pulled out all the stops with this piece. At first I didn't think the 4 was a good as the 3 for LIVE functions! Until I plugged the 4 into the effects loop of my amp-head! Then I came upon the GREAT-TONE. The PX3 was not like that. It sounded better in FRONT of a amp? I was a little taken aback by this. Glad I tried it through the effects loop! You won't be disappointed by this unit. For practice....HANDS DOWN the BEST unit available today!
I picked this thing up 3 months ago. It sounds great. I like the distortion and the acoustic sounds. It's great for Jamming or even live performances. Small enough to fit in your shirt pocket, about the size of a pack of smokes. I wish it came in a pedal board.
I picked this little box up a few weeks ago with high expectations. I was very disappointed in the effects it holds. Every effect (besides the synths) sounds horrible and dirty, there is no tone, way too much bass even when the bass knob is down to zero. The phrase trainer is helpful in some ways. The jam feature is probably the only thing I use this thing for. It can teach you a little, (ex. figuring out what key your in and working on solos). Slowing the tempo on the phrase trainer sounds awful. All in all, if you have money to blow, buy it. If not, save up and get a gnx3 or 4.
This is a great little practice tool. My only complaint is that the output gets tinny when running on battery power and not the AC adaptor. All in all, this is a good buy for the amount of features packed in this tiny box.
{ "pageType" : "item_page", "placements" : "2", "placementNames" : "OOS,rr2" }