Squier

Matt Freeman Precision Bass Guitar
Product #H72939
Also consider
res13052316844038451017829 res13052316844038451017829 res13052316844038451017829 res13052316844038451017829 res13052316844038451017829 res13052316844038451017829 res13052316844038451017829 res13052316844038451017829 res13052316844038451017829 res13052316844038451017829 res13052316844038451017829 res13052316844038451017829 res13052316844038451017829 res13052316844038451017829 res13052316844038451017829
res13052316844038451017829 res13052316844038451017829 res13052316844038451017829 res13052316844038451017829 res13052316844038451017829 res13052316844038451017829 res13052316844038451017829 res13052316844038451017829 res13052316844038451017829 res13052316844038451017829 res13052316844038451017829 res13052316844038451017829 res13052316844038451017829 res13052316844038451017829 res13052316844038451017829
res13052316844038451017829 res13052316844038451017829 res13052316844038451017829 res13052316844038451017829 res13052316844038451017829 res13052316844038451017829 res13052316844038451017829 res13052316844038451017829 res13052316844038451017829 res13052316844038451017829 res13052316844038451017829 res13052316844038451017829 res13052316844038451017829 res13052316844038451017829 res13052316844038451017829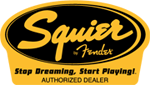 An affordable tribute to Matt's mid-'70s P Bass!
Punk legend Matt Freeman is known for his monster bass work with Rancid, Operation Ivy and, more recently, Devils Brigade, and Squier now honors the man and his sound with the new Matt Freeman Signature Precision Bass.

Modeled after his beloved and battle-hardened mid-'70s P Bass, Freeman's Squier signature model features a traditional split-single-coil pickup, contoured basswood body in Black or Vintage White, vintage-tint gloss fast-action maple neck, 20-fret maple fingerboard with modern 9.5" radius, HiMass bridge with four brass barrel saddles, and a three-ply black-white-black pickguard.
Features
Basswood body
C-shaped maple neck
Maple fretboard
20 vintage-style frets
Custom Precision Bass split single coil pickup
4-saddle HiMass bridge with brass barrel saddles
Chrome hardware
Matt Freeman signature on front of headstock
Lower finger rest
You wanna sound like a legend? You gotta have his bass! Get Matt's signature bass now!
Matt Freeman Precision Bass Guitar Specifications:
34" scale length
1.65" nut width
9-1/2" fretboard radius
Customer Reviews
/productDetail/reviews/productReviews.jsp
Loading....
Fun to play (3)
Good feel (3)
Good pick up (3)
Good tone (3)
Solid electronics (3)
Jamming (3)
Practicing (3)
Recording (3)
Rock concerts (3)
Beautiful looking
Fun To Play
Good Feel
Good Pick Up
Good Tone
Solid Electronics
Jamming
Practicing
Recording
Rock Concerts
School Bands
Small Venues
Comments about Squier Matt Freeman Precision Bass Guitar:
I've only been playing bass for about a year so I don't know a whole lot. But one thing I do know is that the Matt Freeman Bass is a fantastic work of art! My first bass was a Squier P bass Special, and it wasn't that great. So i was skeptical about getting another squier p bass. However,after I first plugged in the freeman bass I knew that I made the right choice. It has an amazing tone that reminds me of a bass Paul Simonon(The Clash) played on the London Calling record. If you're looking for a super punchy, mean sounding bass, this one kinda lacks on that in my opinion. It's more of a soft, warmer sound. It sounds great with any styles such as Fingers, Slap, Pick, Thumb. The tone on the D and G string kind of remind me of a Jazz Bass, which is pretty awesome! The only problem I seem to have with this bass is that the pick guard does scratch pretty easily, but hey that's what its there for! It's a great bass for an amazing price. If you are looking for a great, inexpensive bass then look no further!
Comment on this review
Fun To Play
Good Feel
Good Pick Up
Good Tone
Solid Electronics
Jamming
Practicing
Recording
Rock Concerts
Comments about Squier Matt Freeman Precision Bass Guitar:
If you are looking to add THAT Fender Precision sound to your bass arsenal, look no further! I've played countless shows/recording sessions and used many high end basses (Fender, Warwick, MusicMan, Peavey, Ibanez, etc.), but this bass beats out most of them. The quality of this bass rivals the American-made Fenders... And at a 1/4 the price! It was set up great right out of the box, but I adjusted it a tiny bit and got that REALLY low action P-Basses are famous for. Get one NOW and THAT tone you've been searching for!
Comment on this review
Fun To Play
Good Feel
Good Pick Up
Good Tone
Solid Electronics
Jamming
Practicing
Recording
Rock Concerts
School Bands
Small Venues
Comments about Squier Matt Freeman Precision Bass Guitar:
It's a great bass period. I've been playing Fender Basses professionally for over 35 years and it's as good as any I've ever owned and much better than some from earlier eras.

I did three live gigs and several rehearsals with it right out of the box with the stock strings and no additional set up whatsoever. The tone and playability were first rate. It's a very well built and finished instrument and they take care to ship it right so for those who might be hesitant to buy a bass without playing it first I'd say don't be. You won't be disappointed.

With a set of good flats and a set up for a half step dropped tuning it was even better sounding and playing. You can set a very low action with very little neck relief and still have no fret buzz. How many moderate priced basses can you do that with?

My first experience with a Squier Bass is the CV 60s Jazz Bass I've been playing for a little over a year now. It was because of my experience and overall satisfaction with that bass that I opted for this one. Although it's essentially a similar bass to the CV 60s PBass I picked the Matt Freeman because I wanted a maple neck rather than rosewood and I liked the black/maple look. It's a very sharp looking bass.

It's powerful, punchy, and plays extremely well. There are only small differences in the dimensions and the neck profile between this bass and the CV Jazz so I have no problems at all going back and forth between the two. It's slightly larger than the Jazz neck but still a very comfortable neck to play.

Some players may wish to modify them with their favorite pickup as I did but that's just a matter of personal preference and playing style. There is nothing wrong with the stock pickups. I played them over several gigs and they're fine as are the hardware and electronics. Changing them is not as likely to add much if anything to it's tone as your favorite set of strings will so save yourself the trouble and the cash and put it towards the strings.

The bottom line is that if you're looking for a moderate priced bass that will hold it's own with it's Fender cousins that sell for hundreds of dollars more then buy this bass. It matches up quite well with most anything else they produce.
Comment on this review
Comments about Squier Matt Freeman Precision Bass Guitar:
This Matt Freeman Signature Squier P-Bass (I got the Black on Black one) is a solid workhorse. I've had it for about 8 months now and it is my "go-to" bass. It never lets me down. The neck is by far the best and most beautiful part of this bass. The vintage frets are flatter than your usual Jumbo or medium frets on most modern basses. Makes for a low profile, easy playablility (like butter), and seems to hold up well against fret wear. The thick vintage finish amazingly shines like glass and has a great slick feel. The basswood body gives it a somewhat mahogany sound, a lot like the old japanese basswood fenders from the 80's. I've even knocked it against a table really hard by accident and only got a very small dent the size of the lead tip on a pencil. I thought it would be a huge dent with broken paint, but the basswood held up really well. The only downside was the pickups weren't that great, but very passable. I used the stock pickups for 7 months before installing EMG pickups. With the EMG's, it is more of a force to be wreckoned with now. Definitely a keeper. Great price, solid construction, lightweight, and top notch fit and finish. You won't be disappointed.
Comment on this review
Comments about Squier Matt Freeman Precision Bass Guitar:
Wow...It's all I could say.

Believe me when I say that I was pretty skeptical on buying another Squier again! Since my first bass ever, a Squier Affinity P bass, I had some nice basses, G&L, Fender, Music Man, and never thought I would be buying another Squier. I'm glad I did! Other reviews spoke good about this specific kinda line...The Classic Vibe...Which has the finished (gloss) neck, the brass saddled bridge, etc. and I have to say, It's waaaaaay better than a MIM Fender and equal to those made in Japan.

Once I tuned the bass...it stayed in tune, even playing slap-style with the new strings. Intonation needed just a little tweak to get it right, although immpressive intonation right out of the box. Truss rod did not need to be touched, and the action is one of the lowest I've played!
I haven't found any dead spots on the neck (typical p bass peeve) and I don't get any buzz.

The pickups and electronics are all very solid and very nice sounding. Very boomy, and it has a loooot of output! Surprised me considering it's a passive, one pickup bass. You obviously can lower your pickup and control that.

Tuners are good...not super good, but they've hold there tune pretty good. I will probably change those to authentic Fender 70's tuners one day.

The finish is excellent! the pickguard is nice. The neck finish is good too! Just one thing I noticed is the nut wasn't polished when finished. It has a lot of sanding grooves or tooling marks. But the good thing is that is made of some sort of synthetic bone material, not cheap plastic. Hope it holds up as I did break the nut on both my first squier and a Fender Jazz bass I had.

The neck is STUNNING! It's flame maple all the way! I hope it was 1 piece so the fret board would have that awesome flame as well. The tint is just right up my alley and the frets are all smooth, rolled at the ends and polished. And I like the vintage size as well
Squier Matt Freeman P Bass In Black.
Maple Neck with Maple Fingerboard
Vintage sized frets
Passive Electronics
Big Bridge with Brass Saddles
The Quality is outstanding! For the price you can't beat the quality of the bass! Read whole review in the Overall section.
What a great deal! For the bass your getting for that amount of money. I wouldn't even consider buying a Fender! For a begginer this bass will hold up for years! Do not sell it! Ever!
And for a more experienced player, this is a great back up bass to have!
Comment on this review
Comments about Squier Matt Freeman Precision Bass Guitar:
This is a great Squier Precision Bass, Feels and plays just like a '77 P! The Maple neck is so bright and its light for a standard P Bass. I don't like the gloss that squier uses so I usually use steel wool on it to give it a satin finish. The Passive pickups are great for awhile but i suggest throwing some Seymour Duncan's or EMG's in there to make it sound better. Tuners and bridge are good for a lower to mid level basses, the black finish is beautiful....not a fan of vintage white....but all around its a good bass for punk (Obviously) and some basic rock stuff. If you want to play metal, DONT GET THIS BASS, otherwise you will be replacing alot!
Comment on this review
Comments about Squier Matt Freeman Precision Bass Guitar:
I normally would never submit a review if I have not tried out what I am talking about, but I feel this is an exception. I think this bass stands out in the line of Squier Precision Basses. It is a quality built bass, good looker, and will deliver a rock solid tone. If you are looking for a nice balanced growl, from what I have heard, this bass has great tone for that. I am happy to see Matt get a signature bass. Rancid were the first band I ever got into and he influenced me to buy my first Fender Precision. I am hoping to save up some cash so I can buy this bass. I rated it at 5 for quality, value, and overall because that what I feel this bass deserves & a 4 on features because it's a Precision. Nothing too complicated. I highly recommend this bass.
Comment on this review
Comments about Squier Matt Freeman Precision Bass Guitar:
I have played several basses in my lifetime, this one is clearly the best. The sound is great, the look is amazing, just like a 77'. If you want a bass, this is the bass to get. Pros: Great feel, easy to play, cool looks, reasonable price, good sound, and vintage looking maple neck.Cons: Strings could be better.
Comment on this review
Comments about Squier Matt Freeman Precision Bass Guitar:
This bass is amazing and for the price its well worth the price. If you want a new p bass check it out!
So far what I can tell from just playing this bass without being plugged in. This bass has an amazing factory set up. Better than most mexicans and highway ones and I'd say on par with the specials and standards. The neck is a beautiful one-piece maple. The neck was set up perfectly from the factory and there is no buzzing even if I dig in. I will be making some mods soon just because I feel dumb having the parts and not using them. I've always had a badass brand bridge and it looks weird to me to be my bass without the badass brand bridge. This bridge is great though, solid and good sustain and an upgrade is not necessary. and the pickup just because I already have the spb3 laying around and I know and like that sound. This bass has a great feel and neck which was a concern switch from a jazz deluxe.

-Adam - Runaway Hudson - thats my band
Comment on this review
Comments about Squier Matt Freeman Precision Bass Guitar:
A lot of people are fans of the Matt Freeman Squier bass. There are also a lot of skeptics... they obviously haven't tried this bass out. Matt, with his punk rawk roots, obviously wanted his true fans, who made him who he is as a musician, to be able to play a great bass.
easy to play and doesn't feel like a cheap bass. More of an affordable product if you ask me. I just picked the black one up last week and it's just a great sounding Precision bass. You don't even notice the Squier logo since it's more of just a straight up old school P bass. can't argue that!
Good luck finding anything better in that price range for that quality. Plus they look like vintage P bass. None of that crazy quilt tops or fancy active pickups or anything.
It's an affordable, good quality precision bass.
Comment on this review
Squier Matt Freeman Precision Bass Guitar