true
Zoom
tier2

Product

H99636
Squier

Vintage Modified Jazz Bass V 5-String Electric Bass
Squier's Vintage Modified Jazz Bass is now available in a five-string model. Like its mid-'70s-style four-string brother, the Vintage Modified Jazz B...Read More
See All Squier 5 String Electric Bass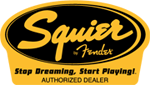 Free Shipping

Top Rated

Top Seller
Mogami Silver Series 1/4" Straight Instrument Cable

Starting at $16.95

Ernie Ball 2" Poly Strap

Starting at $5.19

Levy's Soft Suede Guitar Strap

Starting at $32.52
Ernie Ball Music Man Stingray 5 HH 5-String Electric Bass

$1,855.00 - $2,065.00

Rogue LX205B 5-String Series III Electric Bass Guitar

$119.99 - $159.99

Lakland Skyline Deluxe 55-02 5-String Bass

$1,438.54 - $1,499.00

Fender American Deluxe Jazz Bass V

$1,799.99

Fender Deluxe Active Jazz Bass V

$799.99
OVERVIEW
Squier's Vintage Modified Jazz Bass is now available in a five-string model. Like its mid-'70s-style four-string brother, the Vintage Modified Jazz Bass V has a handsome natural-finish soft maple body and one-piece maple neck with sharp-looking black binding and block inlays on the 20-fret maple Fingerboard. Other features include dual Fender-Designed Single-Coil Jazz Bass pickups, three-ply pickguard, five-saddle bridge and chrome hardware and tuners.
Superior sound and feel for the five-string bassist, with superior Squier performance and value.
FEATURES
Soft maple body
Natural gloss body finish
"C" shape hard maple neck
20 Medium jumbo frets
Block position inlays
Maple fingerboard
Natural satin neck finish
4-Bolt Squier neck plate
1-Ply black neck binding
Dual-action truss rod
4 mm Hex truss rod nut
SS pickup configuration
Fender-Designed Single-Coil Jazz Bass pickups
Volume 1. (Middle Pickup), Volume 2. (Bridge Pickup) and Master Tone controls
Chrome hardware finish
5-String standard vintage-style bridge with single groove saddles
White PPS string nut
Standard open-gear tuning machines
Knurled chrome dome control knobs
4-Over, 1-Under tuning machine array
Bar style string retainer
Synthetic bone nut
Get down with some vintage vibes today.
SPECIFICATIONS
Vintage Modified Jazz Bass V 5-String Electric Bass
Fingerboard Radius: 9.5" (241 mm)
Nut Width: 1.875" (47.6 mm)
Scale Length: 34" (864 mm)
Reviews
/pdp/reviews/productReviews.jsp
Loading....
Squier
Vintage Modified Jazz Bass V 5-String Electric Bass
Fun to play (4)
Good feel (4)
Good tone (4)
Solid electronics (3)
Jamming (3)
Practicing (3)
Fun To Play
Good Feel
Good Pick Up
Good Tone
Price
Solid Electronics
Fret Buzz
Machine Fret Job
Poor Quality Craftsmanship
Good Back Up Bass
Jamming
Practicing
Recording
Rock Concerts
School Bands
Small Venues
Comments about Squier Vintage Modified Jazz Bass V 5-String Electric Bass:
This bass represents a jazz V costing many times the price. I have lots of professional grade basses already that I am happy working with, but no jazz V. So this was a way for me to satisfy that "GAS" without breaking the bank. I knew from the reviews that it would be good and need some set up, but the same can be said about my high end basses. They always need atleast some string change, and fine tuning. This bass was no exception that way. I did a truss rod adjustment, looser, to give more relief in the neck. This helped with some of the fret buzz. But I am taking the bass to my luthier for a good fret leveling to make it play to my standards. It is a remarkably well made instrument for the money. My standards are pretty high, because I spend so much time playing. I really don't have time to fight with a bass that can't cut it. To my great pleasure, the maple body gives the bass a very punchy sound. I have noticed that some people install upgrades (mods) on this modle. I'll say that I am considering a new bridge, but haven't decided yet if I'll be satisfied with the stock one. I'm having trouble getting the B string to fit correctly over the bridge and intonate correctly. I'm looking into other strings, but might do a string through bridge modification. As for the pickups, they need some EQ alright. I have an Aguilar Tone Hamer pedal that provides the same type of preamp as you would have if you installed one on the bass, only you just plug in, set it and play.The Tone Hammer really makes the bass sound like a much more expensive bass. I can get everything from Marcus Miller's tone to old school Motown out of the bass. I bought this bass on a whim, to satisfy my "jones" for a Fender Jazz V. I am very happy. I think the tune up; the hand worked fret work is going to put this bass right where I want it. I expect to pay extra to have that done, but this bass will sound and play well enough to have it's place with my other work basses. I am certain that the bass kicks butt! Looking forward. Recomend getting one. But don't be surprised if you need to fine tune it to your liking. Hope this helps you!
Comment on this review
Fun To Play
Good Feel
Good Tone
Solid Electronics
Gigging
Jamming
Practicing
Recording
Comments about Squier Vintage Modified Jazz Bass V 5-String Electric Bass:
I have to qualify my review of this instrument with the fact that this is my first 5 string, so I don't know how this compares with other 5 string basses.

I bought this bass because I needed a 5 string, and I didn't want to spend a lot of money.

Initially, I didn't like the way this bass sounded and played out of the box, but I almost never do with a new instrument. The first thing I did was change the strings to flats and gave the instrument a good setup. The truss rod needed to be loosened by a couple turns, and the action needed to be tweaked to my liking. The result was an instrument that both plays well, and has clear articulate notes on all strings.

I have a $1600 bass that will now sit and collect dust because of this one. The fretwork is on par with my most expensive instruments, which I am incredibly pleased with. I have found only 2 problems with this instrument. The "A" string will rattle a bit in the nut, but that was easily fixed by putting some paper around where it sits in the nut groove. Most people won't have this problem, as I'm using some light strings. My other issue with it isn't really a problem with this bass, as it is with my collection of instruments as they sit. The pickup on this bass has much lower output than my other two basses, so I can't really switch instruments at gigs if I bring this one. This is not a problem for someone who only takes one instrument to gigs.
Comment on this review
Fun To Play
Good Feel
Good Tone
Fret Buzz
Neck Adjustment Needed
Comments about Squier Vintage Modified Jazz Bass V 5-String Electric Bass:
This Jazz Bass V is the 3rd guitar I've bought from MF (the first used one) along with an ES-175 and Tele Deluxe and I couldn't be happier. It was advertised as a Condition 3, and I didn't really know what shape it would be in, but it showed up without a mark on the neck or body, and just normal scratches on the pickguard so I have no complaints, and for the price it's unbeatable. There was some fret buzz, but a simple truss rod adjustment took care of it. It's a great complement to my fretless Jazz Bass (Jaco copy).
Comment on this review
Fun To Play
Good Feel
Good Tone
Solid Electronics
Tone
Comments about Squier Vintage Modified Jazz Bass V 5-String Electric Bass:
This bass is everything I would ever want in a bass and suits my taste of classic looks and tone. The pickups and electronics sound excellent. The tuners work excellent. The bridge and truss rod adjust as they should. The frets don't buzz. My only complaint is the color; I would have preferred something more like black or burst, and with a rosewood fingerboard. But otherwise, I don't see what can be found at fault with this bass. Buy it.
Comment on this review