Ibanez Electric Guitars
Ways to Shop
Best Sellers

On Sale

Open Box Gear

Top Rated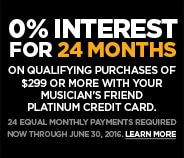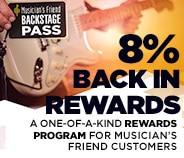 all
No Results Found
Quick Search Tips:
Try just one or two terms.
Instead of using the search box, find your gear by clicking the product category tabs and other navigation links.
Try varying the spelling to see if the word is spelled correctly.
Check out the items below that are suggested based on your search terms.
We'd love to help you find what you're looking for-call us anytime at 800-449-9128.
Suggested Items:
Ibanez has always been a company that breaks new ground. For starters, they led the way for Japanese guitar makers to become a force to be reckoned with in music stores and stages all over the world. But, even more significant than that, they pioneered seven and eight-string guitars, laying the groundwork for others to follow in their footsteps and bringing these extended-range axes into the mainstream for the first time.  There's an Ibanez axe to cater to any player's sound. Rockers Steve Vai and Joe Satriani use Ibanez electric guitars, for example, and they can be heard in alternative metal with Mick Thompson of Slipknot as well as power metal from Dragonforce's Herman Li and Sam Totman. On the other end of the musical spectrum, there are the smooth jazz performances of George Benson and Pat Metheny. While their styles are as different as they come, the one thing that all of these artists have in common is that they each have their own signature model Ibanez guitar.

If your interests are on the jazz side of things, the Ibanez Artcore series is worth a close look. These economical hollow-body guitars are perfect for players at any level who want a well-crafted instrument that won't break the bank. They come with a well-deserved reputation for solid stone and sustain and they hold tuning reliably, making the Artcore guitars a good choice to get the most bang for your buck.

For the metalheads, Ibanez has their Iron Label series in addition to the signature models. These guitars are absolutely metal-oriented, with no-nonsense designs that provide exactly what you need for intense shredding without gimmicks. Ibanez Iron Label guitars are based on the S and RG platforms and come in 6, 7 and 8-string varieties, all with fast, shreddable necks. The RG models even have an onboard kill switch so you can do manual strobe effects without the need for a pedal.

From the jazz-tempered Artcore series to the metal-shredding Iron Labels and all of their rocking classic models, Ibanez electric guitars are definitely not confined to any one genre. You can play whatever music you like with the right Ibanez axe, whether you go for one of their off-the-shelf designs or the signature style designated by your favorite guitar hero.