Gibson Melody Maker
While early Gibson classics like the Les Paul, SG, ES 335 and Flying V are today generally considered to be the defining models from that company's first forays into the burgeoning electric guitar market, the Gibson Melody Maker was actually the company's best-selling model during its late 50's and early 60's heyday. Introduced in 1959 as a student model, the early versions typically featured a sunburst finish on a mahogany slab body, shaped like a thinner Les Paul Junior, with a one-piece wraparound bridge/tailpiece, and a set (glued-in) mahogany neck, which sported a simplified, non-tapered headstock. The single-coil pickup (two pickups on the "D" models), jack and control knobs were mounted on the pickguard for easy assembly, which was then screwed into a rout in the front of the body. By 1961, the single-cutaway was replaced by the double-cutaway model with rounded horns. Several other design variations followed in the ensuing years, such as a sharper point on the horns, similar to the SG, and changes to the pickups, tailpiece and scratch plate, as well as additional color variations like cherry, fire engine red and Gibson's own pelham blue. The model was eventually discontinued in 1971, replaced by the SG 100, 200, and other entry-level Gibsons, but the name has been resurrected in various formats over the years, whether as a double-cutaway, single-cutaway, or even the Joan Jett Signature model, based on the axe the Blackhearted rocker has used since the late '70's. Gibson also recently released a limited-edition Melody Maker line featuring the Flying V, Explorer, SG and Les Paul body styles, each a stripped-down beauty, loaded simply with one humbucker and one volume knob. Newer versions include the Melody Maker Special, with the familiar Gibson tapered headstock, wraparound tailpiece, a baked maple fretboard, and a pair of fat P-90 single coils for some vintage growl and crunch. Despite the Melody Maker's no-frills aesthetic, or perhaps because of it, the model has gained somewhat of a cult following well beyond its humble student model/garage band origins, and has found favor among legions of famous axe-slingers, from the above-mentioned Joan Jett to Robby Krieger of the Doors, Keith Richards of the Rolling Stones, 70's rocker Pat Travers, and Mick Jones of The Clash. These players know quality when they see, feel and hear it, and the Gibson Melody Maker certainly delivers. Despite the attention lavished on the Les Paul, SG, ES 335 and other premium models, it's not really all that surprising that the Melody Maker remains one of Gibson's most popular guitars - it is certainly among the most affordable of American-made Gibsons, and offers a great bang for the buck, with quality electronics, a set mahogany neck, and tons of great Gibson vibe. So whether you're a punk with a no-frills attitude, an old pro looking for some vintage mojo, or you're just learning your first chords in your bedroom, you can't go wrong with a Gibson Melody Maker - grab one today!
Quick Links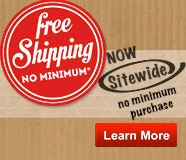 all
No Results Found
Quick Search Tips:
Try just one or two terms.
Instead of using the search box, find your gear by clicking the product category tabs and other navigation links.
Try varying the spelling to see if the word is spelled correctly.
Check out the items below that are suggested based on your search terms.
We'd love to help you find what you're looking for-call us anytime at 800-449-9128.
Suggested Items: