https://static.musiciansfriend.com/static/mf/promoImg/LPages/2015/finance/brands-09.js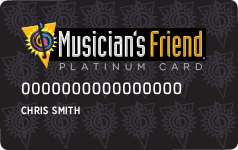 Musician's Friend Platinum Card
Musician's Friend Platinum Cardholders have access to exclusive special financing offers and deals. It's our way of helping fellow musicians get the gear they need right away, while allowing them to pay over time.
Don't have a card? Apply for one now

Already have a card? Just select Platinum Card as your payment option at checkout.
To see our current financing offers Click Here
More Ways To Pay
---

Safe, secure payments
Pay directly from your PayPal balance or linked bank account OR
Charge purchase to your credit card via PayPal
Learn More about PayPal

Purchase without using your credit card
"Zero fraud liability" protection
Flexible repayment options
Learn More about PayPal Credit
Accepted credit Cards:
Gift Certificates
---

Musician's Friend gift certificates are available for purchase online, in any amount from $10 to $5000.
Free Shipping or Instant Delivery via email
Any denomination
Never expires
Buy Now