Stupid Deal of the Day
site1prod481787
481787
Ampeg BA-110 Bass Combo Amp Black
Today's Price
$9999
44
MSRP: $251.99
Regular Price: $179.99
(interim markdowns may have applied)
In Stock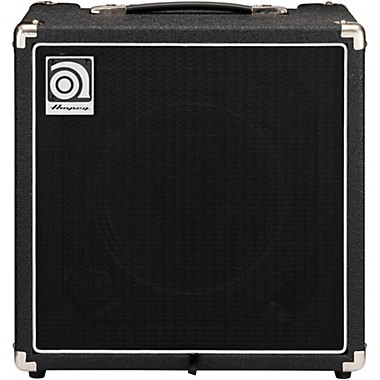 Please note - If we sell out of any daily Stupid Deal before 4:00 pm PT/7:00 pm ET, we post a new Stupid Deal deal. If you reached this page expecting another deal, it likely has been sold out.
Product Description
The Ampeg BA-110 10″ Bass Combo delivers classic Ampeg tone and performance-driven features in a professional design perfect for practice or rehearsal. Featuring Ampeg's Bass Scrambler overdrive, the BA-110 delivers grit and grind any bassist will love. The BA-110 also features a true 60-degree sound reinforcement monitor angle that adds clarity in any situation. The front-facing panel is always accessible with great features like a headphone out /line in to practice silently with your mobile music device. The ruggedly portable BA-110 combo features an all-steel amp chassis and protective metal corners for added durability.
Features
Classic Ampeg tone
40 watts RMS power
10″ Ampeg Custom10 speaker
Legacy Ampeg preamp with 3-band EQ
Bass Scrambler overdrive delivers SVT grind
Modern flexibility
True 60° sound reinforcement monitor angle
Aux input for playing along with smartphone or iPod
Headphone output for silent solo practice
-15dB input pad for active basses or additional level control
Rugged portability
Protective all-steel amp chassis
Impact-resistant black metal corners
Durable double-thick Ampeg Classic black Tolex
Lightweight, portable design
16.3"W x 16.3"H x 12"D
33.0 lb. / 15.4 kg
Get Instant Notification

Be the first to know the

Stupid Deal of the Day!
Get it first

Sign up now for smokin' deals, new & hot gear, plus exclusive offers.