Stupid Deal of the Day
site1prodJ10194
J10194
Jet City Amplification The Flood Analog Delay Pedal
Today's Price
$4999
38
MSRP: $109.99
Regular Price: $79.99
(interim markdowns may have applied)
In Stock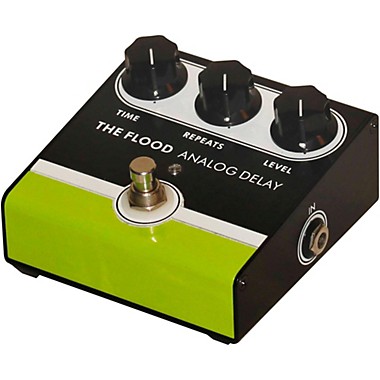 Please note - If we sell out of any daily Stupid Deal before 4:00 pm PT/7:00 pm ET, we post a new Stupid Deal deal. If you reached this page expecting another deal, it likely has been sold out.
Product Description
Jet City Amplification set out to create the most affordable and best sounding delay on the planet, and this was the result. Introducing The Flood Delay. It's a straight-forward stomp-box with the controls you need, in a layout that's easy to tweak on the fly. With 550 milliseconds of delay at your disposal, you can take the Flood anywhere from a simple slap back delay to a full-on swirling chaos of noise and everywhere in between. The circuit includes a PT2399 chip with 571N compander and TL072CN op amp.
Features
Time Knob – Adjusts the time between delay repetitions
Repeats Knob – Adjusts the amount of delay repetitions that occur
Level Knob – Adjusts the amount of delay effect applied to the original signal
On/Off Switch – Engages/Bypasses the pedal
On/Off LED – For high visibility on the darkest stage
Aluminum and Steel Housing – Strength and durability for the gigging pro
Get Instant Notification

Be the first to know the

Stupid Deal of the Day!
Get it first

Sign up now for smokin' deals, new & hot gear, plus exclusive offers.