Stupid Deal of the Day
site1prodJ02031
J02031
Modtone MT-CHOR Special Edition Aqua Chorus Pedal
Today's Price
$3999
60
MSRP: $119.95
Regular Price: $99.95
(interim markdowns may have applied)
In Stock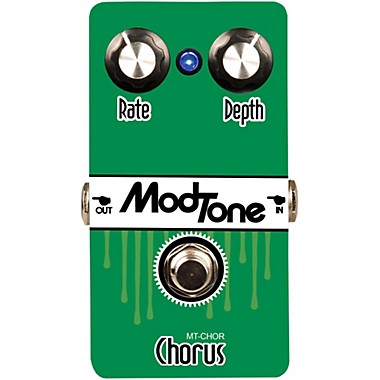 Please note - If we sell out of any daily Stupid Deal before 4:00 pm PT/7:00 pm ET, we post a new Stupid Deal deal. If you reached this page expecting another deal, it likely has been sold out.
Product Description
The ModTone Aqua Chorus II is comparable to the classic chorus sounds of the past. The Aqua Chorus II features rate and depth controls that emulate the shimmering tones of a classic vintage chorus or rotating speaker effect. Designed to incorporate lush chorus sounds while maintaining the integrity of the original input signal, the Aqua Chorus II will add a liquid dimension to your tone without any signal loss or unwanted noise.
Features
Rate Knob controls the speed of the effect
High impact switch
Depth Knob controls the width of the effect
Lush Transparent Tone
Slow Ripple To Storm Waves
Zero Unwanted Signal Noise
Usable On Electric Or Acoustic
All True Bypass
9v battery powered
9vDC power inlet
Bright Blue LED
All Metal Chassis
Get Instant Notification

Be the first to know the

Stupid Deal of the Day!
Get it first

Sign up now for smokin' deals, new & hot gear, plus exclusive offers.