Stupid Deal of the Day
site1prod484933
484933
Modtone MT-OD Dyno Drive Overdrive Pedal
Today's Price
$3999
50
MSRP: $99.95
Regular Price: $79.95
(interim markdowns may have applied)
In Stock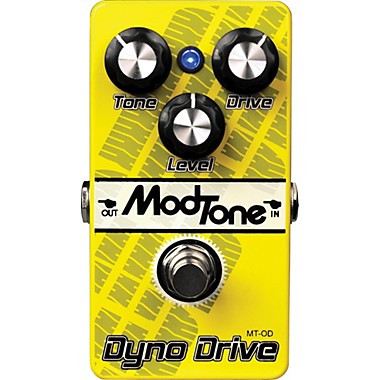 Please note - If we sell out of any daily Stupid Deal before 4:00 pm PT/7:00 pm ET, we post a new Stupid Deal deal. If you reached this page expecting another deal, it likely has been sold out.
Product Description
The ModTone MT-OD Dyno Drive is a split bypass boutique-style overdrive pedal that provides classic warm overdrive without compromise or noise and is housed in a compact sealed corrosion-resistant metal chassis that's built to last.

When placed in front of a clean amp, the ModTone MT-OD gives just a hint of overdrive making all your blues licks and chicken pickin' riffs jump out. Put it in front of your main overdrive tone and you've got a smooth lead tone that sustains for days. A simple 3-knob configuration begins with the "Tone" control that goes from rich, understated overdrive to aggressive sparkle with just a twist of the knob. Next up is the "Drive" control that allows you to add just a touch of grit or go all the way up for some serious saturation without ever being brittle. Lastly, the "Level" option gives you access to the amount of gain you want added to your main signal.

The MT-OD Dyno Drive overdrive pedal, like the whole family of ModTone pedals, features period-correct vintage-style components, smooth linear taper pots, high-impact switches built for the floor and top-quality jacks for optimum tonal transfer.

Features
Subtle and smooth overdrive
Emulates a touch of amp gain
Excellent lead boost
Light-to-medium gain level
Get Instant Notification

Be the first to know the

Stupid Deal of the Day!
Get it first

Sign up now for smokin' deals, new & hot gear, plus exclusive offers.