SOLD OUT!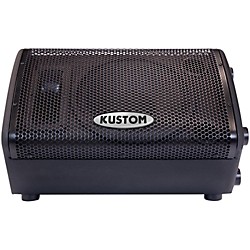 The Kustom KPX110PM powered monitor cabinet packs a lot of value into a compact, affordable package. This full range cab offers fantastic audio quality. A specially voiced crossover maintains clear separation of frequencies for crisp detailed sound reproduction. The cabinet's 10" woofer delivers punchy low frequencies, while the horn reproduces all the clear high tones. The KPX110PM is equipped with two Balanced parallel input jacks (one XLR and one 1/4") that accommodate line-level devices (not microphones) as well as a Balanced Line Out (1/4") which allows additional Powered cabinets to be connected. The KPX series has been designed to withstand years of active duty with sturdy metal grilles, stout handles, and a high quality, heavy-duty finish. The cabs also offer 30-, 60-, and 90-degree positioning, along with a 1-3/8" pole mount insert.
$19999.00
$1000.00
$9999.00
OH NO! LOOKS LIKE WE'VE SOLD OUT OF THIS DEAL.
SIGN UP FOR OUR EMAIL ALERTS TO NEVER MISS ANOTHER DEAL.