Stupid Deal of the Day
site1prodJ04082
J04082
TASCAM iUR2 USB Audio/MIDI Interface for iPad, Mac and PC
Today's Price
$3999
73
MSRP: $199.99
Regular Price: $149.99
(interim markdowns may have applied)
In Stock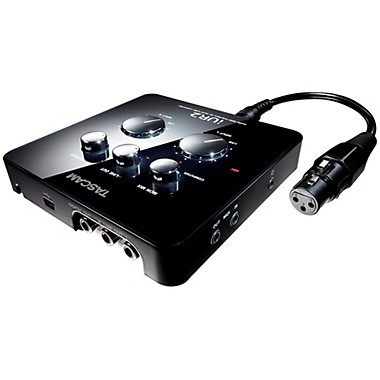 Please note - If we sell out of any daily Stupid Deal before 4:00 pm PT/7:00 pm ET, we post a new Stupid Deal deal. If you reached this page expecting another deal, it likely has been sold out.
Product Description
TASCAM's iUR2 is a premium sound quality audio interface for the iPad, iPhone and iPod touch. It includes all of the features of TASCAM's best-selling USB audio interfaces, including a pair of great-sounding microphone inputs. The XLR inputs have phantom power for use with high-quality condenser microphones. These feed an onboard microphone preamp and A/D converter for better sound performance than those built into the iPhone and iPad – true stereo recording with low noise and less tendency to distort. The inputs also accept line-level signals or you can plug a guitar or bass directly into your device.

A zero-latency monitoring path allows you to hear yourself directly through the unit, without any distracting delay. MIDI in and out are provided to interface with synths and drum machines, and a digital output connects to digital mixers or recorders.

Note: An appropriate 2-track recording application (Tascam PCM Recorder) can be downloaded from AppStore at no charge.
Features
USB 2.0 Audio/MIDI interface that works with Mac OS and Windows (supports WDM as well as CoreAudio and CoreMIDI)
Can also be used with iPad/iPad 2, iPhone 4/4S or iPod touch 4G
TRS balanced mic/line input (up to 24 dBu input level)
Phantom power for condenser microphone (needs external USB power)
Left channel switchable to instrument level
Latency-free direct input monitoring
Coaxial digital output
RCA unbalanced line output
Headphones output
Audio resolution:
44.1 kHz/16-bit with iOS devices
48 kHz/16-bit and 44.1 kHz/16-bit with Mac/PC
Supplies power to the iOS unit when connected to a USB bus
Supports iOS 4.3 and later
Can act as a docking station for synchronization (30-pin connector only)
Tascam 2-track recording app can be downloaded from AppStore at no charge
TRS/XLR conversion cables included to connect sources with standard XLR cables
Mini jack/MIDI conversion cables included
Get Instant Notification

Be the first to know the

Stupid Deal of the Day!
Get it first

Sign up now for smokin' deals, new & hot gear, plus exclusive offers.