37 Key Synthesizers
Ways to Shop
Best Sellers

Price Drop

Open Box Gear

Top Rated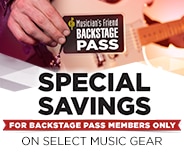 all
Open Box
Results 1 - 13 of 13 matches
Best Seller

Compare

Compare Now

site1prodJ05281

Top Rated

Compare

Compare Now

site1prodH88070

Best Seller

Compare

Compare Now

site1prodJ07997

Top Rated

Compare

Compare Now

site1prod702244
Best Seller

Compare

Compare Now

site1prodJ19805

Top Rated

Compare

Compare Now

site1prod485806

Best Seller

Compare

Compare Now

site1prodH92401

Price Drop

Compare

Compare Now

site1prodJ04499
Best Seller

Compare

Compare Now

site1prodH70646

Best Seller

Compare

Compare Now

site1prodJ19503

Best Seller

Compare

Compare Now

site1prodJ19353

Compare

Compare Now

site1prod709318
New

Compare

Compare Now

site1prod580579
Was:
There is no end to what can inspire you as a musician. Of course, synth players know this all too well, considering that the possibilities of what today's synthesizers can do feels infinite. Within this section, you'll find a massive range of 37-key synthesizers, all of which are more than capable of taking your performance to extraordinary new heights.

Synthesizers have come a long way since their dominating heyday in the late 70's and 80's. By playing a large role in shaping the sound of both decades, synthesizers were used quite often by famous recording artists of the day, from Rush and New Order to Devo and Depeche Mode. Since then, synthesizers have improved by leaps and bounds thanks to digital technology, and they're still very much used by modern recording stars as well, including artists like Ke$ha and Wilco.

Renowned and respected names like Moog and Roland are no strangers to the synth world, and this catalog of options includes each of those aforementioned companies, as well as other popular models such as the Korg MicroKorg XL+ synthesizer/vocoder. Featuring a unique exterior and unequalled sound, this 37-key synthesizer is loaded with fat and powerful tones with additional keyboard staples like electric piano and CX-3 organ. Compact and easy-to-use, this versatile machine is ideal for both live concerts and MIDI. Another highly recommended choice is the Novation MiniNova Mini-Keys synthesizer. A powerful 37-key synth with astounding performance controls that allow you to tweak and warp the onboard sounds, this model contains the same sound engine as the UltraNova, and is packed with 256 inspiring effects to get your creative juices flowing instantaneously.

When you're a musician, new ideas are constantly forming, which is why you deserve to have equipment that can make your creations come to life exactly in the way you envisioned them. For that, you've definitely come to the right place. In this section, you'll have no problem finding the perfect 37-key synthesizer to broaden your musical horizons.