Add-On Packs for Acoustic Drums
Ways to Shop
Best Sellers

Price Drop

Open Box Gear

Top Rated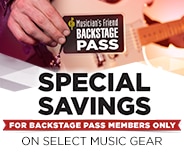 all
Open Box
Results 1 - 9 of 9 matches
Compare

Compare Now

site1prodJ07891
Was:
You're a wizard on the skins. When you sit down at your drum set, you're in the zone—even Dave Grohl would be impressed. You have the best drum kit money can buy. And maybe you're wondering how you can make a good thing even better. Check out our add-on packs for acoustic drums, and you just might find the answer. Whether you're looking for some spare hardware to ensure you're never caught unprepared, or maybe a few new drums to build on your set, even the best kit always has room for expansion. After all, as a drummer you set the pace for the whole band, and an add-on could be just what you need to get the edge at your next gig. If you're looking for something to truly set yourself apart, consider adding octobans to your set. These 'tube toms', originally pioneered by Billy Cobham and later popularized by Stewart Copeland, produce a unique sound with great character and excellent clarity. A different cylinder length gives each drum its own distinct tone. For those with partial drum sets, an expansion kit allows the set to be expanded to a complete double bass arrangement. Perfect for making your set road-ready or just beefing up your practice setup in the garage, these expansions typically include three drums along with all the necessary hardware. Speaking of hardware—an add-on for your kit can be as simple as extra stands or pedals. Maybe you've gotten your hands on a double bass-drum setup but you need the gear to make it work. No worries, we have the equipment you need. It doesn't matter if you're a hobbyist or a professional, as long as you have an ear for rhythm and a love for drumming, there's no better way to improve your drum set than with the right add-on pack!

You are changing the Ship-To country.
Our product catalog varies by country due to manufacturer restrictions. If you change the Ship-To country, some or all of the items in your cart may not ship to the new destination.
{"reportSuiteIds":"","prop2":"","prop1":"","prop5":"","prop6":"","prop3":"","prop4":"","channel":"","linkInternalFilters":""}
category
site1DAB
/add-on-packs-for-acoustic-drums
cat|site1DAB
?pageName=subcategory-page&N=500303