Fender Telecaster

The iconic Fender Telecaster electric guitar is a masterpiece of design and functionality which helped change the course of modern music when it was first released in the early 1950s. The Tele was the first commercially successful solid body electric guitar, and due to its simple elegance, utilitarian reliability and versatile playability, that same basic design, along with variations on the theme, continues to be a best seller to this day.
Although there had been hollow body electric guitars for years before the Tele's introduction and a few builders had experimented with solid body electrics, it wasn't until Leo Fender developed the Telecaster that the solid body electric really took off. The earliest version of the Tele was the single-pickup Esquire, released in 1950. A two-pickup version, christened the Broadcaster, replaced the Esquire several months later, but was soon met with a trademark complaint from the Gretsch company, which marketed a line of drums under the name "Broadkaster." There were several months where guitars were produced without a name on the headstock, now known as "Nocasters," until Fender finally adopted the name Telecaster, inspired by the then-new television phenomenon. The Esquire was reintroduced as a single-pickup version of the Tele, but the now-familiar two-pickup model quickly caught on with country pickers, blues and rock players and eventually pickers in virtually every genre from jazz and punk to psychedelia and beyond.
Today, the Telecaster is available in an incredible array of models. Right-handed or lefty versions of most models are available, as well as all the parts and accessories you might need to complete or create your dream Tele. You can even replace your neck and body, or custom-build your own Tele from scratch! The Fender Telecaster has been an indispensable part of the music scene for over 60 years. Order one today and make it an indispensable part of yours!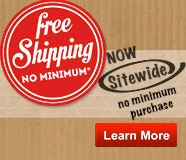 all
No Results Found
Quick Search Tips:
Try just one or two terms.
Instead of using the search box, find your gear by clicking the product category tabs and other navigation links.
Try varying the spelling to see if the word is spelled correctly.
Check out the items below that are suggested based on your search terms.
We'd love to help you find what you're looking for-call us anytime at 800-449-9128.
Suggested Items: