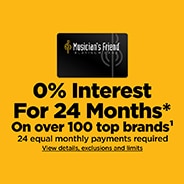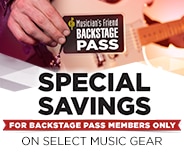 all
No Brand Items Returned
Quick Search Tips:
Try just one or two terms.
Instead of using the search box, find your gear by clicking the product category tabs and other navigation links.
Try varying the spelling to see if the word is spelled correctly.
Check out the items below that are suggested based on your search terms.
We'd love to help you find what you're looking for-call us anytime at 800-449-9128.
Suggested Items:
About Markbass
When you ask bassists about Markbass gear, the one thing you can expect to hear more than anything else is glowing praise. That's even true of Cliff Hugo from Supertramp, who once said "You transfer the quality of your people into the products you make!" That message was one he addressed to Markbass founder Marco De Virgiliis, and it's a sentiment that Markbass continues to prove true by carrying on building amazing amplifiers, speakers and effects units exclusively for bass.

For his part, De Virgiliis has always been obsessed with building great-sounding gear. He started out making speaker cabs and amps in 1996, eventually joining forces with Sterling Ball. The result of that partnership was Music Man's Audiophile line, and it gave De Virgiliis the boost he needed to launch his own label: Markbass. The team he assembled in 1996 is still together today, and they've kept every ounce of passion they started with in their early years.

When they set out to design or revise an amp, cabinet or effects pedal, something that the people at Markbass always do is to take the advice and feedback of real players into account. That's another thing that sets Markbass apart: by listening closely to the musicians who play nightly gigs with their gear, they stay in touch with the needs of professional bassists. The result is long-lasting hardware that you can count on to reliably deliver powerful low-end tone.

If you still need another push to put Markbass at the top of your wish list, you'll get it from looking at their testimonials. For instance, Jeff Berlin has described his Markbass amp as the "best he's ever played through." Bob Daisley, when he was playing in Ozzy Osbourne's band, swore by the "plenty of warmth, backbone and weight in the actual sound" of his TA503. And that's just naming two of the dozens of veteran bassists who trust Markbass to power their gigs.

The bottom line is this: if you're looking for the best bass gear, it's a great idea to stick to manufacturers who specialize in it. Markbass is at the top of their game in this field. Bass is what they do, and that focus drives them to produce bass amps, speakers and accessories that are simply second to none.