Back to Top

Overview

Jump to Overview

Features

Jump to Features

Warranty

Jump to Warranty

Reviews

Jump to Reviews

true
Zoom
tier1
Fender

American Vintage '62 Precision Bass
Product

510298
BAJ
true
MMGS7/510298000001000_MEDIA_SET
false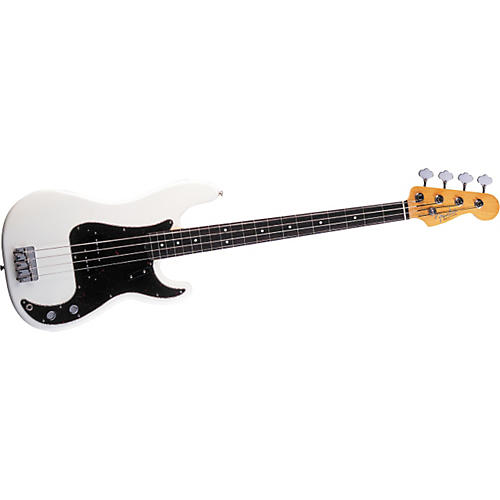 (48 Contiguous U.S. States)
Free
Free Shipping With Backstage Pass
2-Day Standard Ground
Free Shipping With Backstage Pass

(48 Contiguous U.S. States)
USD
The Fender American Vintage '62 Precision Bass is as classic sounding and resonant as the original. Following its introduction in '51, the P Bass wen...Click To Read More About This Product
We're sorry-this item is unavailable.
Find a similar product below or contact our experts for a recommendation of great alternatives. Call us at 800-449-9128.
Customers Also Viewed:
OVERVIEW
True vintage look, feel, and sound.
The Fender American Vintage '62 Precision Bass is as classic sounding and resonant as the original. Following its introduction in '51, the P Bass went on to dramatically influence the way we play and hear music, impacting every genre in every decade since. The '62 Precision pays tribute to this landmark instrument as it starts its second decade. It features accurate detailing in electronics and hardware from the split single-coil pickups to the vintage tuning machines. Finished in nitrocellulose lacquer. Includes Fender deluxe hardshell case, vintage cable, and leather strap.
FEATURES
Split single-coil vintage pickups
Maple neck with rosewood fretboard
Includes original bridge ashtray and pickup guard
Vintage tuning machines

Order today. It's like going back to 1962 and starting all over.
/pdp/reviews/productReviews.jsp
Loading....
Practicing (3)
Recording (3)
Comments about Fender American Vintage '62 Precision Bass:
After shopping, reviewing, praying, crying, drooling for over 2 years to find the perfect Fender American Bass This IS IT! After all of my research and driving to Nashville numerous times and just having this in my hands I knew I had to have it! This is the touring bass guitar of a lot of Pro Level musicians as well (for an awesome selling point). It plays and feels better than ANY bass I've played in 20+ years! Yes, it is "pricey" but there is no substitute in the quality for this gem! The tone is simply amazing, The Nitro finish.. Need I say more its Nitro! This is the real deal from '62, everything is to exact specs! If you're torn between this or the Jazz Bass don't be,, You can Pluck/Pop style this P Bass.. some P Basses you can't! It's versatile for all types and genres of play! Don't hesitate or debate, You Will Not Be Disappointed!
This is The 2 Knob Monster! Vintage tuning keys, aged neck, Nitro finish looks stunning and will wear and age beautifully, perfect 3 ply tortoise shell pick guard.... and THE TONE!!!!!!! You'll fall in love with the Authentic Vintage Case!
Simply amazing! Everything is vintage to specs and the Nitro finish looks stunning! You can feel this is something special! Did I mention THE TONE??
This is up for debate.. but after owning 14 bass guitars YOU GET WHAT YOU PAY FOR PEOPLE! Slap down another $400 for an heirloom that will retain/gain value and you will cherish for years! I plan on passing this down to my son EVENTUALLY!
Comments about Fender American Vintage '62 Precision Bass:
I owned an early 60's Precision Bass when I first started out playing in a number of small rock and roll and blues bands back in the day. Played for about 10 years and traded my Precsion bass for a car. ( a mistake). Spinning ahead and now retired, I still had thoughts of getting another 60`s style P Bass and after purchasing this 62 model just recently, can say this model looks, feels and plays like the orginal. As well, I found their Customer Service Support to be excellent. I Should mention I have no bias as I also have a Fender Strat.,Gibson Les Paul and a Martin Acoustic.
Comments about Fender American Vintage '62 Precision Bass:
I have owned a number of incredible basses including a Modulos Q-5, Steinberger Synapse, Warwick StarbassII, Fender American Standard Jazz, Tobias Growler and this Vintage P blows them all away. Mine was perfect out or the box. The action is low, the neck is beautifully fast and comfortable, and the ease of one tone knob and its range of tonal ability is remarkable. I love how the wood of the neck and headstock looks like its aged beautifully. All in all, this bass is worth every penny, and I would like to have it burried with me when I die.
Fun To Play
Good Feel
Good Pick Up
Good Tone
Solid Electronics
Jamming
Practicing
Recording
Rock Concerts
School Bands
Small Venues
Comments about Fender American Vintage '62 Precision Bass:
This bass is fantastic. I've wanted one of these in sunburst for a good 15 years or so, and I was finally able to get one early this year. I rarely play my American Standard P-bass or my two Stingrays anymore! This '62 reissue bass has become my favorite axe. It just oozes class & beauty, and I'd recommend it for any type of music. I currently have mine strung with flats, and it sounds nice & thumpy. It sounds exactly how a P-bass should, and I hear it's pretty much identical to the old '60s basses (except for better ratios on the machine heads). I was a little concerned about the location of the truss rod adjustment, but it's really no big deal to pop the neck and tweak the rod every so often. It helps to put a capo or something else to hold the strings down at the nut to keep the strings wound on the headstock. Something that surprised me about this bass was how light it is. It's definitely the lightest of my four basses, so it's extremely easy on the shoulder & back. I can play it for hours! The finish on the bass is pretty fragile, so it can scratch & nick easily, but that doesn't bother me. I take care of this instrument, but I've still acquired a few battle scars over the last several months. It adds mojo! My only complaint about this bass is that after playing & sweating for a bit, the back of the neck starts accumulating a bit of gunk, probably due to the lacquer. But this is such a minor issue, I won't change my rating from five stars. I can't recommend this wonderful bass guitar enough. Just buy it & it'll pay for itself after a few gigs!
Comments about Fender American Vintage '62 Precision Bass:
I've been playing bass for 30 years. I've owned alembics, warwicks,musicman. Always looking for the perfect set of active electronics along with the perfect amp. Forget it. Get this bass!!You'll understand the minute you plug it in. Sounds great on any amp I've used. NO electronis, TWO NOB PERFECTION.
Comments about Fender American Vintage '62 Precision Bass:
I have bought and sold probably a hundred different basses over the years. Everything ranging from high end MusicMan Stingrays, Bongos, etc. to Yamahas, Warwick's, a variety of Fenders, etc. and if you just want warm, solid, fundamental bass tone for nearly every type of music, this bass delivers.Not only is the tone wonderful and classic, the bass is much lighter than newer P basses since it has a lighter finish and is made from Alder instead of ash.The finish is fragile and will ding easily because of the vintage spec nitro finish but I wear my dings with pride.Of all the basses I have, this is my "go to" bass and I always find myself grabbing this one 85% of the time. For true warm, vintage tone, get flatwound strings. I put a set of La Bella flats that I'm going to leave on it forever!
Comments about Fender American Vintage '62 Precision Bass:
I noticed some scuffing of the piick guard but it is not really noticeable to others.
I purchased a new 1962 Fender Precision Bass in 1962, and taught myself how to play it. I played it in bands for 12 years. I moved into a new home 33 years ago and my home was broken into. One of the items taken was my 1962 bass, Since I was no longer playing in bands I decided not to replace it at that time. Recently I got the bug to play again so I purchased the '62 replica along with
two GK practice amps. I am pretty much having to learn again but I am enjoying playing the replica.
It plays the same as the original and looks the same with the beautiful Sunburst finish. I would recommend this bass to anyone that wants an excellent bass sound. The amp I used while playing in bands was a Custom 250 Watt whith 18" speaker.
The case and bass are very well built and I am very pleased with the purchase.
The price is reasonable for what you are getting.
Comments about Fender American Vintage '62 Precision Bass:
This is an excellent bass. Great build quality and detail. Try using flatwound strings for that Motown sound, La Bella Jamerson set.
Comments about Fender American Vintage '62 Precision Bass:
This is one beautiful piece of hardware. My dad bought me new 62 Precision bass in 1963 and I used it for several years playing in garage bands. In the early 60's this guitar cost about a fifth of this one but that was a lot of money for someone whose parents were immigrants. I sold the guitar when I was in college and I truly regret that. The year I got the guitar, I was playing in a dive bar (I was a bout 14 years old) and the guitar was propped up on my Fender Bassman amp & speaker cab. It fell and always had an ugly damage spot. It would have been to expensive to fix. When I started getting back into playing in my early 50's, I purchased a Fender Americam Jazz Bass. Always like the feel of the Jazz bass. Then, call it nostalgia but I just had to buy another white 62 Precision bass (reissue). It was like buying back some of my youth and some great memories. This guitar is every bit as nice as my original and I do not hear any tonal differneces from the original. This is a beautiful guitar! Buy it.!
The only caveat I have is that if you have a small hand, you may want to consider something else. The 62 reissue P-Bass has a 1.75" width at the nut which makes for a lot of spacing between the strings on what already are fairly large frets.
Pefect! Beautiful nitro finish with a slightly aged look. Chrome hardware covers give this model a unique look.
What's money. If you don't always buy your first choice in guitars and amps, you will end up regretting it.
Comments about Fender American Vintage '62 Precision Bass:
I have owned many basses,Tobias, Alembic, Pedulla, always going for the active electronics for my tone,NEVER again! Get this 2knob marvel and you will know the moment you plug it in that this is the warm,fat,buttery tone you have been craving! put LaBella Hard Rockin Steel strings on and pair it with an Ampeg Amp and you got instant History pouring thru your speakers!!! I LOVE THIS BASS!
Comments about Fender American Vintage '62 Precision Bass:
Owned American Vintage 62 Precision for 4 mos. Lots of range, growl, & punch. Dramatic effect from slight turn of tone control. Sunburst w/tortoise pickguard is beautiful. String coating transferred onto my fingers for the first few wks. Had a severe bow in the neck out of the box; note that you can't adj the truss w/o removing the neck. After almost 3 complete turns(!) the neck was straight and action very comfortable. Still not used to the reverse tuning keys. If you prefer the more exotic tones of some of the high-end active basses, you might not want this model. Still, excellent for recording. For the price you should still check all basses in that range. But if you decide on a P-bass, it's worth it to get the best one you can afford. No regrets so far.
Comments about Fender American Vintage '62 Precision Bass:
I've only had it a week, but so far I really enjoy it. I definitely prefer it over my '97 P and '83 P. Sounds amazing through a '66 B-15. If I had the cash, I'd buy the white one.
Excellent Craftsmanship
Fun To Play
Good Pick Up
Great Action
Great Tone
Solid Electronics
True Vintage Feel
Jamming
Practicing
Recording
Rock Concerts
Small Venues
Comments about Fender American Vintage '62 Precision Bass:
I have had this bass for about six months now, and absolutely love it. Hardest part for me is I am generally a 5 stringer. I have owned Musicmans, Warwicks, higher end Ibanez, MTD and other fenders. IMO this blows them all out of the water. The craftsmanship on this instrument is absolutely incredible, and really has that vibe the original '62 had. If you are considering getting an American standard, I would highly recommend getting your hands on one of these first, there is no comparison! Only complaint is that you need to take the neck off the body to adjust the truss rod. (just like the '60's basses) Upside is it is built so well in almost falls back together, and it is neat to look at all the pencil marks under the neck from when it was built, and see the date stamp on the neck.
Comments about Fender American Vintage '62 Precision Bass:
If you have seen the movie Pink Floyd:Live at Pompeii, this IS the bass guitar that Roger Waters used. If you have seen the movie you know this bass has great jazzy tones. i have played it and its AMAZING
Comments about Fender American Vintage '62 Precision Bass:
This was an impulse buy that I did not regret. I was smitten by the Motown sound and ran this thru a B15 and that was it. You wont regret it and you will have to fight off your bandmates that'll want to play it.
Comments about Fender American Vintage '62 Precision Bass:
This '62 RI p bass is so awesome it rivals a ric 4003. The nitro finish is spectacular -- it's gonna show wear & tear but it doesn't have the plasticly look of other finishes. The vintage pu's get a thick, gritty bass tone ideal for playing with a pick. Wide but thin flat neck is a dream to play on. Man, you can't go wrong with this classic.
Comments about Fender American Vintage '62 Precision Bass:
This is defintaly the best bass I have ever palyed. You cant go wrong when it comes this bass. Its got looks and the tone is unbelievable.
Comments about Fender American Vintage '62 Precision Bass:
First off, this is one of the best sounding (Best overall) basses I've ever played. I use it through a 400w Ampeg and it sings. You can easily change your lows from thick mud to crisp thump and tune in exactly to whatever sound you'll probably ever want.It has amazing sustain and holds notes forever. The neck is fast and the overall finish is flawless. Even the strings are okay and sound good. This is probably the best bass you can buy aside from a boutique bass or maybe a Ric. The only P-bass I'll ever need.
Comments about Fender American Vintage '62 Precision Bass:
Fender has done a great job of recreating the P-Basses of yesteryear. Having owned an original '62 P and now a 1988 RI of the '62 P, I can tell you that there is little discernable difference between them. I you weren't around when the first ones came out -get this and dream. If you were-get this and remember! Truly a playable piece of history without 44 yrs of wear on it!
Comments about Fender American Vintage '62 Precision Bass:
This is one of the most versatile guitars I play. I am in a popular band, and I use this for all of my bass-prominent songs. It really cuts through the lead guitars to bring out the bass in the mix. Great playability couple with magnificent electronics make a user-friendly guitar.
{ "pageType" : "item_page", "placements" : "2", "placementNames" : "OOS,rr2" }