{ "sourceCodeId" : "61001562", "sourceName" : "DIRECTSOURCECODE2", "sourceSegment" : "direct", "profileZipcode" : "", "profileStoreId" : "", "profileStoreName" : "", "profileID" : "6082920893", "isInternational": "false", "isWarrantyShippable": "true", "isInternationalCommerceEnabled": "true", "currencySymbol": "$", "cookieLoggedIn" : false, "richRelevanceMode":"render", "richRelevanceApiKey":"46baeda9936d6a41", "richRelevanceUserId":"", "richRelevanceSessionId":"1a837b2b80f22fdddd78f77b148a2c89", "rrBaseUrl":"//recs.richrelevance.com/rrserver/", "rrChannelId":"-", "rrMobileChannelId":"c6e0f249ecc40744", "hashedUserIdForCriteo":"", "rrTimeout":"10000", "isEducatorAccount": "false", "sessionIsDC": "false", "fullyLoggedIn" : false, "isMobile":"true", "isProp65User":"", "JSESSIONID":"", "showEloyalty": "true", "loyaltyName":"backstagepass", "showLoyalty":"true", "loyaltyUser":"", "loyaltyPoints":"", "callCenterNumber" : "800-449-9128" }
OCMB
Product #

430305
true
true
true
true
MMGS7/430305000938000_MEDIA_SET
false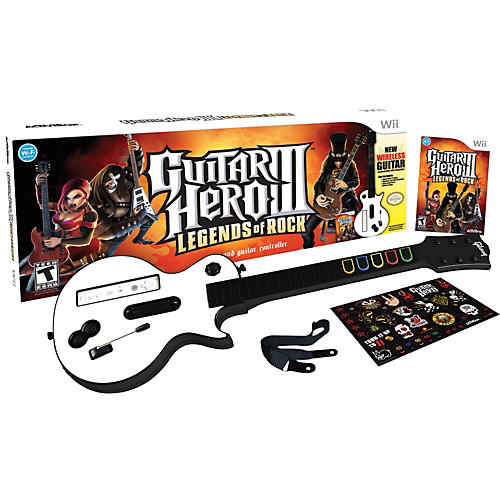 true
Lowest Price

Ships Internationally

Top Rated
true
true
true
Description

Reviews

Q & A
Unleash your inner rock legend!
Guitar Hero III: Legends of Rock for PS3 or Nintendo Wii is the revolutionary musical video game that has swept the world. Turn up the volume and prepare to become a virtual rockstar using some of the most intense hand-eye coordination a video game has ever demanded.

Become A Legend

In this iconic video game series from Activision you face off against guitar icons like Slash of Guns N' Roses or Tom Morello of Rage Against the Machine. Fight insane battles featuring original tracks recorded exclusively for Guitar Hero III. But first you'll have to shred your way through classic tunes by such notables as Santana: "Black Magic Woman," ZZ Top: "La Grange," Red Hot Chili Peppers: "Suck My Kiss," and newer fare from Bloc Party: "Hellicopter," The Killers: "When You Were Young," and Queens of the Stone Age: "3's and 7's." In all, there are over 70 ear-catching headbangers, punk anthems, and modern rockers that'll keep your fingers busy. Master them all, and you'll feel like a legend too.

Rock Out Online Or Party Offline

With Activision's Guitar Hero III you defeat opponents to achieve legendary status in head-to-head competitions., There's even an all-new guitar battle where you can wreak havoc on your opponent's gear by using your earned weapons to break strings or amps. Or share the glory with a friend in the co-op career mode.

Cutting Edge Guitar Controller

Activision updated the Guitar Hero III controllers with enhanced button coloring and shape, making them feel more like a guitar than a toy. The wired Wii, PS3 and Xbox 360 controllers are based on Gibson's classic Les Paul. The PS2 controller is based on the Kramer Striker guitar. It's wired, has a removable faceplate, and comes with a series of stickers so you can customize the look of your axe. (Controllers require 2 AA batteries.)

Game supports up to 2 players.
FEATURES
Songlist includes:
Miss Murder (AFI)
School's Out (Alice Cooper)
Sabotage (Beastie Boys)
Paranoid (Black Sabbath)
Helicopter (Bloc Party)
One Way or Another (Blondie)
Cities On Flame With Rock & Roll (Blue Oyster Cult)
Devil Went Down To Georgia (Charlie Daniels)
Sunshine of Your love (Cream)
Play The Blues (Danko Jones)
Width of a Circle (David Bowie)
Holiday in Cambodia (Dead Kennedys)
Stricken (Disturbed)
Through Fire and Flames (Dragonforce)
Cliffs of Dover (Eric Johnson)
Slowride (Foghat)
Welcome to the Jungle (Guns N Roses)
Barracuda (Heart)
Number of the Beast (Iron Maiden)
Rock N Roll All Nite (KISS)
Cult of Personality (Living Color)
Monsters (Matchbook Romance)
Master of Puppets (Metallica)
Mississippi Queen (Mountain)
Knights of Cydonia (Muse)
Hit Me With Your Best Shot (Pat Benatar)
Even Flow (Pearl Jam)
Talk Dirty to Me (Poison)
Lay Down (Priestess)
3's and 7's (Queens of the Stone Age)
Bulls On Parade (Rage Against The Machine)
Suck My Kiss (Red Hot Chili Peppers)
Same Old Song and Dance (Aerosmith)
Black Magic Woman (Santana)
Raining Blood (Slayer)
Before I Forget (Slipknot)
Cherub Rock (Smashing Pumpkins)
Story of My Life (Social Distortion)
Kool Thing (Sonic Youth)
Pride and Joy (Stevie Ray Vaughan)
She Bangs A Drum (Stone Roses)
The Metal (Tenacious D)
Paint It Black (The Rolling Stones)
Rock You Like A Hurricane (The Scorpions)
The Seeker (The Who)
My Name is Jonas (Weezer)
Black Sunshine (White Zombie)
La Grange (ZZ Top)
Find out what the noise is about. Order Guitar Hero III Legends of Rock and get your shred on.