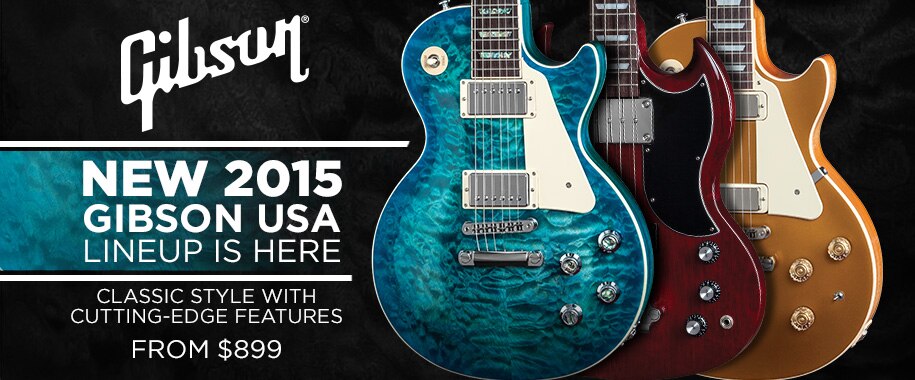 Gibson 2015 USA Series
2015 Overview
In continuing with its long and storied tradition of innovation, forward thinking, and crafting the finest instruments for guitarists possible, Gibson USA proudly introduces its new 2015 product lineup. The new 2015 Gibson USA guitars boast a number of noteworthy feature and appointment upgrades that address the needs of the contemporary guitarist while preserving the traditional spirit that makes Gibson a genuine American icon.

Upgrades to the Gibson 2015 lineup include nitrocellulose gloss lacquer finishes on every guitar, a new wider neck and fingerboard with compound radius (most models) for increased accuracy and playing comfort, an adjustable zero fret nut that allows precise adjustments to the action and intonation, an improved tune-o-matic bridge for easier height adjustment and clearer tone, an updated PLEK program for more accurate intonation, vintage-style fret wire for faster action, a thicker one-piece buffed rosewood fingerboard with oil treatment for smoother touch, upgraded internal wiring for improved signal, an Improved output jack design for superior contact, genuine mother of pearl fretboard inlays, and in honor of Les Paul's 100th birthday, all 2015 Les Paul and SG guitars will have a new "Les Paul 100" signature logo on the front of the headstock and a Les Paul hologram on the back of the headstock. All Gibson USA guitars are equipped with the G-Force tuning system, with exception only to the Les Paul Supreme, Firebird, and Derek Trucks SG. Also, all Gibson 2015 USA models now ship with hard shell cases.
New features on 2015 Gibson USA guitars:
In honor of Les Paul's 100th birthday, all 2015 Les Paul and SG guitars feature a new "Les Paul 100" signature logo on the front of the headstock and a Les Paul hologram on the back of the headstock
New wider neck and fingerboard with compound radius (most models) for increased accuracy and playing comfort
G-Force Tuning system: All Gibson USA guitars, with exception only to the Les Paul Supreme, Firebird and Derek Trucks SG, ship with the
G-Force tuning system. Gibson President Henry Juszkiewicz said "I've had a lot of players tell me they love playing guitar, but no player has ever said to me that they love tuning the guitar." Gibson USA wants to make tuning guitars a quick, easy and painless task, so players can get on with what they love – playing guitar.
Zero Fret Nut: While most guitars today do not have a zero fret (a fret just after the nut on a fingerboard), the job of a zero fret is to lift the strings to the correct height above the other frets on the instrument's fretboard. Gibson's new patent applied for zero fret nut does the job of both a regular nut and a zero fret, allowing precise adjustments to the action and intonation improvements of the guitar.
Updated tune-o-matic bridge that:

Allows easier height adjustments
Has titanium saddles for clearer tone

Updated PLEK program for more accurate intonation
Vintage-style fret wire for faster action
Thicker one-piece buffed rosewood fingerboard with oil treatment for smoother touch
Fretboards feature genuine mother of pearl inlays
Upgraded internal wiring for improved signal
Improved output jack design for superior contact
Nitrocellulose gloss lacquer on every guitar
Removable Les Paul pick guard (no screws needed)
New rugged hard shell case (most models)