The Jim Marshall story is a fascinating, true-life, rags-to-riches tale. Born in West London, England on July 29th, 1923, his childhood was anything but easy. "I never really got an education because I was in hospital all the time with tubercular bones," Jim reveals. As a result of this unfortunate affliction, he spent most of his school years quite literally cocooned in a plaster cast.
Without the benefit of a formal education, Jim began working at age 13. He also learned to tap dance and before long, music had become the focus of his life. "A band leader heard me sing and asked me to try out," Jim recalls. He passed his audition with flying colors and by 14, he was performing six nights a week as the lead vocalist for a 16-piece, big band. In 1942 the band's drummer was enlisted and Jim stepped in. His natural talents behind the kit were quickly obvious and before long, he was a much in-demand performer and teacher. In fact, Jim's weekly roster of 65 pupils included several who went on to find fame and fortune, including Mitch Mitchell (Jimi Hendrix) and Micky Waller (Little Richard, the Jeff Beck Group).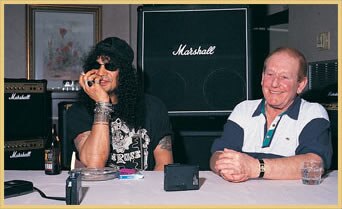 Jim was giving over 60 drum lessons a week and with his earnings he opened a music shop in Hanwell, West London. "All the drummers used to bring their groups in with them, which is how I got to meet guitarists like Pete (Townshend) and Ritchie (Blackmore)," Jim recalls. "They kept pestering me to stock guitars and amps so I decided to give it a go." He quickly became aware of the fact his guitar-playing customers were all searching for a sound and a volume level they just couldn't find. "Listening to what they were saying gave me a very good idea of what they wanted," Jim notes.
After several attempts, the first Marshall head was built in September, 1962. It was an instant hit. Jim tried it with a 2x12" cabinet but didn't like the sound. "Plus we kept blowing up speakers like there was no tomorrow!" he laughs. "So, I decided to put four 12" speakers in the smallest enclosure we could build, so it'd be easy to transport." And thus the Marshall 4x12" cabinet was born – a product that's still deemed the industry standard.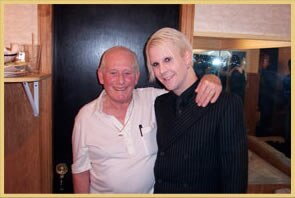 In 1965, another important Marshall milestone was reached. "Pete Townshend asked if I could build him a 100-watt head and an 8x12" cabinet," Jim states. "I agreed but warned him that his roadies wouldn't like handling such a big cabinet and suggested stacking an angled 4x12" on top of a straight one instead. Pete was having none of it though, so we built him what he wanted and off he went." Jim's prediction proved correct and Townshend returned to have the 8x12" cab "cut in half." The result of this logical solution was the creation of what is now one of the rock world's most instantly recognizable icons – the 100-watt Marshall stack!
From that point on, as the saying goes, the rest is history. Marshall opened a factory in 1964 and rapidly became the world's preeminent rock amplifier maker – a status the company still proudly holds today, winning countless honors along the way, including the Queen's Award for Export in 1984 and 1992.
How did Jim ensure that his latest products remain every bit as cutting edge as they were when they first appeared some 50 years ago? "By listening to guitarists and finding out what they really want," was his instant reply. "In my opinion, the most important thing in what we do is the person who's actually going to play through the amp once we've made it. If you don't bother to listen to the end user, you'll miss the mark on certain things because no one knows everything."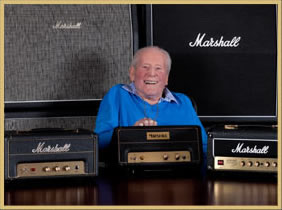 Throughout his career, Jim devoted countless hours and a huge amount of money to charities for handicapped and underprivileged children. "It all goes back to spending so much of my young life in that wretched plaster cast," he once explained. "I decided at the age of 14 that if I ever became rich enough, I would look after young people who need help and encouragement. I've done well from nothing so I'm just putting something back in." Jim was made an honoree Doctor of Music in 2002 and awarded the OBE in 2004.
Sadly, after a brief but brave battle with cancer, Jim passed away on April 5th, 2012. Like Leo Fender and his good friend Les Paul, Jim Marshall's sonic legacy will live on forever.