Moog Grandmother Synthesizer Moogfest 2018 Edition
Call for availability:
877-880-5907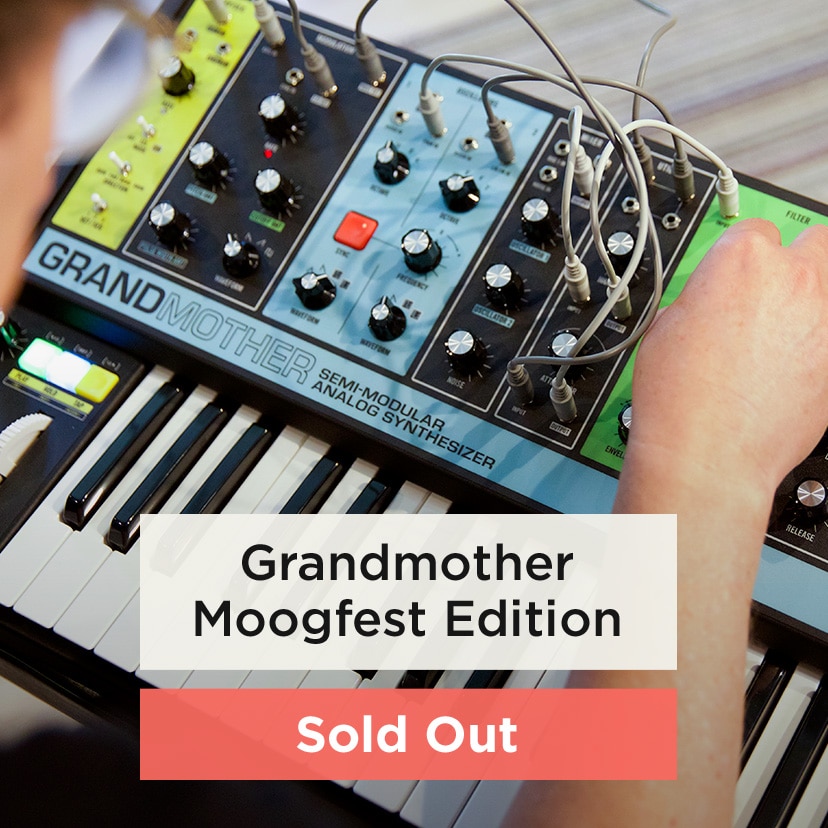 Limited-edition 32 key analog synth created exclusively for Moogfest 2018.
This special edition Moog Grandmother Synthesizer marks the synth's debut at Moogfest 2018. The first 500 units of this Moog Grandmother synth are marked with a limited-edition Moogfest 2018 badge. Each also comes with a custom Moog denim jacket. Production of the Moogfest 2018 special edition Grandmother synth is very limited. The 2018 special edition Grandmother synth delivers unmistakable Moog sound. Own this special piece of Moog synthesizer history today.

A reflection of Moog's modular synth heritage, the Moogfest 2018 special edition Grandmother is a semi-modular analog synthesizer. Designed to be enjoyed by synth enthusiasts of all levels, Moog Grandmother makes the sound creation process as much fun as hearing the results. With no presets, Grandmother 2018 Moogfest edition offers a blank slate for seemingly limitless creative exploration. Those with advanced synthesizer knowledge will be able to dial in familiar sounds quickly. Those with a more basic understanding of synthesis will quickly learn the joy of creating custom sounds.

Like its predecessors, Moog Grandmother 2018 special edition synthesizer's sound engine, modulation engine and onboard spring reverb tank are fully analog. With the Grandmother 2018 Moogfest synth, what you see is what you get. No menu diving, no recall, nothing to get in the way of you and your sound.

Semi-modular design
Moog Grandmother 2018 Moogfest edition lets you start playing right out of the box without any patching. To experience the full creative potential of Grandmother, use any of its 41 patch points to override its internal circuitry to create your own complex signal routing. Choose from 21 inputs, 16 outputs and a parallel-wired 4-jack mult. The options are only limited by your imagination, and with the ability to integrate the Moog Grandmother 2018 special edition into other modular synths like the Mother-32 or DFAM, or even into larger Eurorack systems, the possibilities are infinite.

All analog architecture
The basic building blocks of a modular synth are included in the Moog Grandmother's design, and even some welcomed extras. There are two analog oscillators each with their own selectable waveforms including triangle, sawtooth, square and pulse, with a hard sync button to align them appropriately. The analog LFO is perfect for adding some movement to your sound and with its audio-rate capability, it can act as a third oscillator for bigger, more aggressive sounds. There's also a classic Moog 4-pole 10Hz-20kHz Ladder filter, patchable 1-pole high-pass filter, and an analog ADSR envelope generator ready to sculpt your sound.

Onboard spring reverb
The Grandmother 2018 Moogfest edition would be an excellent machine with only the essentials, but Moog innovates further by adding in an analog hardware spring reverb tank that can add a subtle shine, while taming any harsh frequencies. The reverb tank can also be used to process external sources as a standalone effect. Grandmother also has a built-in arpeggiator that's easy to use and an onboard sequencer that can store up to 3 sequences with up to 256 notes each.

Retro looks with modern connectivity
Despite its vintage-inspired design, the Moog Grandmother 2018 Moogfest edition has all of the connectivity needed for a modern production environment. There's a 5-pin MIDI In/Out/Thru as well as MIDI over USB for instant integration with your host computer. Grandmother also features 1/4 in. main output and a 1/4 in. external audio input for guitars, drum machines, and more. Grandmother's 32-note premium Fatar keybed makes this a premium standalone synth but will also work perfectly as the front end to an existing modular system. No matter how you decide to use it, Grandmother 2-18 Moogfest edition will give you a lifetime of sound exploration.
FEATURES
100% analog synthesizer with 32-note Fatar keybed
Semi-modular design, requires no patching to play
All normalized connections can be interrupted for full modularity
Hardware Spring Reverb can be used to process external sounds
1/4" External audio input for guitars, drum machines, and more
Easy to use Arpeggiator and Sequencer
Store up to 3 sequences with up to 256 notes each
2 Analog Oscillators with selectable waveshape and hard sync
Classic 4-Pole 10Hz-20kHz Ladder filter
Patchable 1-Pole High Pass filter
Analog ADSR Envelope Generator
Analog LFO with audio-rate capabilities
DIN MIDI In/Out/Thru and USB MIDI
Patchable bipolar attenuator
Works with Mother-32, DFAM, Eurorack modular systems and more
41 patch points with 21 inputs, 16 outputs and a Parallel-Wired 4-jack Mult
Grab this affordable masterpiece and join the celebration.