Musician's Friend Shopping Guarantees
Living up to Our Name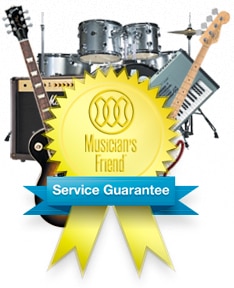 Guaranteed Exchange Rate
Fluctuations in the exchange rate won't affect your purchase. The price we show you at checkout is the price you pay.
Guaranteed Order Totals
You won't be surprised by additional charges after your purchase because all duties and taxes are included in your order total. There are no hidden costs.
100% Satisfaction Guarantee
If you're not satisfied, neither are we. If for any reason you're not completely satisfied with your purchase, return new gear in its original condition within 45 days or used gear within 30 days of shipment and we'll give you a full refund. It's that simple.
Read our Satisfaction Guarantee statement
No-Hassle Return Policy
We make returns and exchanges fast and easy. If something's not right with your gear, return new items to us within 45 days or used items within 30 days of the shipping date. You can choose whether to get a refund or credit of the full product purchase price.
Some exceptions apply. Read our Return Policy for details.