Back to Top

Overview

Jump to Overview

Features

Jump to Features

Warranty

Jump to Warranty

Reviews

Jump to Reviews

true
Zoom
tier1
Digidesign Pro Tools M-Powered 7 Multitrack Recording Software supports select M-Audio interfaces including Audiophile 192, Audiophile 2496, FireWire 410, FireWire 1814, and Ozonic (one of these devices is required). The world's best-respected and most-used professional digital recording software has been adapted to give you award-winning audio recording, editing, and mixing capabilities and instant compatibility with Pro Tools TDM and LE systems around the world. Features fully integrated MIDI sequencing and readily accepts ReWire output stream directly from applications like Ableton Live for further mixing and processing. Includes Beat Detective LE automatic groove analysis and correction tool for flawless time. Supports Digidesign's Command|8 control surface for hands-on mixing. A huge selection of optional plug-ins and applications are available. Works with Windows XP and Mac OS X (10.4 and up).

Ships with over 30 free plug-ins for controlling EQ, dynamics, effects, and more. You also get Bomb Factory which includes Essential Clip Remover, Essential Correlation, Essential Meter Bridge, Essential Noise Meter, Essential Tuner, BF76, and Funk Logic Masterizer. Also comes with DigiRack, which includes Chorus, Click, DigiReWire, Dither, D-Verb, D-Verb-AS, Dynamics II, EQ II, Flanger, Invert-Duplicate, Mod Delay II, Multi-Tap Delay, Normalize-Gain Change, Ping-Pong Delay, Reverse-DC Removal, Signal Generator, Time Comp-Exp-Pitch Shift, and Trim.

New in Pro Tools M-Powered 7 Software
Digidesign Pro Tools M-Powered 7 software introduces a plethora of new features and enhancements that deliver significantly expanded MIDI and audio recording and editing capabilities, greater mixing power and flexibility, enhanced efficiency, and improved ease of use, providing a new creative environment for the industry-standard digital audio workstation. Pro Tools M-Powered 7 software also adds Pro Tools M-Powered software support for five additional M-Audio peripherals, including ProjectMix I/O, Black Box, Ozone, Mobile Pre USB, Fast Track USB, and Transit.

Advanced MIDI Sequencing Functionality
¢New Instrument Tracks combine MIDI and audio capabilities in a single channel strip, simplifying routing for virtual instruments and MIDI sound modules
¢Real-time MIDI processing enables control of MIDI quantization, note duration and velocity, transposition, and timing in real time
¢Enhanced groove quantization features, including the ability to apply groove template quantization across multiple tracks, add randomization to further humanize the feel of a groove, and apply groove template quantization to incoming MIDI signals
¢Sample-based MIDI tracks allow MIDI events to stay locked to time code regardless of session tempo changes
¢Zoom Toggle enhancements enable users to quickly toggle between two different user-defined settings in the Edit window, making it easier to work with both MIDI and audio
¢Mirrored MIDI editing mode allows adjustments made to one MIDI file affect all existing copies of that region

Additional MIDI improvements, including
¢An enhanced Select/Split Notes window enables users to split a MIDI performance into multiple tracks by MIDI note, velocity, duration, or position
¢A new Remove Duplicate Notes command allows users to quickly clean up recorded or merged MIDI tracks
¢An overhauled Change Duration window offers new legato, overlap correction, and transform sustain pedal features
¢The Transpose window now allows users to transpose all notes in octaves and semitone

More Creative Audio Editing and Arranging Features
New Region Groups allow grouping of any combination of audio and MIDI regions, across any number of tracks
New Region Looping feature offers an easy way to repeat one or more audio regions, MIDI regions, and Region Groups, speeding up composing and arranging
¢Work with REX and ACID audio files--the two most popular audio formats for loops and samples
¢Separate on Grid and Separate at Transient functions allow editing of multi-track audio regions simultaneously, based on a grid value or transients in an audio file
¢Support for quantizing audio regions according to a grid or groove template
¢New "reverse" Strip Silence functionality allows for extracting louder portions of audio tracks

Enhanced Mixing and Processing Capabilities
¢Improved host processing efficiency allows you to run more select RTAS effects and instrument plug-ins simultaneously
¢Support for up to 10 sends per track increases mixing flexibility and allows larger, more complex mixing architectures
¢New support for 32 internal mix busses allows for larger, more complex mixing architectures
¢Support for RTAS plug-ins on Aux Inputs and Master Faders on Pro Tools|HD systems allows for improved session transferability between Pro Tools|HD and Pro Tools LE/Pro Tools M-Powered systems
¢Send assignments can now be copied or moved across tracks via drag-and-drop
¢New Automate All command allows arming automation of all plug-in parameters at once
¢An all-new, free Dynamics III DigiRack plug-in (released concurrently with Pro Tools 7 software) allows easy and powerful control of mix dynamics
¢ EQ III now includes a new filter band-pass solo mode, making it easy to isolate and remove unwanted signals or noise in an audio track
¢New Cut, Copy, Clear Special commands allow more refined editing of automation
¢Additional software optimizations provide users with a faster, more responsive, and more powerful workstation

Increased Efficiency and Improved Ease-of-Use
¢Reorganized Pro Tools menu structure offers streamlined and more logical menu navigation (key commands remain the same)
¢New Tool Tips feature adds "rollover" descriptions of objects in the Pro Tools software interface
¢Support for dragging and dropping audio, MIDI, REX, and ACID files from the desktop to the timeline
¢New Link Track and Edit Selection command allows for quickly applying track-level commands globally across multiple tracks simultaneously
¢Support for dragging multiple regions onto a single track simultaneously
¢ New Find History menu added to the Region List Find command makes Region List searches faster and easier
¢Added Duplicate Tracks dialog allows for defining how many tracks, and which track parameters, to duplicate
¢Import Session Data dialog now supports importing Markers and Mix/Edit Groups
¢New DigiBase improvements include support for working with MIDI files and an added Tempo column to organize and view audio files by tempo
¢Red Book audio CDs can now be imported from the DigiBase Workspace on both Windows XP and Macintosh computers
¢Support for up to 999 Markers/Memory Locations
¢Resizable I/O Setup and Disk Allocation dialogs allow access to more parameters simultaneously
¢The Pro Tools software interface now supports the Traditional Chinese language


Additional Options for Pro Tools M-Powered
¢Support for five additional M-Audio peripherals with Pro Tools M-Powered software, including ProjectMix I/O, Black Box, Ozone, Mobile Pre USB, Fast Track USB, and Transit.


In addition to the latest Pro Tools M-Powered software, a powerful audio production suite and a collection of valuable plug-ins are included with every Digidesign Pro Tools M-Powered system.


Bomb Factory Plug-ins:
¢Bomb Factory BF76 Compressor
¢BF Essential Clip Remover
¢BF Essential Correlation Meter
¢BF Essential Meter Bridge
¢BF Essential Noise Meter
¢BF Essential Tuner
¢Funk Logic Mastererizer

DigiRack Plug-ins:
¢1-Band EQ
¢4-Band EQ
¢Chorus
¢Click
¢Compressor
¢D-Verb
¢D-Verb-AS
¢DC Offset Removal
¢Delay
¢DeEsser
¢DigiReWire
¢Dither
¢Duplicate
¢Dynamics II
¢EQ II
¢EQ III
¢Expander-Gate
¢Extra-Long Delay
¢Flanger
¢Gain
¢Gate
¢Invert
¢Limiter
¢Long Delay
¢Medium Delay
¢Mod Delay II
¢Multi-Tap Delay
¢Normalize-Gain Change
¢Ping-Pong Delay
¢Pitch Shift
¢Reverse-DC Removal
¢Short Delay
¢Signal Generator
¢Slap Delay
¢Time Comp-Exp-Pitch Shift
¢Trim

Additional Bundled Software:
¢Ableton Live Digidesign Edition

Digidesign

Pro Tools M-Powered 7 Multitrack Recording Software
Product

706303
YUE
true
MMGS7/706303000000000_MEDIA_SET
false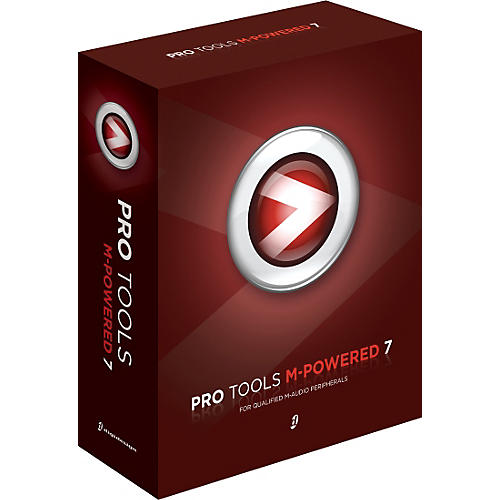 (48 Contiguous U.S. States)
Free
Free Shipping With Backstage Pass
2-Day Standard Ground
Free Shipping With Backstage Pass

(48 Contiguous U.S. States)
USD
Digidesign Pro Tools M-Powered 7 Multitrack Recording Software supports select M-Audio interfaces including Audiophile 192, Audiophile 2496, FireWire...Click To Read More About This Product
We're sorry-this item is unavailable.
Find a similar product below or contact our experts for a recommendation of great alternatives. Call us at 800-449-9128.
Customers Also Viewed:
OVERVIEW
World-standard recording power customized for your M-Audio-based home studio.
Digidesign Pro Tools M-Powered 7 Multitrack Recording Software supports select M-Audio interfaces including Audiophile 192, Audiophile 2496, FireWire 410, FireWire 1814, and Ozonic (one of these devices is required). The world's best-respected and most-used professional digital recording software has been adapted to give you award-winning audio recording, editing, and mixing capabilities and instant compatibility with Pro Tools TDM and LE systems around the world. Features fully integrated MIDI sequencing and readily accepts ReWire output stream directly from applications like Ableton Live for further mixing and processing. Includes Beat Detective LE automatic groove analysis and correction tool for flawless time. Supports Digidesign's Command|8 control surface for hands-on mixing. A huge selection of optional plug-ins and applications are available. Works with Windows XP and Mac OS X (10.4 and up).

Ships with over 30 free plug-ins for controlling EQ, dynamics, effects, and more. You also get Bomb Factory which includes Essential Clip Remover, Essential Correlation, Essential Meter Bridge, Essential Noise Meter, Essential Tuner, BF76, and Funk Logic Masterizer. Also comes with DigiRack, which includes Chorus, Click, DigiReWire, Dither, D-Verb, D-Verb-AS, Dynamics II, EQ II, Flanger, Invert-Duplicate, Mod Delay II, Multi-Tap Delay, Normalize-Gain Change, Ping-Pong Delay, Reverse-DC Removal, Signal Generator, Time Comp-Exp-Pitch Shift, and Trim.

New in Pro Tools M-Powered 7 Software
Digidesign Pro Tools M-Powered 7 software introduces a plethora of new features and enhancements that deliver significantly expanded MIDI and audio recording and editing capabilities, greater mixing power and flexibility, enhanced efficiency, and improved ease of use, providing a new creative environment for the industry-standard digital audio workstation. Pro Tools M-Powered 7 software also adds Pro Tools M-Powered software support for five additional M-Audio peripherals, including ProjectMix I/O, Black Box, Ozone, Mobile Pre USB, Fast Track USB, and Transit.

Advanced MIDI Sequencing Functionality
¢New Instrument Tracks combine MIDI and audio capabilities in a single channel strip, simplifying routing for virtual instruments and MIDI sound modules
¢Real-time MIDI processing enables control of MIDI quantization, note duration and velocity, transposition, and timing in real time
¢Enhanced groove quantization features, including the ability to apply groove template quantization across multiple tracks, add randomization to further humanize the feel of a groove, and apply groove template quantization to incoming MIDI signals
¢Sample-based MIDI tracks allow MIDI events to stay locked to time code regardless of session tempo changes
¢Zoom Toggle enhancements enable users to quickly toggle between two different user-defined settings in the Edit window, making it easier to work with both MIDI and audio
¢Mirrored MIDI editing mode allows adjustments made to one MIDI file affect all existing copies of that region

Additional MIDI improvements, including
¢An enhanced Select/Split Notes window enables users to split a MIDI performance into multiple tracks by MIDI note, velocity, duration, or position
¢A new Remove Duplicate Notes command allows users to quickly clean up recorded or merged MIDI tracks
¢An overhauled Change Duration window offers new legato, overlap correction, and transform sustain pedal features
¢The Transpose window now allows users to transpose all notes in octaves and semitone

More Creative Audio Editing and Arranging Features
New Region Groups allow grouping of any combination of audio and MIDI regions, across any number of tracks
New Region Looping feature offers an easy way to repeat one or more audio regions, MIDI regions, and Region Groups, speeding up composing and arranging
¢Work with REX and ACID audio files--the two most popular audio formats for loops and samples
¢Separate on Grid and Separate at Transient functions allow editing of multi-track audio regions simultaneously, based on a grid value or transients in an audio file
¢Support for quantizing audio regions according to a grid or groove template
¢New "reverse" Strip Silence functionality allows for extracting louder portions of audio tracks

Enhanced Mixing and Processing Capabilities
¢Improved host processing efficiency allows you to run more select RTAS effects and instrument plug-ins simultaneously
¢Support for up to 10 sends per track increases mixing flexibility and allows larger, more complex mixing architectures
¢New support for 32 internal mix busses allows for larger, more complex mixing architectures
¢Support for RTAS plug-ins on Aux Inputs and Master Faders on Pro Tools|HD systems allows for improved session transferability between Pro Tools|HD and Pro Tools LE/Pro Tools M-Powered systems
¢Send assignments can now be copied or moved across tracks via drag-and-drop
¢New Automate All command allows arming automation of all plug-in parameters at once
¢An all-new, free Dynamics III DigiRack plug-in (released concurrently with Pro Tools 7 software) allows easy and powerful control of mix dynamics
¢ EQ III now includes a new filter band-pass solo mode, making it easy to isolate and remove unwanted signals or noise in an audio track
¢New Cut, Copy, Clear Special commands allow more refined editing of automation
¢Additional software optimizations provide users with a faster, more responsive, and more powerful workstation

Increased Efficiency and Improved Ease-of-Use
¢Reorganized Pro Tools menu structure offers streamlined and more logical menu navigation (key commands remain the same)
¢New Tool Tips feature adds "rollover" descriptions of objects in the Pro Tools software interface
¢Support for dragging and dropping audio, MIDI, REX, and ACID files from the desktop to the timeline
¢New Link Track and Edit Selection command allows for quickly applying track-level commands globally across multiple tracks simultaneously
¢Support for dragging multiple regions onto a single track simultaneously
¢ New Find History menu added to the Region List Find command makes Region List searches faster and easier
¢Added Duplicate Tracks dialog allows for defining how many tracks, and which track parameters, to duplicate
¢Import Session Data dialog now supports importing Markers and Mix/Edit Groups
¢New DigiBase improvements include support for working with MIDI files and an added Tempo column to organize and view audio files by tempo
¢Red Book audio CDs can now be imported from the DigiBase Workspace on both Windows XP and Macintosh computers
¢Support for up to 999 Markers/Memory Locations
¢Resizable I/O Setup and Disk Allocation dialogs allow access to more parameters simultaneously
¢The Pro Tools software interface now supports the Traditional Chinese language


Additional Options for Pro Tools M-Powered
¢Support for five additional M-Audio peripherals with Pro Tools M-Powered software, including ProjectMix I/O, Black Box, Ozone, Mobile Pre USB, Fast Track USB, and Transit.


In addition to the latest Pro Tools M-Powered software, a powerful audio production suite and a collection of valuable plug-ins are included with every Digidesign Pro Tools M-Powered system.


Bomb Factory Plug-ins:
¢Bomb Factory BF76 Compressor
¢BF Essential Clip Remover
¢BF Essential Correlation Meter
¢BF Essential Meter Bridge
¢BF Essential Noise Meter
¢BF Essential Tuner
¢Funk Logic Mastererizer

DigiRack Plug-ins:
¢1-Band EQ
¢4-Band EQ
¢Chorus
¢Click
¢Compressor
¢D-Verb
¢D-Verb-AS
¢DC Offset Removal
¢Delay
¢DeEsser
¢DigiReWire
¢Dither
¢Duplicate
¢Dynamics II
¢EQ II
¢EQ III
¢Expander-Gate
¢Extra-Long Delay
¢Flanger
¢Gain
¢Gate
¢Invert
¢Limiter
¢Long Delay
¢Medium Delay
¢Mod Delay II
¢Multi-Tap Delay
¢Normalize-Gain Change
¢Ping-Pong Delay
¢Pitch Shift
¢Reverse-DC Removal
¢Short Delay
¢Signal Generator
¢Slap Delay
¢Time Comp-Exp-Pitch Shift
¢Trim

Additional Bundled Software:
¢Ableton Live Digidesign Edition

Why go with a unproven imitation when you can work with the real thing? Order today!
SPECIFICATIONS
Pro Tools M-Powered System Requirements
A supported M-Audio peripheral
A Digidesign"qualified computer running Windows XP or Mac OS X 10.4 and up
Minimum Requirements (Windows XP):
Intel Pentium IV or Athlon processor, 1 GHz or higher
384 MB of RAM
Windows XP Home or Professional, Service Pack 2 (Vista not supported)
Display resolution 1024 x 768 or higher
Free USB port for iLok USB Smart Key
Minimum Requirements (Mac OS X 10.4 and up)
G4 processor, 933 MHz or higher
384 MB of RAM
Mac OS X version 10.3.7
Display resolution 1024 x 768 or higher
Free USB port for iLok USB Smart Key
Pro Tools M-Powered 7 will not run on Mac OS X 10.3.9 and earlierRecommended System (Windows XP)
Intel Pentium IV or Athlon processor, 2.8 GHz or higher
512 MB of RAM
Recommended System (Mac OS X)
G5 processor, 1.8 GHz or higher
512 MB of RAM
Supported M-Audio Peripherals:
ProjectMix I/O
Black Box
Ozone
MobilePre USB
Fast Track USB
Transit
FireWire 1814
FireWire 410
FireWire Solo
FireWire Audiophile
Ozonic
Audiophile 2496
Audiophile 192
Delta 1010
Delta 1010LT
Delta 66
Delta 44
/pdp/reviews/productReviews.jsp
Loading....
I switched from cubase and haven't looked back since. Actually uninstalled SX3 from my computer. PTMP has all the tools you need and is by far the easiest DAW of the big boys to use. If you want a program that allows you to work and not spend have the time reading the manual for every step this is it. Although PTHD is industry standard, PTMP is fully compatible with PTHD and PTLE. only dissapointment for me is lack of ADC. Combined with musicians toolkit this combo is lethal!
I have spent more than a week trying to get Pro-Tools 7 to open on my computer. Pro-Tools said my M-Audio,MobilePre USB hardware was not installed. However, my MobilePre USB hardware works just fine with all my other recording programs, when they open.I went on-line and instaled the up-dated drivers from M-Audio for Pro-Tools 7. "This did not help." "I will never-ever buy a Pro-Tools product again."
{ "pageType" : "item_page", "placements" : "2", "placementNames" : "OOS,rr2" }