Korg's new Prologue is a polyphonic analog synthesizer sure to have a big impact on the synth world. Prologue is available in two configurations: Prologue-16, a 16-voice, 61 key model, and Prologue-8, an 8-voice, 49–key model. Each comes with a full-sized keyboard and packs some serious sonic firepower under the hood. These Made in Japan synths are striking with their black aluminum front panel, Metal knobs and oak wood side panels. Prologue also features an OLED oscilloscope, giving you real-time visual feedback as you tweak your sounds.
Building on the designs of Minilogue and Monologue, Korg has built Prologue around powerful analog circuits, while complimenting it with a newly designed digital multi engine offering you a broad sonic palette to work with. Even better? It comes with a variety of DSP-based effects, covering Modulation, Delay and Reverb.
Signal Path and Sound Design with Prologue
Prologue's analog engine features 2 dedicated analog VCOs. VCO1 and VCO2 offer Saw, Triangle and Square wave options. VCO1 and VCO2 also offer wave shaping, a sync/ring switch and more.
The third oscillator, VCO3 is covered by Korg's newly designed multi-engine. The multi-engine offers three different sound engines: a noise generator, a VPM oscillator (for FM sounds) and a User Oscillator that allows you to load the oscillator programs of your own creation. Up to sixteen slots are provided, with a morphing wavetable oscillator available in one of those slots right out of the box.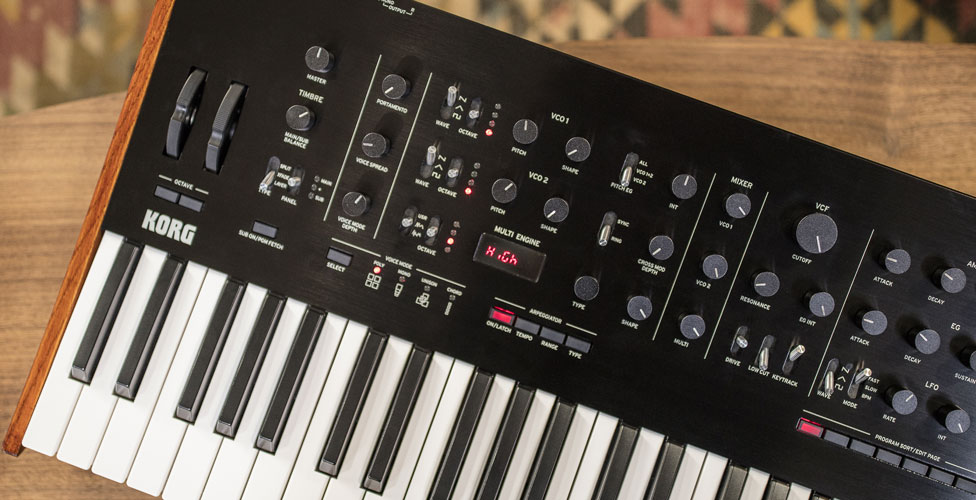 A closer look at Prologue's control panel.
The filter section features a two-pole low pass filter (with enhanced sharpness), drive (for that little extra oomph), resonance, and a low cut (AKA, high pass) switch, to help you sculpt your sound. Two EGs (envelope generators) and 1 LFO (low frequency oscillator) are used for further shape your sound. The LFO offers three different waveforms to choose from, three mod rates, intensity control and target (pitch, shape, cutoff).
On-Board Effects
Prologue includes two on-board effects units, covering modulation (think Chorus, Ensemble, etc.) and delays and reverbs, with a variety of options to choose from. Like in the oscillator section, there are user effect slots, which let you load effect programs of your own design.
Prologue-16 features a VU meter, providing real-time visual feedback for the newly developed master effect L.F. COMP. an analog, low-end booster/compressor.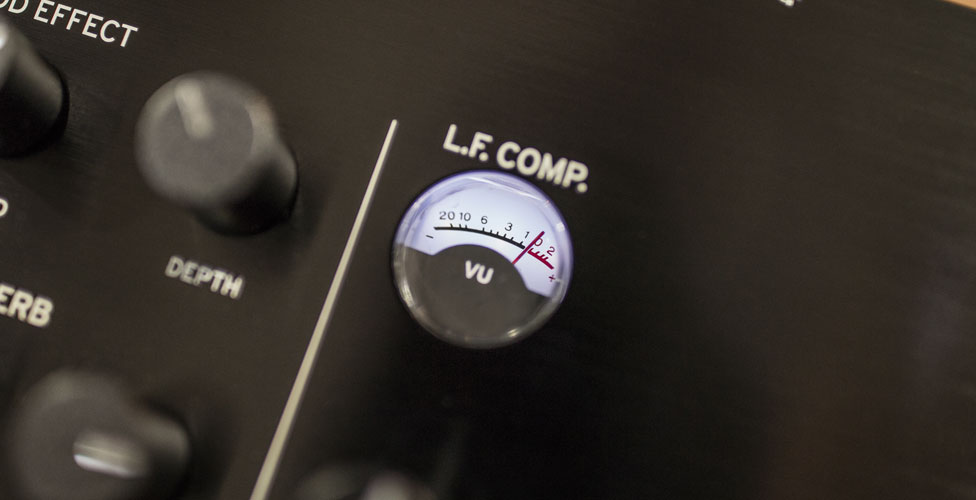 Open-Source Design and User Customization
Korg describes the Prologue as an "Open Source" design, resulting in ongoing development and the ability to customize the synth with the aforementioned user oscillators and effects. This functionality will be available via the dedicated Librarian software, which Korg expects to be available for download at a later date.
Bi-Timbral Sound Design – Layers, Splits and Crossfades
Prologue was designed to be a bi-timbral synth. What this means is that you can play two different programs at the same time, either layered, split or gradually crossfading across the keybed. This functionality will come in especially handy for the performing keyboardist who may need to cover multiple sounds at the same time. With 16-voice and 8-voice models available, you should have plenty of polyphony to work with.
Four Different Voice Modes and an Arpeggiator
Prologue offers four distinct voice modes: Poly, Mono, Unison and Chord. Poly mode has Prologue functioning as a poly synth with up to 8 or 16 voices (depending on your model) before you run out. When VOICE MODE DEPTH is switched to DUO (nice for adding a little fatness to your sound), your polyphony will cut to 4 or 8 voices. In MONO mode, Prologue will act as a monophonic synth with a sub-oscillator. In UNISON mode, it will act as an all-unison synth, while in CHORD mode, it will trigger chords. Each mode will offer its own distinct sonic and performance qualities, making Prologue quite flexible.
Prologue has a powerful on-board arpeggiator to work with. It features six different arpeggiator types and a four octave range, covering a wide variety of phrases and sequence-like patterns.
Keeping Track of Your Sounds
With 500 programs covering basses, leads and everything in between, you're going to want a quick and easy way to sort your sounds. Prologue offers 8 different ways to do that, including by category (great for studio work and inspiration), number and by frequency of use. Prologue even includes a Live Set sorting option, so you can set up your setlist in advance of your gig, with on need to jot down a bunch of program numbers to dial in mid-performance.
Hear the Prologue in action courtesy of Korg's Soundcloud account.
Who Should Buy Prologue
Prologue offers premium sound and premium sonics, so it should appeal to anyone looking to up their synth game. Given its price-point and feature set, Prologue probably won't be a "first synth" for many people. If a first synth is what you seek, Korg (and others) have plenty of great sounding, affordable synths available to choose from.
If you're looking for authentic analog sound, knob-per-function layout, advanced sound design possibilities and gig-friendly features and build quality, Prologue is a great choice.