The successor to the Arturia MiniBrute, the new MiniBrute 2 is a versatile, powerful mono-synthesizer with semi-modular design and advanced connectivity. This new synth features two of Arturia's classic Brute Oscillators, the Steiner-Parker filter, and creative control over every parameter right from the front panel. Where the original MiniBrute provided musicians with an affordable, yet powerful analog synthesizer, MiniBrute 2 offers a step up in capability and is designed to comfortably integrate with Eurorack modular systems. If you're looking for a producer-friendly form factor and workflow, MiniBrute 2S offers the same powerful synth engine, adds a triple layer sequencer and swaps the keys for pads.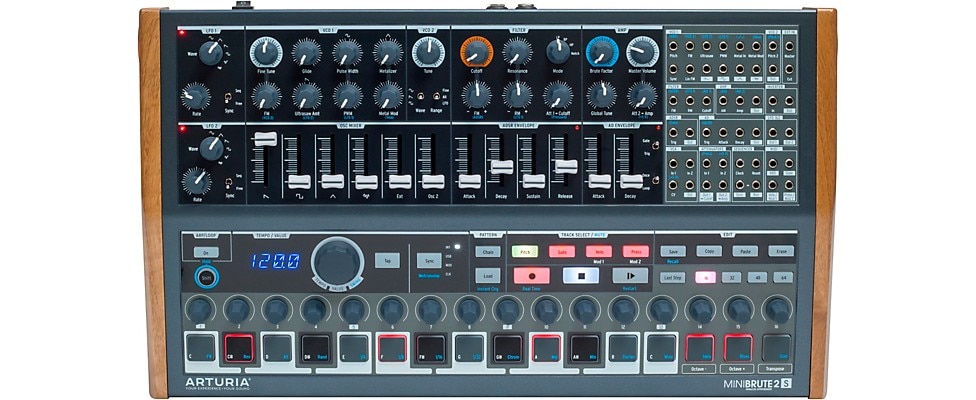 New Features and Functions
In addition to the standard modulation sources and parameter controls you would expect in an analog synth, new features found on Minibrute 2 include: an additional VCO and LFO, new VCO and Filter frequency modulation possibilities and a brand new loopable AD envelope. With all of these powerful new features, the MiniBrute 2 is capable of a wide range of sounds that include powerful leads, unique sequences, smooth pads, and rumbling bass.
Though the MiniBrute 2 sounds amazing out of the box, the CV/Gate patch bay allows you to change up your signal path and modulation options in a variety of ways, providing a new level of creativity and control. If you're looking for expandability, check out the Arturia RackBrute system. If you're unfamiliar with the RackBrute, it is a 3-space aluminum chassis built to house modular Eurorack synths.
A Closer Look at MiniBrute 2S
In designing MiniBrute 2S, Arturia replaced the keyboard found on MiniBrute 2 with velocity and pressure sensitive performance pads and added a 3-track, 64-step monophonic sequencer that works like Arturia's award-winning KeyStep controller. One potential workflow has you putting your melody or bass line on one track, while you use the remaining two tracks to sequence parameters like gates, CV, LFOs, and envelopes, adding fresh movement and modulation to your sound. This can be done in real-time, or via step-editing, depending on your preferred workflow. 
Connectivity
Speaking to connectivity, the MiniBrute 2 features a mono ¼" output, headphones out, MIDI out and USB out (for MIDI purposes). Add that to the 48 CV ins and outs found in the Mod Matrix and you can connect or sync MiniBrute 2 to virtually any piece of gear you can think of.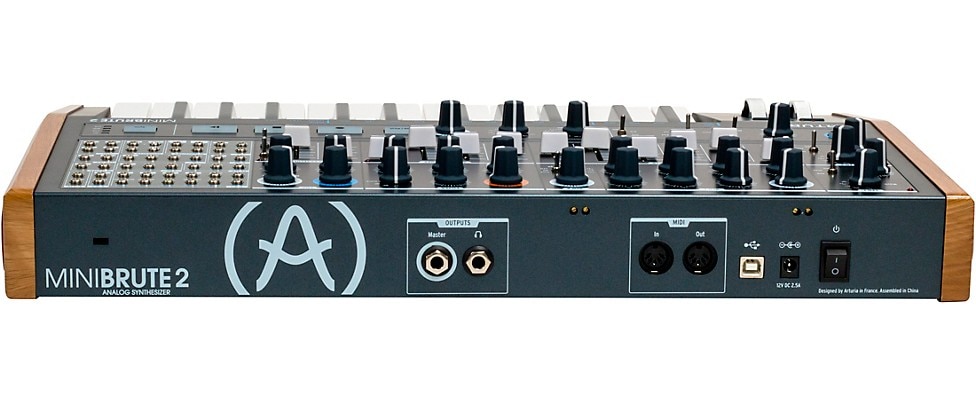 Who Should Buy MiniBrute 2
Because of its straightforward design and attractive price point, the MiniBrute 2 is a great starting point for musicians who are interested in learning the basics of analog synthesis with a product they can grow into. And while it's an outstanding product for those new to the synth world, it's also an impressive synth for experts who are looking for a unique sound, flexible workflow, a range of connectivity options and a compact footprint. 
Shop our full selection of synthesizers.