Breedlove's new Organic Collection promises to bring sustainable all-solid woods — and great "aged" sound — to surprisingly affordable instruments. Musician's Friend tracked down peripatetic Breedlove owner Tom Bedell to get the inside story on how trees and guitars can coexist.
The HUB: Tell us about the genesis of the Organic Collection. What were the goals of these new instruments?
Tom Bedell: We had a dream of designing a series of accessible guitars made with sustainably harvested tonewoods that would play, sound and feel like the high-end instruments made in the Breedlove Custom Shop, and be available at a revolutionary price.
The HUB: Where does the Organic Collection fit into the larger Breedlove family?
TB:  It allows the player, whether just starting out or a touring professional, a very affordable opportunity to enjoy a great sounding, easy playing solid wood Breedlove guitar that is consistent with our sustainability values.
The HUB: What type of sound were you hoping to achieve and what did that require from a material and manufacturing standpoint?
TB: We wanted to come as close as we could to the Sound Optimized tone and timbre of our U.S. models, a distinctively superior, complex voice, across all four of our core body shapes — Concerto, Concert, Concertina and our new Companion. That meant no plywood, no Richlite, no synthetic materials. It also meant building custom bending machines to create our unique, comfortable shapes and milling exotic tonewoods to exacting dimensions determined by our research.
The HUB: Can you briefly describe the sound of each body shape?
TB: The root source for all four shapes is, of course, the classic Breedlove Concert, which was developed in the early 90s, initially as a fingerstyle instrument, but which revealed itself to be the perfect versatile platform for virtually any style of play. It's rich, it's focused and, with each wood pairing, it's lightweight and responsive and lets the player speak. The Concerto adds beautiful bottom, as you would expect from a larger body, but has a remarkable roundness of tone. Personally, I'm in love with the Concertina. A parlor-size body feels like a friend, but don't be fooled, our 12-fret Concertina has a unique tone profile, with a smooth treble presence against an even bass.  It's small, but it will take a pick just as well as fingers. The Companion is our newest model. We wanted to create a travel instrument with as much sound as a full size guitar and, led by chief designer Angela Christensen, we've done just that.
The HUB: What role did the Custom Shop play in the design of these instruments?
TB: All feature the Breedlove DNA developed in our Bend, Oregon Custom Shop. There's a longstanding tradition of innovation at Breedlove, and that experience, artistry and technology has been brought to bear on the Organics.
The HUB: Can you explain the benefits of torrefaction and what makes Breedlove's process unique?
TB: We're excited about employing torrefaction, an amazing procedure, right at the source, at the European mill, to give the Organics an "aged" sound you previously had to wait thirty years to achieve. Since torrefied wood responds better to changes in temperature and humidity, it also makes each guitar more durable and easier to maintain.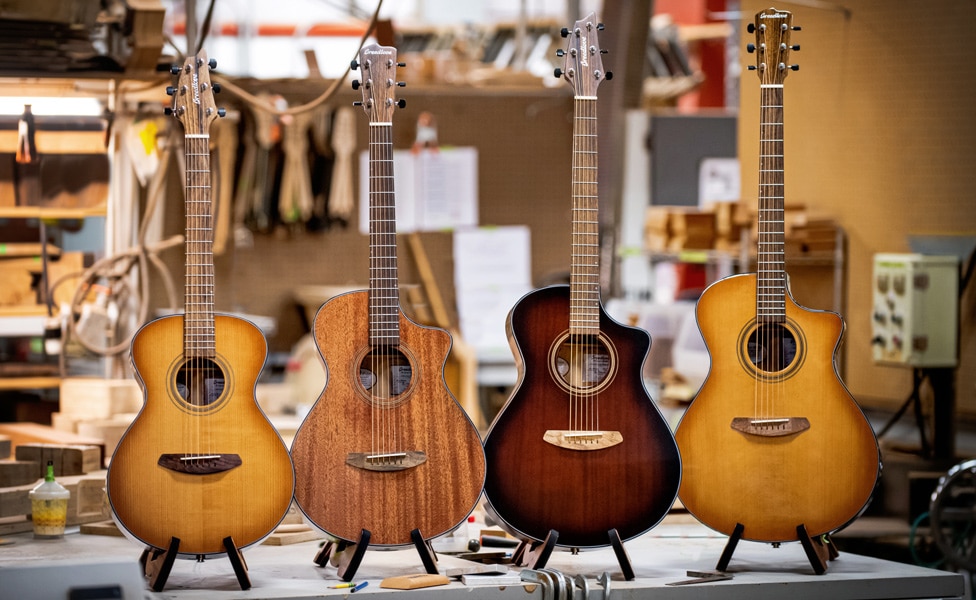 The HUB: The Organic Collection seems to take a "less-is-more" approach, with significantly thinner tops and ~50% less glue in use. What impact does that have on sound? Are there any secondary benefits?
TB: Building lightweight, responsive guitars is challenging and usually costs more. Minimizing wood waste has a big impact, and by combining it with what we've learned through Sound Optimization, we can build thinner tops and backs, balancing weight and stiffness—key for the efficient transmission of sound energy. By not using plywood and substantially decreasing the amount of glue, which tends to deaden sound, we're able to get much more resonance and projection.
The HUB: Tell us about your wood-sourcing travels for the Organic Collection.
TB: I went to the Republic of Congo, where we source African mahogany and ebony, to visit new partners at the mill we're working with, specifically because they operate in a very sustainable harvest mode, only taking 2% of any species in an area. They protect habitats for wildlife and native forest people that have lived in the Congo River basin for 3000 years. I also traveled to the Swiss Alps where we harvest—again, very selectively—our European spruce. And, of course, we actually supply the Oregon myrtlewood directly from our workshop.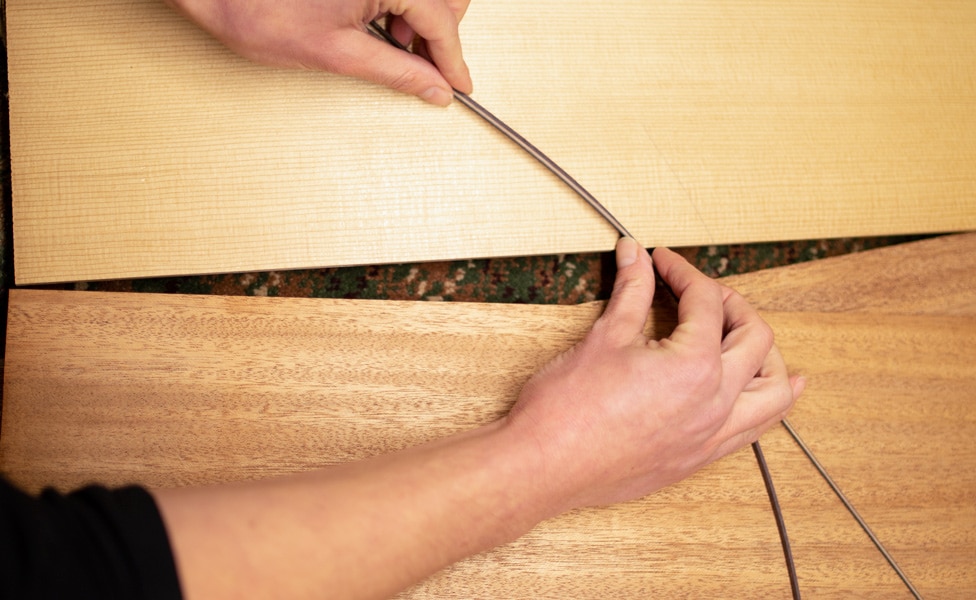 The HUB: You've made a great effort to avoid using wood from clear-cut forests. Why is that so important?
TB: An old growth forest is a complete, symbiotic ecosystem. To go in and absolutely devastate that for the sake of saving a few dollars is just criminal. We've made it a pledge that there will never be any clear-cut wood used in these guitars.
The HUB: You took three years finding the right manufacturing partner that is committed to using tonewoods from FSC-certified forests and your own myrtlewood. Why was this so important to you, and what challenges did you face?
TB: Being kind to the earth is important to all of us. Frankly, we've set a new precedent in global guitar manufacturing. Creating a sustainable guitar with researched, verified and traceable tonewoods sourced from the four corners of the earth? It's impossible! It's too expensive! But we've done it. It was difficult, time-consuming and laborious, but fun, too. We were driven to be first not because it's easy, but because it's the right thing to do. 
The HUB: How has the Lacey Act impacted your supply-chain and manufacturing?
TB: The Lacey Act is an idea that we wholeheartedly embrace. It requires us to know that all the wood we use in our products was harvested, milled and supplied to the factory, and then to us, legally, at every step of the way. That's been the guiding principle of this entire Breedlove Organics project.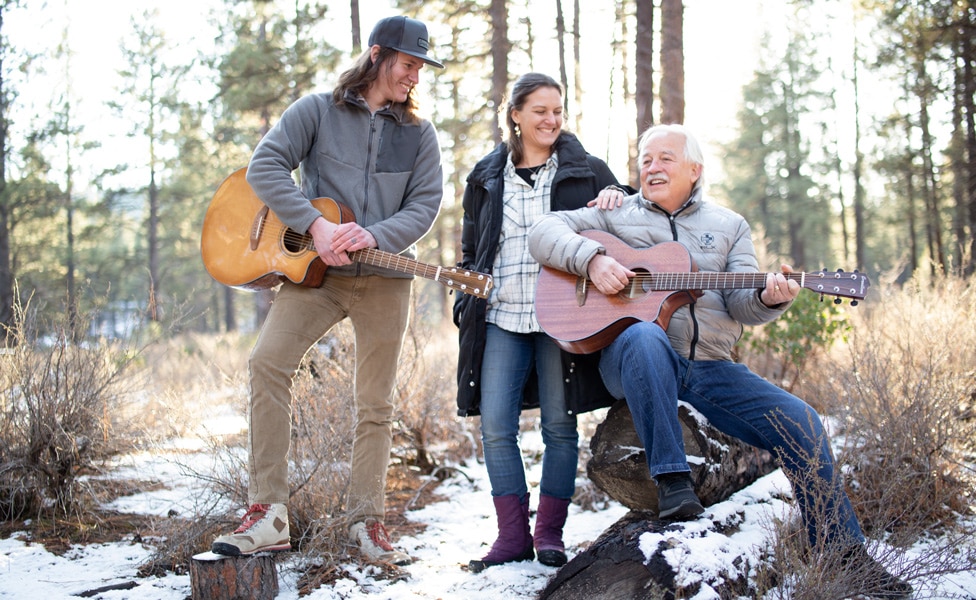 The HUB: How do you balance the short-term costs associated with the long-term needs for sustainability?
TB: Long-term sustainability needs to be addressed now, by investing in preserving our forests for coming generations, committing to saving our planet and thinking about our children's future. The difference between using a clear-cut top and an individually-harvested top is negligible, maybe $2. So, technically, does it cost more to individually harvest than to clear cut? Yes, but to try and recreate an old growth forest is far more expensive after you've gone in and wiped it out, instead of protecting what Mother Nature does best.
The HUB: Were there any "happy accidents" while developing the Organic Series?
TB: It was no accident, but even we were surprised with just how beautifully these first few Organics came out. We're going to become our own biggest competitor—they really do sound as good as our U.S. models at a fraction of the price! 
The HUB: The Organic Collection is a pretty big deal for sustainability and affordability as it pertains to overseas manufacturing. What impact do you hope this has on the industry?
TB: Thank you for asking, this topic is important to me and to Breedlove. I hope it sets an example for other manufacturers, and for other companies and brands that source outside the U.S. We've shown it can be done and we hope everybody else will follow this example. Ultimately, guitar players speak a universal language, and sustainable music could do more than change the industry—it could change the world.