Hot off the heels of the release of her sophomore album, Tell Me 
How You Really Feel, Australian singer-songwriter Courtney Barnett has already toured internationally, collaborated on an album with artist/producer Kurt Vile, performed on The Tonight Show Starring Jimmy Fallon, and been nominated for a Best New Artist Grammy Award—all this, despite the fact that at one time, not too long ago, Barnett was unemployed and homeless, having dropped out of art school, struggling to book gigs and relying on the kindness of fellow musicians.
"I'd always bug neighbors to let me borrow guitars, but of course I was left-handed, so I was always playing upside down. And then someone, like a family friend, gave me a little nylon guitar and someone else restrung it for me. So, I guess that was my first guitar," Barnett recalls. "I was always trying to start a band, as soon as I started playing music … it was either playing in the music room at school or after school, or my friend—he was a drummer and had a whole setup at his house. Otherwise, it would just be me at home in my room, making a lot of noise."
Post high school, Barnett went off to study visual art, bringing her passion for music along with her. "When I was 19 and at university, at art school, I started writing songs and learning how to record them myself on a kind of multitrack thing, and I started doing gigs then … I started making burned CDs of the songs I'd recorded and giving them to people at shows. So, I think those songs, I obviously felt confident that maybe they were okay, because I was willing to play them in front of the local bar." 
Ahead of her headlining gig at the Greek Theatre, Courtney sat down with us to discuss her early days as a musician and coming into her own as a songwriter and performer. 
Finding herself more drawn to songwriting than her studies, Barnett decided to not only leave school, but leave town. "I was in my early 20s and I was just restless," she says. "I moved to Melbourne, and I was a bit homeless and unemployed for a little while … I started working in bars, meeting other musicians, making friends and gaining the confidence and courage to go and play shows, because otherwise I would just sit at my computer and email every venue and ask for gigs, and they'd be like, 'No, why would we give you a gig?' So, it took a little bit of time." 
Barnett started employing the stealthy tactic of leaving her CDs in the library for people to find. "I'd slip them in behind something else that I liked … I had this grand idea that someone would pick it up and discover it and be like, 'This is the greatest thing' … I had really grand ideas of things," she chuckles. For anyone who's seen Barnett live, the moment she hits the stage, her Kurt Cobain influence can't help but permeate her modern yet grungy alt-rock sound—and it's not just that she's a gritty-voiced lefty slinging a Fender Jaguar. "One of the first albums I got was Nevermind, and I think that was probably around the time I started playing. The album as a whole was one of my first proper music experiences, you know?" Barnett even carried that influence into the design of her own 
Fender Custom Shop Jag—a Cobain-style, dual-humbucker model, which she keeps strung up with Ernie Ball Slinkys, a preference dating back to her time working in a local guitar shop.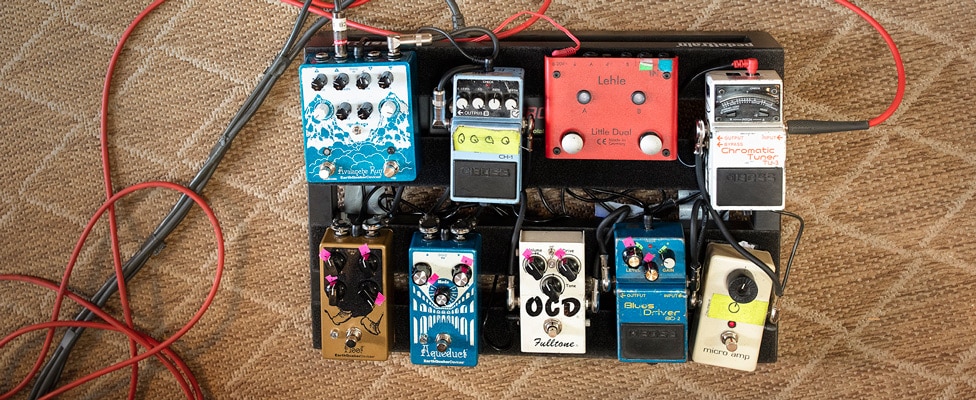 Courtney's pedalboard includes pedals from Earthquaker Devices, Fulltone, Boss, MXR and Lehle. 
Having depended upon other musicians in her career, Barnett understands the importance of giving back. That's why she and Musician's Friend have partnered this holiday season to make a $10,000 charitable donation to Girls Rock Camp Alliance, an international organization that works to inspire and empower female, transgender and gender non-conforming youth through rock camps and other music education programs. Girls Rock Camp Alliance believes in the strength of our youth, and what better artist to exemplify that conviction than a determined, independent young woman who, using her own unique artform, worked her way from Aussie dreamer to Hollywood headliner.