The AKAI Professional MPC One is a powerful standalone production center that joins the ranks of the MPC Live and MPC X — featuring the same multi-core processor and MPC 2 software in a compact form factor. We spoke with Andy Mac, Akai Professional's MPC & Sound Content Project Manager about MPC One's intuitive design, library of sounds, and some ways it can integrate with your DAW and analog gear.
The HUB: Tell us about the early development of MPC One. What opportunities did you see with it?
Andy Mac: Over the past 5 years, the producer and beat-making scene has become so popular, but we felt we didn't offer an MPC that talks to this new audience. Another important factor was space as today's studios are mainly based at home. Producers like things to be powerful and portable, without the need of a laptop or home computer.
With this as our goal, our main focus was to design an MPC that was fully standalone. MPC One needed to be at an accessible price point and attract a whole new generation to the MPC platform. Reflecting changes in production setups, we also wanted to add some new features, such as CV/Gate support. It needed to be our most accessible MPC ever, whilst maintaining the same 7-inch HD multi-gesture touch screen technology from our highly successful MPC Live.
We looked at the key workflow functionality, bringing back some of the most iconic features via "function buttons", based on the original MPC 60/3000/2000 layout. This approach really improved the workflow between the dedicated tactile buttons and the touch screen.
The HUB: Getting a little spec heavy for a quick second, what sample rates and bit depths can MPC One work at?
AM: MPC One outputs are 24Bit/44.1 but you can also render audio at 16Bit/32Bit at up to 96Khz. With the Air FX Plugin Collection onboard, you can also use lofi FX plug-ins to grain up the audio even more or add our MPC3000/MPC60 vintage emulations for that classic MPC sound.
The HUB: Looking at MPC Software 2, is it implemented any differently than on other MPCs?
AM: MPC Desktop Software is the same version throughout the MPC product family. An important part of our process was for the MPC Standalone hardware to also become a controller for the MPC Desktop software, at the touch of a button. So, if you want to move a project into a DAW for mixing etc, this would be a seamless process.
The HUB: How would you integrate it with a DAW?
AM: All our standalone MPC's can be put into "Controller Mode" so you can run the MPC Desktop software on a Mac/PC either as a standalone application or a plug-in inside a DAW. MPC Live and X also feature an official Ableton Integration mode that allows you to connect and control Ableton remotely from MPC via our wireless technology.
The HUB: As you  mentioned earlier, like some other recent MPC models, MPC one has CV/Gate Control. Why is that important to include for today's producers? 
AM: MPC X set a new standard for our industry, especially in the electronic music scene. We wanted to create a powerful standalone production center that could also drive modular racks. So, with more and more producers investing in modular setups, they also wanted the ability to perform live with their rig. It was a very important factor adding CV/Gate to MPC One because it was A.) compact for bedroom producers with limited space and B.) portable for live performance. For us, this is a very exciting feature for the platform, particularly at an affordable price point.
The HUB: Can you describe the sound and application of each of the signature synth engines (Electric, Tubesynth, Bassline)?
AM: We have an amazing team called Air Music Technology. This is the same team that is responsible for the incredible instrument/FX suite inside Pro-Tools. So, when we designed Tubesynth, we wanted a virtual synth plug-in that modelled the classic sound of analog synthesis. This gave our users an on-board synth engine with hundreds of great presets, right out of the box.
But more than just offering presets, it provides users with the ability to quickly modify the sounds, thanks to its intuitive Interface and powerful integrated FX. As MPC is fully standalone, having this type of plug-in was crucial. Plus, you can take advantage of our onboard QLink control knobs to instantly add real-time control to your production/performance.
Electric came from our award-winning Air plug-in Velvet, again created by the amazing Air Team! Whenever you're producing music, the vintage sound of a Rhodes fits on pretty much everything. Electric is a beautiful sounding plug-in offering incredible patches with an elegant design for fast editing.
Bassline was a must for MPC. Bassline allows users to have instant access to all types of bass patches, ranging from dark, low subs to hard hitting techno-based 303 emulations. We also made sure users have the ability to edit and create their own patches with its intuitive user interface layout.
When you combine these three incredible plug-ins inside an MPC, you now have the ability to create productions across virtually any genre.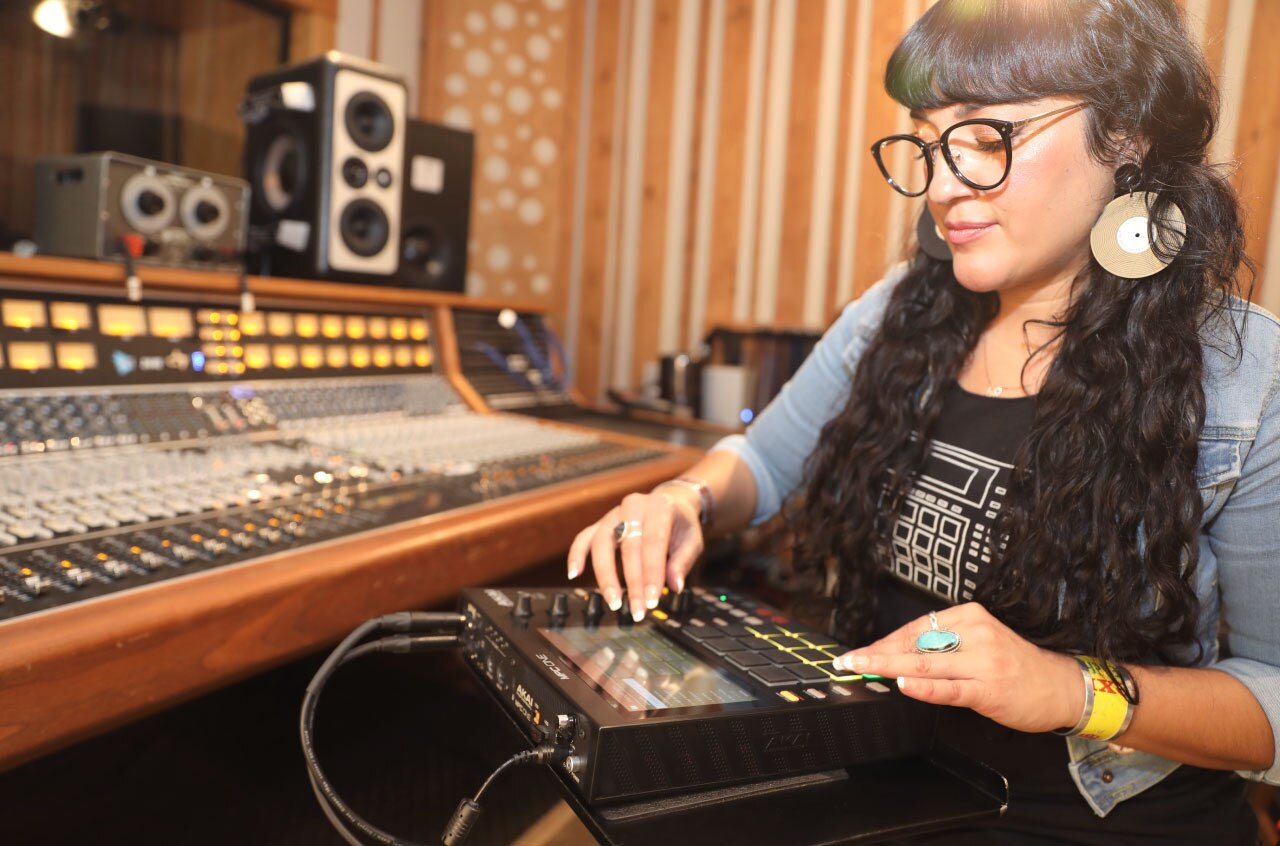 The HUB: How were the bundled sample sets developed? What were the "must-have" sounds?
AM: One of my key roles outside A&R is managing our sound design division for MPC Expansions. Sounds are such an integral part of the user experience, we wanted to offer a compelling selection straight out of the box, covering a wide, modern approach for producers. For MPC One, we teamed up with DECAP, MSX Audio, Rawcutz, Cr2 Records, and MVP for the key drum packs. F9 Audio delivered an incredible selection of go-to sampled instruments, covering everything from low thumping 808's to lofi pads, pianos, and plucks. They even made some incredible 80s Funk/Retro kits.
The HUB: One of MPC One's most impressive features is its integration with Splice. Can you talk a little bit about your partnership with them and how someone would use it within MPC One?
AM: Splice is one of the formats that's really moved the content aspect of our industry forward. The one thing I love about Splice is how you can really hand-pick the sounds you want for a production. Back in the day, I would be spending $59 for one pack with no way of hearing the content, pretty much buying in the dark. With today's technology, Splice really does one amazing thing — it connects our society together to a world of instant content, removing the writers' block that can bog down a production. So, with our MPC Technology, we knew instantly this was the right partner for us to move music and production forward.
So, how does it work? On MPC One/Live/X, you can connect to your Splice desktop account and remotely, or via Ethernet, sync all the content you've downloaded directly into your MPC.
The HUB: Final question! Where does MPC One fit into the rest of the MPC family?
AM: MPC One is our entry-level standalone MPC, making it the perfect addition to the family. We now have an MPC to fit every type of music-maker. If you're starting out and really want to experience the best workflow, without the need of any computers, we now have a solution for you. MPC One allows everyone to own a piece of music history and be inspired to create great music, wherever they are.
The HUB: Thanks for your time, Andy!