Bringing Back That Renowned Tweed Sound
---
As much as we gear geeks love exploring new ways to spark our creative juices, it's hard to deny the pull of gear that has inspired musicians for generations. Fender's tweed-covered tube amps from the 1950s are a case in point. It's hard to imagine the worlds of rock, blues, country, and pop without their contributions. From their spank and bell-like clarity to the creamy overdriven tones they produce when pushed, Fender's iconic golden-era guitar combos turn up on some of our most revered records.
With the passing of the decades, those tweed amps grew more scarce; units in good shape now command serious bucks. Recognizing the ongoing demand, Fender has resumed production to capture the vintage vibe of four classics from the era—the '57 Custom Champ, '57 Custom Deluxe, '57 Custom Pro-Amp and '57 Custom Twin. Painstakingly built to match the performance and looks of the originals, they achieve that gold-standard retro tone thanks to 12AY7 and 12AX7 preamp tubes and carefully replicated tone circuits. But the cosmetics count too: Details like Bassman-style grilles and chicken-head knobs give them the appearance of well-preserved treasures from the back of a dusty pawnshop.
Let's take a look at each model in the lineup:
Fender '57 Custom Champ
The number of guitarists who have stuck a mic in front of their diminutive Fender Champs is legion. For many, it's the quest for the celebrated, sweetly compressed sound of Clapton on Layla and Jeff Beck on Blow by Blow. The harmonically complex tones generated by close-miked tweed Champs continue to generate demand in both live and studio settings. Answering that demand is the Fender '57 Custom Champ—the combo with the lowest price tag in the '57 Custom Amp range.
The '57 Custom Champ screams old-school, even before you've played a note.
Perhaps the most critical element of the '57 Custom Champ is its diminutive size both physically and output-wise. Driving this little sucker into overdrive territory is easy and satisfying—even at bedroom-concert volume levels. The single 6V6 power tube puts out 5 watts of Class A power that are shaped by the preamp section with its 12AY7 and 12AX7 tubes. The output is fed to an authentic-sounding 8" Weber speaker with AlNiCo magnet. Beneath the hood, Fender hand-wires circuit boards the old-fashioned way and uses newly sourced Pure Vintage '50s replica yellow Astron capacitors—the preferred component according to tube-sniffing tone aficionados. And it's all wrapped up in a solid pine cabinet covered in tweed for maximum vibe factor.
Fender '57 Custom Deluxe
Looking for more power and projection? The 1x12", 2-channel '57 Custom Deluxe could be the right fit. It doubles the power tube complement of the Champ with dual 6V6s in the power circuit for 12 watts of Class A/B power that go from the sparkling chime of classic, country and pop to the creamy overdrive and sustain of '60s and '70s hard rock.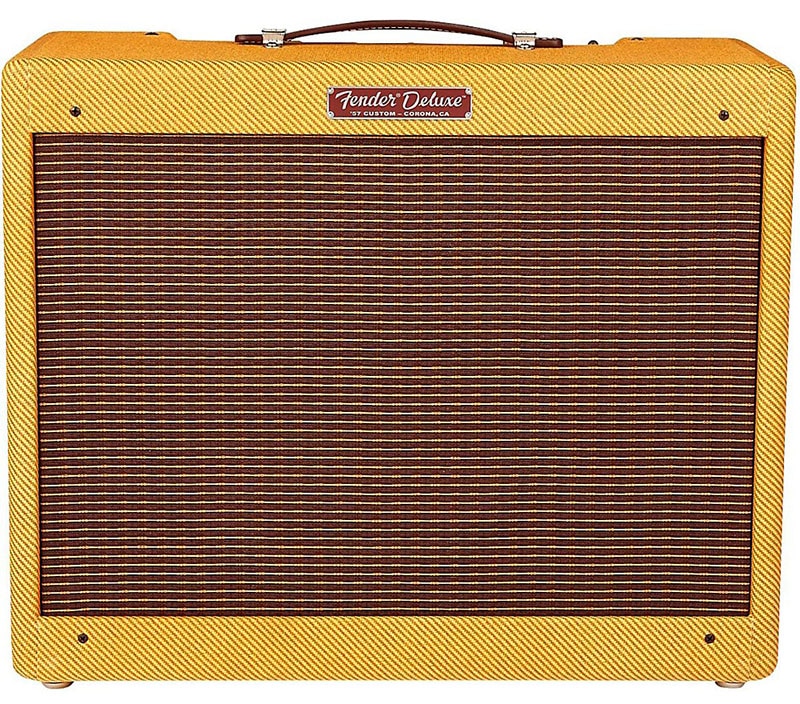 Fender builds the 57 Custom Deluxe using the same methods and standards that made the original a player favorite.
In their quest to replicate the legendary 5E3 circuit, Fender engineers have specified custom-made Pure Vintage '50s replica coupling capacitors and a 12" 8-ohm Eminence Special Design speaker built in the period-correct manner. Mercury Magnetics transformers contribute to the authentic sound and picking response of the Custom Deluxe. And of course, it's clad in tweed and decked out with all the period-correct cosmetics.
Fender '57 Custom Pro-Amp
The next step up in the Custom line, the dual channel, 26W 1 x 15 '57 Custom Pro-Amp with its celebrated 5E5A circuit is rated by many Fender aficionados as the most versatile all-tube combo in the lineup. As with its stablemates, Fender sources custom Pure Vintage '50s replica capacitors and uses hand-wired circuits to recreate its trademark sound. The preamp is powered by a 12AY7 and a duet of 12AX7s tubes. Bass and treble controls are interactive, giving you more hands-on control over your sound. Power is furnished via two 6L6s.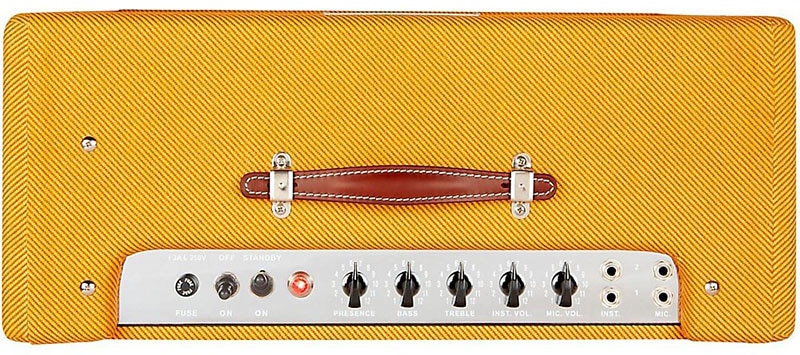 The preamp in the '57 Pro-Amp is prized by guitarists for its excellent dialability and responsiveness.
When you keep its output dialed down, the Custom Pro-Amp remains classically clean. But pushing the volume knob past noon reveals a thick, overdriven harmonic complexity. Keep going and it'll crank out moderate amounts of breakup. The Pro-Amp has a presence circuit that adds even more depth and clarity in the upper harmonics as you dig in and push the volume. The single 15" Eminence Legend speaker translates all that sonic goodness into a powerful signal, and when pushed hard, will add some grit to your tone.
Fender '57 Custom Twin-Amp
The top-of-the-line two-channel '57 Custom Twin-Amp puts out a healthy 40 Class A/B watts via a pair of 12" Eminence AlNiCo speakers that are voiced for that genuine tweed sound. Twin-Amp players highly rate its ability to mirror your playing dynamics at any volume while producing hefty slabs of sustain. If you plan to play without going through the PA, it's got the power to cut through in many club settings. In the studio it'll get hairy at reasonable volumes.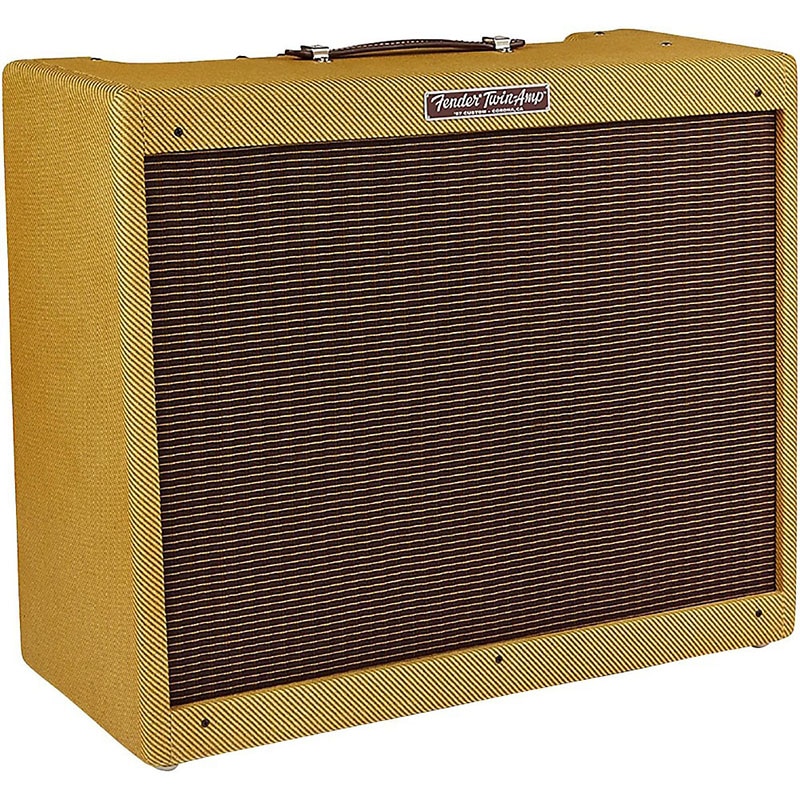 A pair of 6L6 power tubes in the '57 Custom Twin-Amp churns out 40 very shapeable watts of Class A power.
Fender employs the 5E8A circuit with its single 12AY7 and trio of 12AX7 tubes in the preamp section. The combination of interactive bass, treble and presence controls offers a playground of possibilities for tone tweakers. Just add your favorite pedals and there's nothing you can't play with the Twin-Amp. Like the other '57 Custom models, it announces its heritage clearly from the bandstand with its lacquered tweed covering and oxblood Bassman-type grille cloth.