Fender has announced an innovative new acoustic-electric guitar capable of delivering a wide variety of gig-friendly sounds.  
---
The Fender American Acoustasonic Series Telecaster is built for musicians who play live shows. The Acoustasonic Telecaster packs 5 discreet voice pairs. There are four acoustic voice pairs and one electric voice pair. The result is one very playable guitar with the perfect tone for every setting.
Before we get into the different voices, let's dig into the basic specs of the Fender Acoustasonic guitar itself.
Basic Specifications and Features
The lightweight Acoustasonic Series Tele has a mahogany body with spruce top. Its body has an integrated forearm contour for added comfort. Plus, Fender's patent-pending String Instrument Resonant System (SIRS) adds body and volume. THE SIRS sound port is designed to project the guitar's acoustic voice. The Acoustasonic delivers rich, full sound, even if you're not plugged in.
Moving up the guitar, the easy-to-play mahogany neck has a 25-1/2-inch scale length. It is topped with a 12-inch radius ebony fretboard. The Fender Acoustasonic Tele has a contoured heel with recessed neck plate, offering comfortable access to the upper reaches of its 22 frets.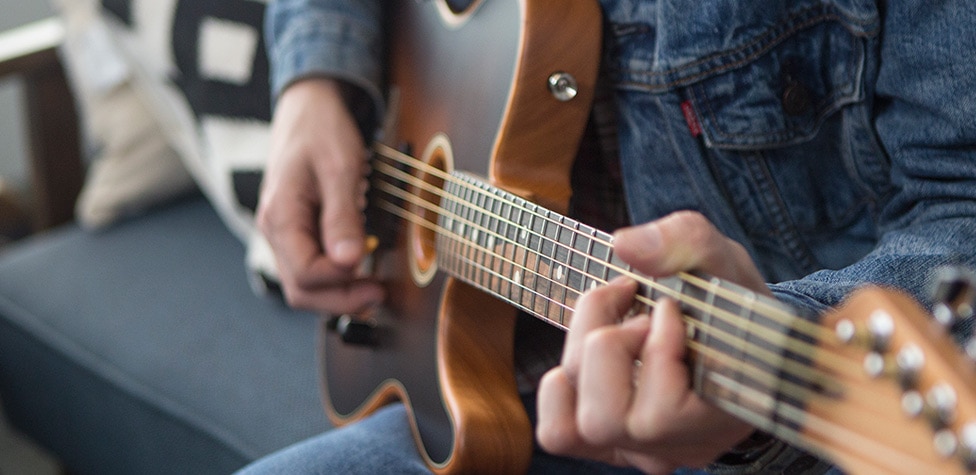 The Sounds of the American Acoustasonic Series
As mentioned, the Acoustasonic Series Telecaster offers up 5 discreet voice pairs; four acoustic and one electric. These voices come courtesy of the  Fender and Fishman-designed Acoustic Engine. The Acoustic Engine is powered by three unique pickup systems on the guitar. By mixing classic analog and modern technologies, Fender has delivered a versatile guitar that will have you inspired every time you pick it up.
Sounds are selected via the 5-position voice selector and Mod Knob. For reference, Position 5 is selected when the Voice Selector is closest to the neck. Position 1 is when it is furthest away. Each position features two voices, controlled via the Fender Acoustasonic's Mod Knob. The 'A' voice is selected when the Mod Knob is fully counter-clockwise. The 'B' voice is selected in the fully clockwise position. Looking to blend the two? Gradually rotate the knob between each position until you find your sweet spot.

Tech stuff aside, let's dig into the voice pairs:
Position 5 covers the "Core Acoustics". In the 'A' voice you'll find a traditional Sitka Spruce/Rosewood Dreadnought. This voice is perfect for straight-ahead strumming. The 'B' voice covers an Alpine Spruce/Rosewood Auditorium. Offering a more modern sound, this voice lends itself to both strumming and fingerstyle playing.
Position 4 delivers the "Alternative Acoustics". Offering a more intimate, parlor-inspired sound, the Engelmann Spruce/Maple Small Body in the 'A' voice is great for more delicate playing. Voice 'B' offers a Sitka Spruce/Mahogany Dreadnought. This voice is ideal for strumming and finger style playing thanks to its full midrange and deep bass.
Position 3 offers what Fender describes as "Percussion & Enhanced Harmonics". In the 'A' voice we find a Sitka Spruce/Brazilian Rosewood Dreadnought. This voice is full of complex overtones and delivers a rich and earthy tone. The 'B' voice adds a body pickup to the sound, which gives it a slightly more percussive sound that will cut right through a mix.
Position 2 is the "Acoustics & Electric Blend". Voice 'A' is a full-bodied Sitka Spruce/Mahogany Dreadnought. Earthy and articulate, this voice has plenty of dynamic range. The 'B' voice adds an electric pickup to the 'A' voice, blending in a classic Fender electric sound.
Position 1 covers your iconic Fender "Electric" sounds. Voice 'A' delivers that classic clean Fender electric sound, while the 'B' voice adds a little more heft and a bit more grit.
Why You'll Want This Guitar For Your Next Gig
The American Acoustasonic Series Telecaster makes a great gigging guitar. Its lightweight design means it's comfortable to play for extended sets. Its diversity of authentic sounds means you can cut back on bringing multiple guitars to each show.
The Fender American Acoustasonic Telecaster is available in multiple colors.