Used extensively during his time playing in Audioslave, Tom Morello's "Soul Power" Stratocaster is instantly recognizable. For Winter NAMM '20, Fender has announced the Tom Morello Stratocaster, inspired by Tom's famed "Soul Power" guitar. To learn more about this exciting collaboration we caught up with Fender's Vice President of Electric Guitars, Basses and Amplifiers, Max Gutnik. 
The HUB: Can you tell us the story, as you understand it, of how Tom's original "Soul Power" strat came to be?
Max Gutnik: The guitar that eventually evolved into Tom Morello's "Soul Power" Strat began as an early-2000s limited edition American Designer Series Stratocaster. The original guitar featured a top-bound Alder body painted in gloss black, a 22-fret Maple neck with a Rosewood fingerboard and 9.5" radius, matching black painted headcap, Deluxe locking tuners, a 2-Point synchronized Tremolo System and a chrome pickguard loaded with Fender Vintage Noiseless pickups.
Once in Morello's hands, a locking tremolo system was added, along with a kill switch and a new bridge pickup.
The HUB: What sort of surprises did you find in examining the original?
MG: Since the guitar has been so well documented by Tom Morello fans, we didn't run into any major surprises — we knew about all the mods (kill switch, pickup swap, etc.) beforehand. The most interesting thing we noticed on "Soul Power" was all the play wear. This guitar has definitely been a favorite in Morello's arsenal over the years.
The HUB: The neck is a Modern "C" with a compound radius – was that an aftermarket add-on or part of the original guitar?
MG: The American Designer Series Stratocaster came stock with a Modern "C" neck with a Rosewood fretboard and 9.5" radius. While working on the "Soul Power" model with Morello, a 9.5" to 14" compound radius was added to improve playability as you move up the neck.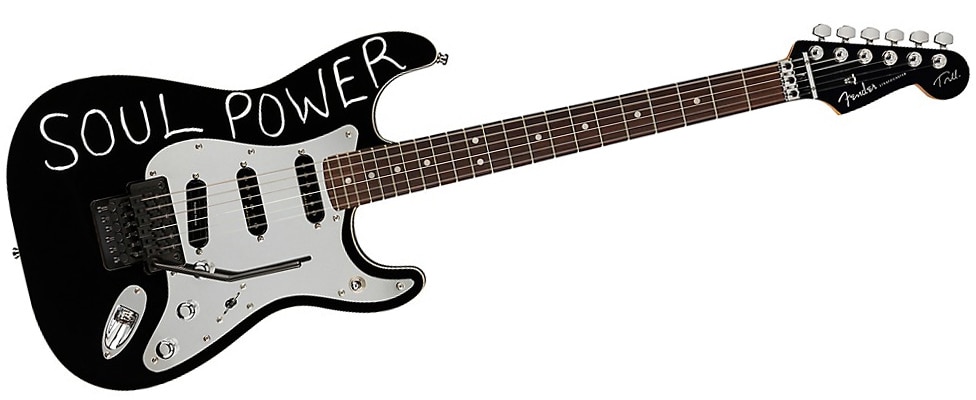 The Fender "Soul Power" Stratocaster is inspired by Tom's heavily modified early 2000s Designer Series Strat.
The HUB: Can you speak a little bit about the controls/wiring?
MG: The 5-way pickup selector switch works as a traditional Stratocaster's would: position 1 engages the bridge pickup, position 2 engages the bridge pickup and middle pickup, position 3 engages the middle pickup, position 4 engages the middle and neck pickups, and position 5 engages the neck pickup. This gives players both vintage Stratocaster sounds and the more powerful solo sounds of a Duncan Hot Rails humbucking pickup. 
The kill switch is something that Morello used frequently to create his infamous stuttering riffs. By rapidly toggling between the lower position and the upper positions on the switch, players can interrupt their guitar's signal, creating rhythmic, pulsing patterns.
The HUB: Can you tell us a little about the tonal characteristics of the single-coils and the Hot Rails?
MG: The Vintage Noiseless single-coil pickups and the Duncan Hot Rails pickup play very well with one another, providing guitarists with crisp and articulate single-coil sounds and smooth, high-output humbucking tone.
The HUB: This guitar is obviously going to appeal to fans of Tom, Audioslave and Rage. Who do you think might be pleasantly surprised when they get their hands on it and what will they experience?
MG: Any players looking for a great playing and sounding guitar can find inspiring tones in this instrument. The neck is comfortable and fast, the pickups offer both vintage and modern tones and the kill switch helps introduce unconventional rhythm patterns.
The HUB: Thanks for your time, Max!