Here at Musician's Friend, we've been longtime fans of Focusrite audio interfaces. From their Rupert Neve-inspired mic preamps to the well-thought-out connectivity, they are probably the world's most widely used interfaces. When Focusrite noticed that many podcasters and streaming creators were using their Scarlett series USB interfaces in production, they realized they could create a powerful, easy-to-use tool for just that type of creator. The result is the Vocaster series of audio interfaces, bringing their commitment to both audio quality and ease of use to bear on the needs of podcasters and vloggers everywhere.
In seeking out more information for you on these exciting new interfaces, we got the chance to dig a little deeper into their design and features with Focusrite Product Manager Dan Weston to get the answers you need to make a decision as smart as these interfaces are.
The HUB: Vocaster is your first podcasting product line, but surely you've sold a lot of Scarlett Solos and 2i2s to aspiring creators over the years. How did that inform the development of Vocaster One and Vocaster Two?
Dan Weston: The Scarlett range is already the top choice of interface for podcasters and creators around the world. We've been able to talk to a huge number of podcasting users to understand what issues they had and paint a clear picture of how we could make Vocaster a better experience for them.
Vocaster's Auto Gain and Enhance features were added to help users set their mic levels and get a clear and consistent sounding recording.
Mute buttons are another improvement since podcasts are often recorded in a single take. Muting quickly to cough, sneeze or just not record that mic for a section of the show is a simple but effective "quality of life" feature for podcasters.
Next up, it's pretty common for podcasters to want to use certain low-sensitivity mics that need a lot of gain. Vocaster has more than enough—70dB of analog gain.
Finally, interviews are the basis of so many podcasts, but sometimes you might need a complicated setup with typical interfaces. Vocaster Two has two headphone outputs—one per mic—so both speakers can hear everything exactly as it's recorded to the show. Both Vocaster interfaces also have phone connections and loopback, so it's easy to bring in guests over the phone or using video conferencing apps.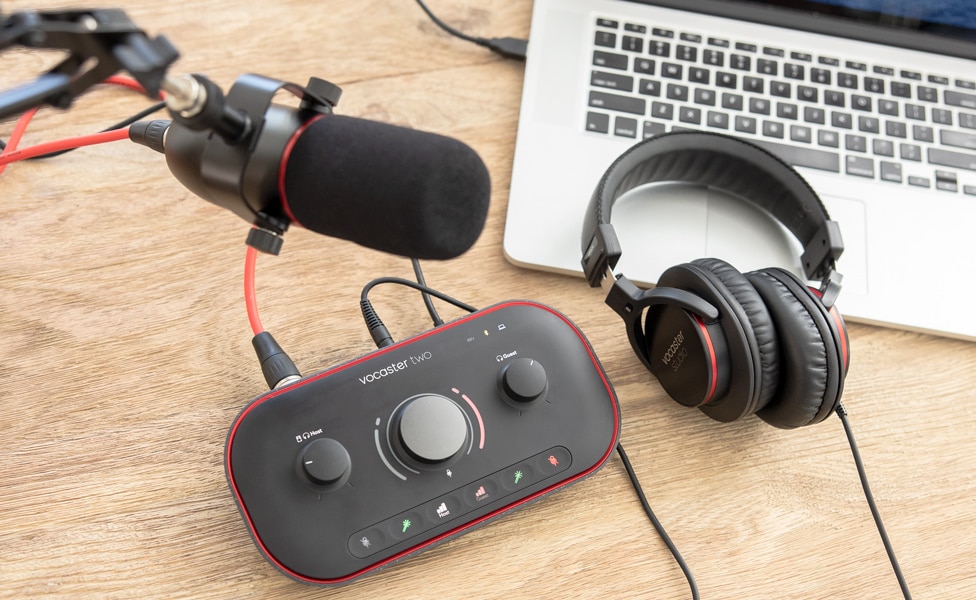 The HUB: The interfaces for Vocaster are exceptionally clean and streamlined. What were the key features you needed to have readily accessible, versus what you put in the Vocaster Hub software?
DW: This was all about what our users were telling us they needed both before and during their show. For example, the mute control is clearly something you need to be able to reach quickly, and other controls, such as gain settings, Auto Gain and Enhance are all designed to be as easy to access as possible on the front panel.
Vocaster Hub takes care of the rest. Most podcasters set up their mix before the show, so we felt they didn't need those controls in front of them, cluttering the interface. You can also select Enhance presets in Vocaster Hub, since these are designed to be set-and-forget.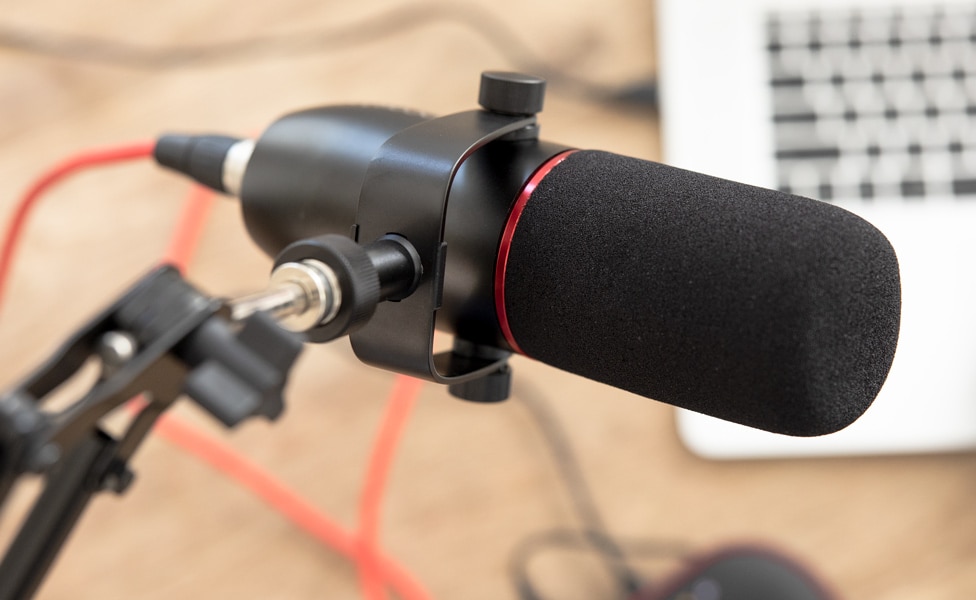 The HUB: What are the benefits of using an audio interface type of podcasting setup versus a physical multi-channel mixer with onboard recording?
DW: Flexibility. Vocaster gives you more flexibility in how you record your show. For example, you can record your Show Mix to a stereo file using Vocaster Hub's mixer panel or capture each channel separately in recording software for a more detailed edit and mix later. The latter often isn't possible with a multi-channel hardware recorder, which typically just creates stereo recordings on an SD card.
Some more expensive mixers will allow multi-channel recording onboard, but these files will end up being transferred to a computer for mixing and editing later anyway. An interface like Vocaster is cutting out steps and simplifying the process, start to finish.
Lastly, mixers tend to have a lot of faders, knobs and buttons, which won't be used a lot of the time—particularly for people with simple setups and requirements. This can also mean a steep learning curve. Vocaster makes the recording process as simple as possible, taking the technical aspects away, and allowing podcasters and content creators to focus on their show.
The HUB: I noticed that you offer both TRRS and Bluetooth for hooking up phones. Are there any real benefits of one choice over the other?
DW: Well, the big benefit of Bluetooth is definitely going to be recording without cables; it's quick and easy to get started with your phone. Vocaster Two users can also record both the TRRS input and Bluetooth at the same time with two different devices: one for phone calls, and one for jingles or other music, for instance.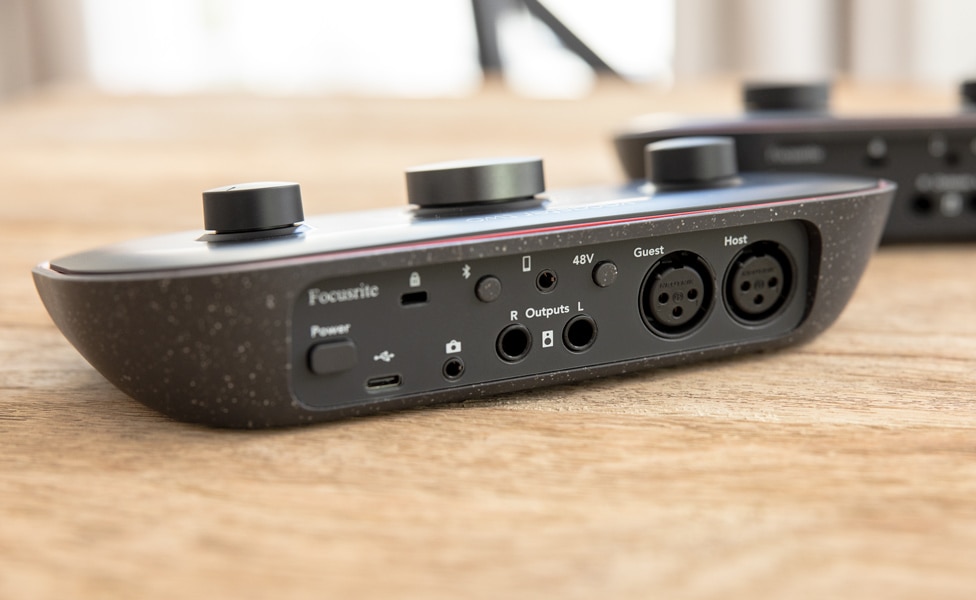 The HUB: Both Vocaster One and Vocaster Two offer camera connections on the rear. What benefit would that offer the typical livestreamer?
DW: You can record Vocaster's studio quality audio directly to a camera, which is great for livestreaming, but also removes the need for vloggers to sync up audio and video in post. This immediately improves the audio quality of video content.
The HUB: One of the key features of Vocaster is the Loopback functionality. Can you explain a typical application for this?
DW: Loopback lets you bring in audio from other applications on your computer, as though they were their own channels on a mixer. A podcaster might want to record audio from a video conferencing app like SquadCast or Zoom, but there's so much more you can do.
Another idea is using music apps to play intros, outros, jingles and other sound content to add a polished feel to your show.
Both Vocaster One and Vocaster Two have two sets of stereo Loopback channels, so you can record sounds from a couple of different apps at the same time, and mix them independently into your show, or record them as separate audio tracks into a DAW, as we talked about earlier.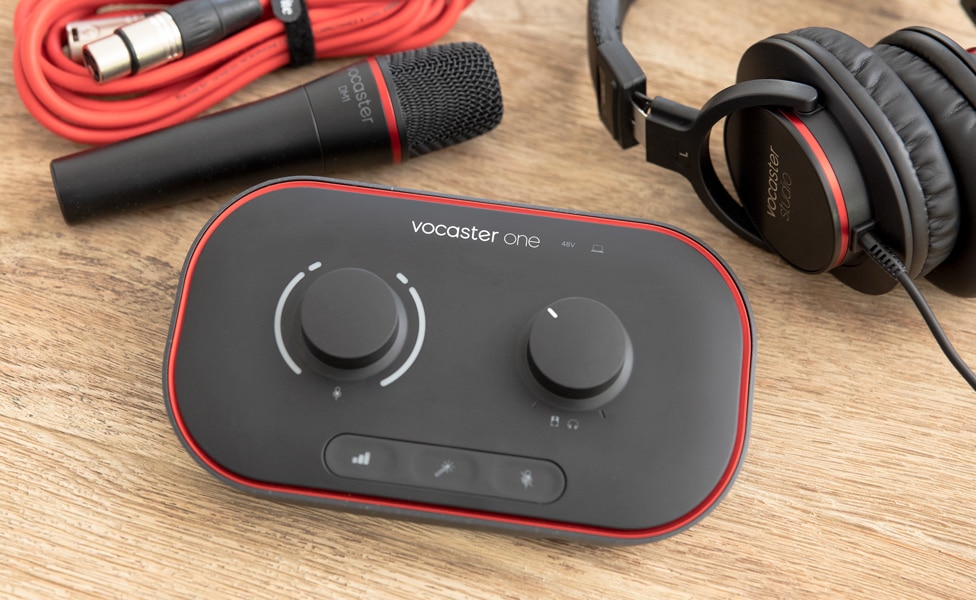 The HUB: Can you tell us a little bit about the software titles that Vocaster includes, and how they'd fit into someone's creator workflow?
DW: Vocaster includes software for recording, editing and publishing a podcast. We've partnered up with industry pros Hindenburg, SquadCast and Acast to give users the best possible experience.
Hindenburg will help make podcast recording simple for Vocaster customers. Traditional audio editors are great for music production but aren't specifically designed for storytelling. Hindenburg simplifies and automates the spoken word recording process, so podcasters and storytellers can concentrate on their content and never have to worry about levels, EQ or other technical details. Vocaster comes with a copy of Hindenburg LITE, and users also get a six-month free trial of Hindenburg PRO.
SquadCast lets Vocaster users bring guests into their show in studio quality. Record high-quality audio and video locally to your guest's computer, removing the network from the recording path, and get studio-quality content for your show. SquadCast's cloud-based technology makes multiple backup files, so users can forget about losing recordings and audio sync issues, and can podcast with remote guests easily. Vocaster comes with three months of SquadCast's Pro + Video plan.
Acast is the easy way to share a podcast and build an audience on leading listening platforms, such as Apple Podcasts and Spotify. Acast Influencer gives Vocaster customers six months of podcast publishing, and the ability to analyze performance data, make money through ads, listener support and sponsorships.
The HUB: What other features of Vocaster might someone new to this sort of workflow appreciate?
DW: As we touched on before, Vocaster Hub is great for mixing a podcast or livestream. The mixer panel controls an actual hardware mixer built into Vocaster, so you are hearing all your audio in real time with no delay. Vocaster Hub's Show Mix virtual inputs let you send your headphone mix directly to either recording software to record a live mix of your podcast or streaming apps like OBS to livestream a show. Your audience hears exactly what you hear, no surprises.
Vocaster Hub is also accessible with screen readers, allowing full control of all Vocaster's features directly from a computer, making voice recording available to everyone who has a story to tell.