We go hands-on with Gretsch's G5244G-12 electric guitar.
---
Written by George VanWagner, Musician's Friend Staff Writer
So many classic sounds have been born from electric 12-strings over the years. You'll find the classic 12-string sound on some pretty serious down-home blues to folk-rock classics with iconic prog tracks and even a smattering of jazz along the way. The first electric 12-string I ever saw was Mike Nesmith's custom Gretsch 12 that he played on The Monkees television series. Needless to say, I was glad to have to chance to spend some time with Gretsch's hollow body Electromatic G5244G-12 recently and see what a little "jangle" could do. 
To begin with, this member of Gretsch's Electromatic family is an absolute stunner. It features gold hardware and a gold-toned pickguard, setting off a gorgeous natural finish on a fully bound body. I've always been fond of the "G" cutout tailpiece and in gold it's a seriously luxury look.
The thinline hollow body is arched front and back, and provides enough volume without an amp for easy living room practice. The blacktop Filter'Tron pickups deliver more than enough chime and jangle, without losing a solid low-end punch or midrange warmth. For that we can thank the guitar's hollow construction. Like most 12-strings, it has the potential to be a little neck-heavy, but Gretsch's positioning of strap buttons keeps it well balanced, and the guitar is light enough that, with a comfortable strap, your back will remain happy. Speaking of strap buttons, Gretsch's solution to the whole strap lock question is to use threaded inserts, so the "buttons" screw down over the strap, keeping it secure — definitely a nice touch.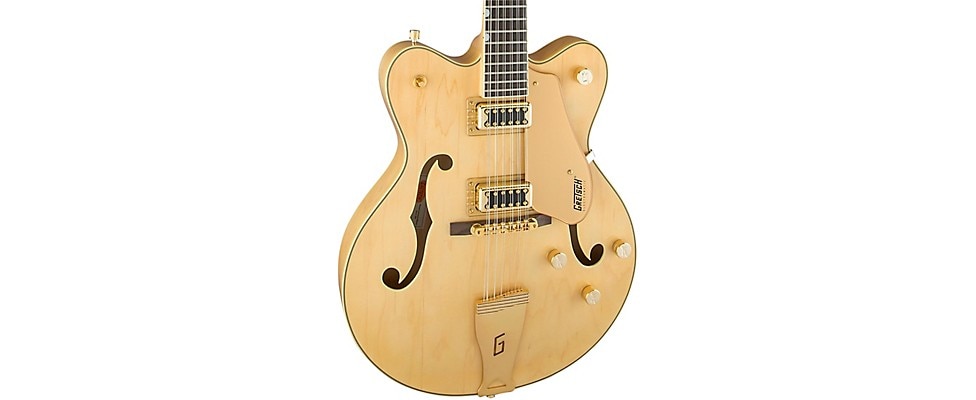 The neck is an interesting compromise between the wide neck of the traditional acoustic 12-string and the narrow one of a normal electric guitar. It was very comfortable to play, though finger picking was a little tight with my chubby digits. About a week into playing it I started to settle in. Flat-picking on this model is an absolute joy, with little thought or practice required to master speedy runs and arpeggios.
Gretsch has always had a unique approach to controls on their electric guitars, and that's not a bad thing. With individual volume controls for each pickup, plus a master volume knob on the lower cutaway and a master tone control, it was really simple to set up relative volumes between the neck and bridge pickups. This made it easy to settle on distinct lead and rhythm sounds, with no need to touch a volume knob when you swap pickups, and without having to upset that balance if you need to get louder or softer overall. You can also dial in some excellent blended tones if you want your lead a little smoother or a little more chime in your rhythm sound.
Although some players may think of a 12-string as kind of a one-trick-pony instrument, it's excellent over a wide range of styles and music. I laid rhythm and lead tracks on jazz, blues, rock and pop tunes over the course of the time I had the guitar to play. It sits in the track really nicely, while adding a unique texture. The guitar was good with sounds ranging from pristinely clean to fairly heavily overdriven. Playing an ostinato figure under an experimental track I was working on gave it a world music vibe that was just the thing.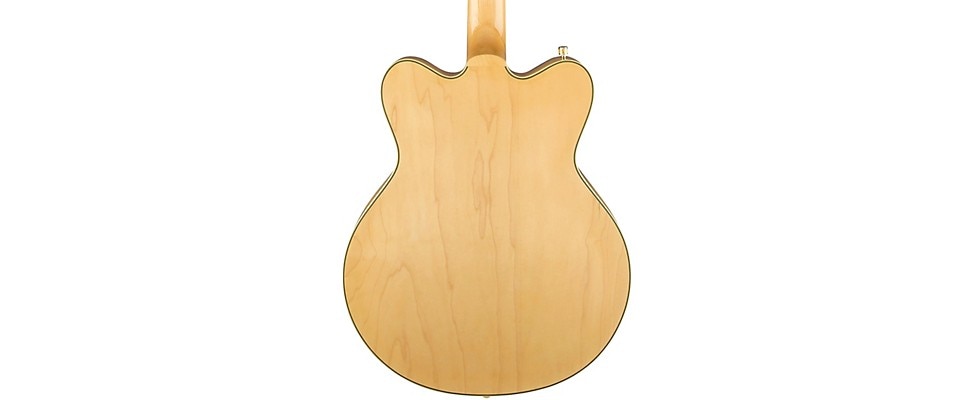 The one thing that will frequently come up with 12-strings is the issue of tuning. Yes, it will take you a little longer to get it in tune (after all, you have twice as many strings), but the neck, bridge and tuning machines on the 5422G-12 are rock solid. Once I got it in tune, it pretty much stayed there, and the intonation was excellent. It's also fun, if you're feeling experimental, to play with tuning the strings to intervals other than unison or octave and discover new and interesting chord voicings.
This was a fun guitar to play, and ended up being more useful in the studio than I'd expected it to be. Unfortunately, I didn't have a chance to play it out live while it was in my hands, but its stability and excellent tone made me wish that I'd had a gig I could take it out on. I wouldn't hesitate to make this excellent-playing instrument my choice for an electric 12-string when the time comes to add one to my personal collection. 
The included tracks are just quick example of the bridge (classic rock style) combined (folk-rock/pop style) and neck (jazz rhythm) sounds and were recorded in Logic Pro X through a Saffire Pro24DSP interface from the direct out of a tube preamp and IR loader.