---
Written By Maria Verde
School of hard knocks
During my first year teaching music to elementary school students (K-6), I took my very modest equipment allowance, drove down to Mexico, and filled up the back of my car with cheap percussion instruments. They were a big hit with the students, and the principal was impressed with my ingenuity. But by the start of my second year of teaching, about a fifth of those colorful, ingenious instruments were still playable. My investment didn't look quite so wise. I began to look around for reasonably priced instruments that would stand up to being beaten on by hundreds of hard-hitting little hands (some of them holding mallets) for years.
That's when I found NINO. From the start, I was amazed at the quality of construction. Rather than toys masquerading as musical instruments, the NINO products are real musical instruments with design elements that appeal to kids. Plus, all of the NINO products have been tested by the Landesgewerbeanstalt Bayern, Germany (LGA), Institute for the Testing of Goods and Quality Monitoring. All the NINO instruments have been awarded the LGA Test Certificate which certifies that they comply with the European Community Directives 88/378/EC and 87/357/EC for safety and quality—much stricter directives than their American counterparts.
Most of NINO's wooden instruments are made of Siam oak. This fine hardwood is grown on plantations in Thailand, most of which were planted long ago for the production of latex. As a result, Siam oak meets all of the international standards (including CITES regulations) for environmentally friendly woods.
Musician's Friend sent me a large box full of NINO instruments to review. I had already used most of the products in the classroom, and the remainder proved to be everything I've come to expect from NINO.
Super-safe and aesthetically pleasing
Harmless and incredibly durable paints, freedom from sharp and rough edges, and the absence of small parts kids could choke on make the NINO instruments entirely safe for kids of all ages. Meanwhile, even advanced adolescents and adults will find the sound and performance quality of NINO instruments surpass their needs and let them go as far as their talent will take them.
Bongos
I've bought 10 sets of these NINO wood bongos in the past few years. The genuine buffalo skin heads are totally consistent in thickness, produce a mellow tone, are quite tunable, and by all indications they will last forever. Brightly painted hardware is amazingly heavy duty and makes the drums very attractive to young kids. They're also available with black hardware to appeal to older students (like me—I've got a pair of my own at home).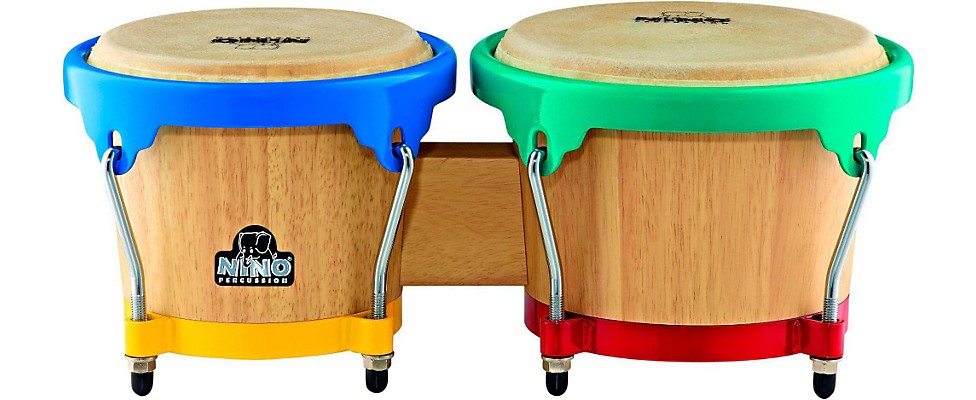 Congas
In addition to their small size, these amazing instruments appeal to kids because their lug brackets reflect the NINO elephant logo, which also appears on the head. Like the bongos, the NINO congas feature amazingly high-quality construction. The rubber wood shells are incredibly smooth and well-finished with super heavy-duty hardware and a ring around the bottom to protect against cracking and drops. I've bought several of these over the years and have seen a few of them hit the floor without serious damage. The included stands are very sturdy and stable.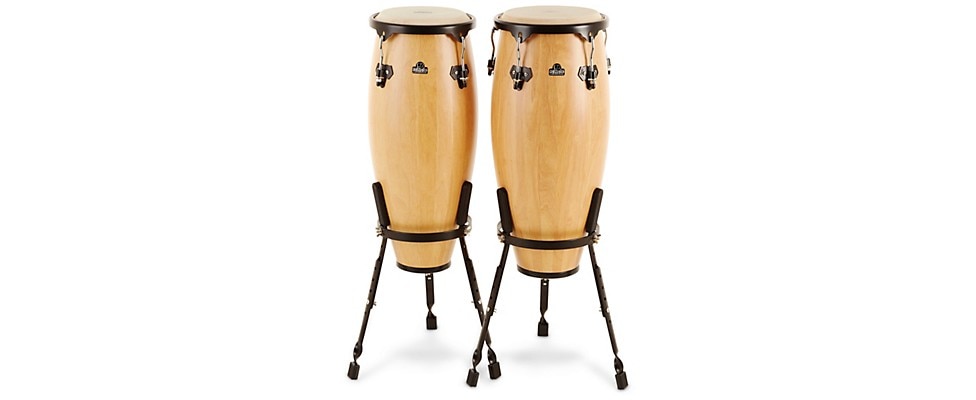 Energy Chimes
These little energy chimes really provide a magical feel to kids' ensemble playing. The suspended bars ring out very loudly with extended sustain. I like to put them in the hands of the most timid kids and see the smiles light up their faces when they realize they can make such beautiful, penetrating sound.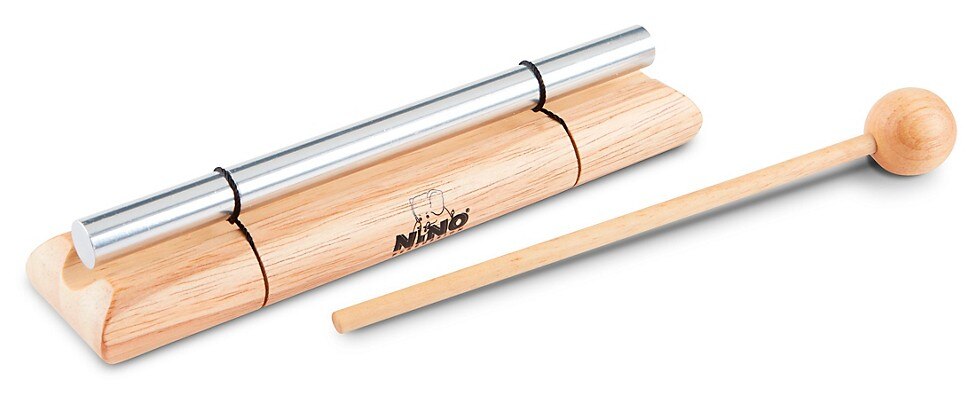 80-Piece Egg Shaker Set with Elephant Basket
This 80-Piece Egg Shaker Set is a great way to get a large room full of kids in the groove. The eggs are easy to hold for small kids, make a distinctive sound that's pleasing and easy to hear, and are virtually indestructible. The cool basket is actually quite tough and tells kids to get ready for something fun!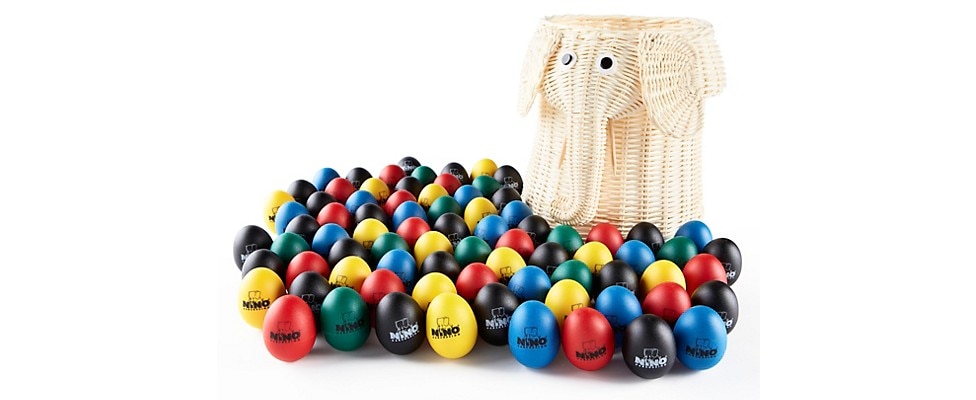 15-Piece Percussion Assortment
If I were going to recommend any one purchase to get started with NINO instruments, the Rhythm 15-Piece Set would be it. There's a broad enough assortment to appeal to every kid in the class, and they're all instruments that can stand the test of time. The kit also gives you a chance to try out a lot of different NINO instruments to decide which ones you'd like to have more of.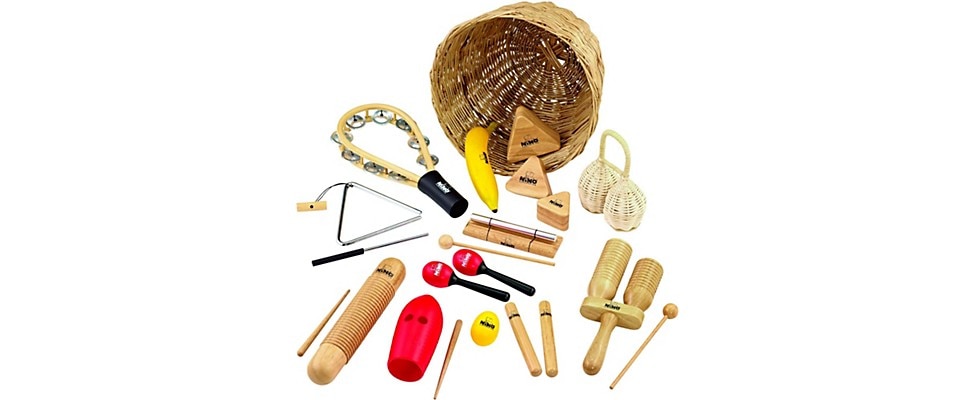 Botany Shakers
These little musical fruits and vegetables are a must for any music class with very small children. Young kids are delighted by the contrast between a familiar shape and an unfamiliar sound. Older kids like 'em, too (though they're less likely to admit it). The non-toxic finishes are extremely stable and they're virtually indestructible.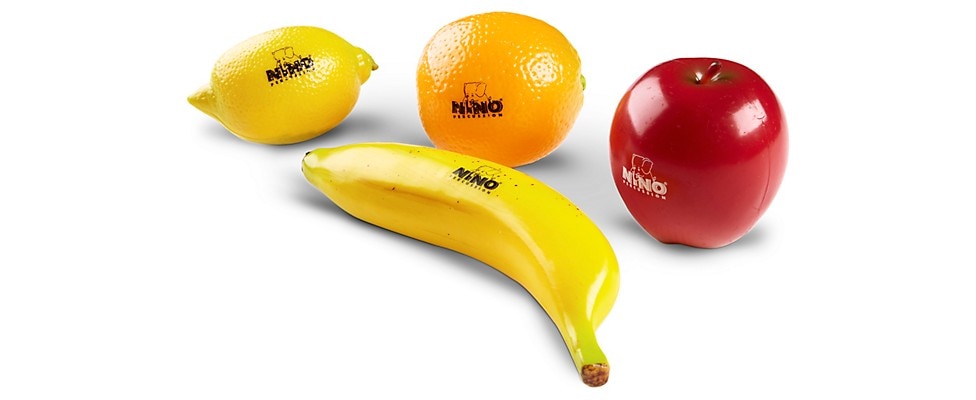 NINO Percussion provides very high-quality, great-sounding instruments for childhood musical education that are shockingly affordable. Better yet, all NINO instruments comply with the world's most stringent safety requirements for children's products, and they're perhaps the most durable percussion instruments you'll find anywhere.
Reviewing these instruments has only reinforced my loyalty to the NINO brand. Working with limited funds, we music educators have to choose wisely when selecting instruments for the classroom. From every angle—playability, durability, safety, tone, range, price, and kid appeal—NINO instruments are a wise investment. I recommend them without reservation.
Features & Specs
---
Bongos
Congas

6-1/2" macho and 7-1/2" hembra shells
Genuine Siam oak
Hand-selected buffalo skin heads
Durable lugs
Heavy-duty metal bottoms and rims
Rubber feet
Multicolor or black rims

9" and 10" diameter drums
22" high, 29" high in stands
Hand-selected buffalo-skin heads
Precision-crafted Siam oak shells
Strong elephant-shaped lug brackets
Included heavy-duty stands with rubber feet and drum holders

Energy Chimes
80-Piece Egg Shaker Set with Elephant Basket

Free-floating polished bars
4-7/8", 5-5/8", and 7" bars, 1/2" diameter
Easy-to-handle wooden base
Wooden-head mallet included

Assorted egg sizes
Super-tough plastic multicolored eggs
Decorative, durable handwoven basket

15-Piece Assortment
Botany Shakers

Small wood claves
Small triangle
6" ABS hand drum
Mini fiberglass guiro
Skin egg shaker
Small egg maracas
Small basket shaker
3-piece square wood shaker assortment
Medium wood block
Banana shaker
Large egg shaker
Jingle stick

Super-tough plastic
Realistic shapes
Resilient, safe finishes
Fruits: orange, apple, banana, lemon
Vegetables: cucumber, eggplant, pepper, carrot