Darius Van Rhuehl
Musician's Friend Staff Writer
I'm no stranger to the MG series of old. I use a 10-channel Yamaha MG10/2 as part of my setup for recording a television show—particularly as a submixer for musical guests—and always achieve broadcast-quality results. No surprise there, Yamaha makes live sound and recording mixers used at the highest levels in the business, and much of that technology finds its way into the MG series. This latest generation has some incredibly useful new features and the kind of versatility that Yamaha mixers are famous for. So, if you're in the market for a mixer flexible enough to put its rubber feet behind its rackears (I'm talking very flexible), then read on. Yamaha's newly rejuvenated MG series has come to town.
It's bigger on the inside
The MG family divides itself into three groups with a number of I/O options in each. Group one comprises straight-ahead analog mixers with unique single-knob compression; group two adds Yamaha's famous SPX effects; group three adds USB to the features of group two. My tests centered on the MG166CX, a 16-input, 6-bus mixer with six channels of built-in compression and 16 digital effects presets. It can be used as either an 8-mono/4-stereo or 10-mono/2-stereo channel mixer.
Between running signal through the MG166CX mixer and admiring its dark cobalt blue exterior, I couldn't help thinking of Doctor Who's Tardis, where stepping inside the small blue police box reveals a huge interior in another dimension. Similarly, the MG mixers have a thin profile, are very lightweight, and pack a major sonic punch with loads of useful features.
Channels 1-6 feature single-knob compressors. Along with adding punch to instruments, they're good for keeping levels balanced between vocal mics and even better for balancing lavaliere mics. An onboard effects processor offers 16 presets with flexible routing options and a dedicated send.
The console also provides a number of essential features including 80Hz roll-off switches, three-band EQ (swept mids on channels 1-8), input trim, channel inserts, and two aux sends. Aux 1 is pre fader and Aux 2 is switchable between pre- and post-fader. There's a dedicated send for the built-in effects.
Above and alongside the smooth 60mm faders, you find a lighted channel On button that functions as a mute switch; and PFL (pre-fader listen), group, and L/R assign switches. The mixer also allows you to switch outputs from main to group out, allowing you to hear your grouped channels soloed. This is particularly useful for balancing drum and vocal submixes.
A sonic screwdriver
Going back to my earlier Doctor Who reference, if you're not familiar with the character, The Doctor is always improvising his way through complicated and life-threatening situations with little more than his wits and his trusty sonic screwdriver. It's much like recording sound for a live television show, where the engineer (Doctor Me) has to put up with a producer/"star" (Doctor Evil) who delights in cheaping out on equipment and booking acts with more outputs than I have channels for (they like to film me freaking out and quitting each week). Usually, I find out what I have to deal with four hours before we go live. (That's why I have been using the MG10/2—it's nearly weightless, fits in my wire box, and saves my butt weekly.)
For this review, I decided to test the MG166CX in combat. On this week's show, the musical guest presented a real challenge—four singers, two keyboards, two guitars, bass, drums, and pre-recorded backing tracks. Normally, I'd have to submix drums and run everything else to my main console and balance from there. I also have to leave room for at least four lavs, stage and bump mics, pre-recorded music cues, and the house band. Having the MG166CX for this show was pure luck.
Taking full advantage of the I/O options and six onboard compressors, I ran bass, kick, snare, and backup vocals on channels 1-6. The compressors were so easy to use—one turn of the knob gave me punch on bass and drums and balance on the vocals. Drums were assigned to group 1-2, vocals to group 3-4, and stereo keyboards to L/R main. That gave me three separate stereo feeds to the main console that I could control with one fader each. Backing tracks were input via the RCA Tape In and sent out in stereo via Monitor Out. Mixing the show live was a breeze. All I had to do was keep eight faders on the main console at unity.
Normally, I refrain from adding effects during live performances to avoid problems at mix time, but I wanted to check out the MG's built-in effects. I used the drum ambience preset and recorded it to a separate channel via the dedicated Effects Out jack. Finding its way to my final mix, I liked the sense of reality space the effect imparted to the drums. Usually, I employ a heavily RAM-addicted convolution reverb along with some tricky busing to external gear to make that happen, however, the sound quality of these effects is a significant cut above what you tend to get in mixers at this price point.
Best of all, I showed up with this mixer on show day; took it out of the box for the first time; and had everything sussed, connected, and mixed in under two hours. Normally I'm a cross between Roadrunner and Daffy Duck right up to show time, but with the intuitive layout and flexibility of the MG166CX, I was sitting in the greenroom, relaxed and able to eat the complimentary pizza while it still had something nice to say (I did say it was complimentary pizza). But here's what really tells the whole story. Everyone, "star" included, agreed that it was the best-sounding guest artist we've ever had. Trust me, the band was good, but the MG166CX was better.
The Doctor dances
If the MG mixers can stand the test of fire on a syndicated television show and emerge unscathed and victorious, they'll handle your band in any venue with great sound quality to boot—and sound quality is what it's all about in our biz. Beyond that, you'll have a desk that can handle the unexpected and grow with you. That alone leads to even greater savings, since you don't need to reinvest as your needs change. And should your endeavors include recording and editing, the stereo buses of MG USB models offer direct digital connectivity with Cubase AI-4. Regardless of your needs, I have absolutely no problems recommending any and all of the MG series mixers. They're the sonic screwdrivers for the aspiring audio Doctor—Who, I promise, will use them time and time again to save the world.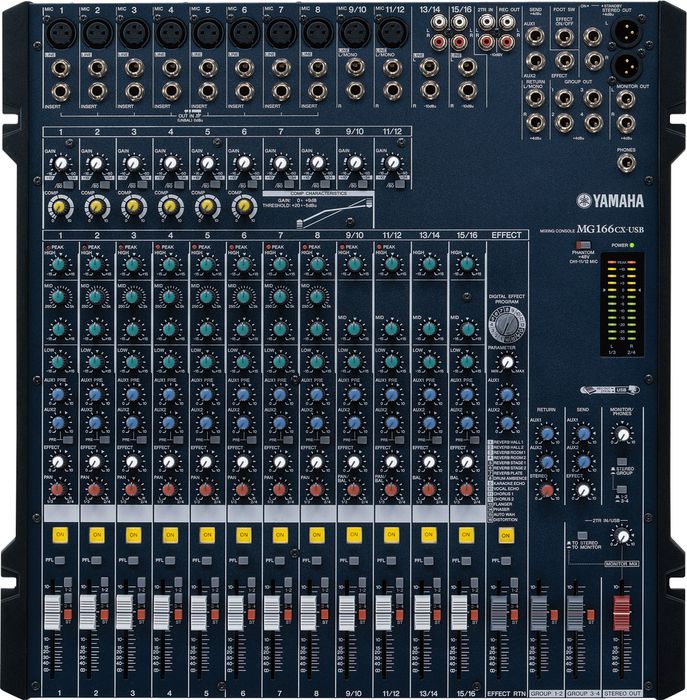 The Yamaha MG166CX-USB adds USB to 166cx feature set
Features & Specs
---
MG166C:
16-input, 6-bus mixer
Easy operation
Lightweight, portable design
Versatile connectivity and pro-class connectors
6 built-in single-knob channel compressors
High-performance mic pres with switchable phantom power
3-band channel EQ and high-pass filters
Aux/effects sends
Channel inserts
Smooth 60mm faders
Illuminated channel ON switches
Bright meters for visual level monitoring
MG166C-USB:
Adds USB to 166c feature set
Cubase AI-4 included
Same as 166c with SPX digital effects
MG166CX-USB:
Adds USB to 166cx feature set
MG124C:
12-input, 4-bus
3-band EQ on mic channels
4 channels compression
Illuminated Channel On switches
Adds DSP to the 124c feature set
MG102C:
10-input, 2-bus
2 mic mono, 2 mic/line stereo, 2 line stereo channels
2 channels compression
3-band EQ on mic ins
MG82CX:
8-input, 2-bus
Built-in DSP effects
3-band EQ on mic ins
MG206C:
20 input, 6 bus mixer
4 aux sends
2 stereo aux return
channel inserts
Neutrik XLR Connectors
8 single-knob channel compressors
Illuminated Channel On switches
Monitor mix
12-segment LED level meter
Rackmountable
MG206C-USB:
Adds USB to 206c
Includes Cubase AI-4