Written By Gregg Stein
A precedent is set: When Zildjian unveiled its A Custom range of cymbals ten years ago, they were enthusiastically adopted by a who's who of drumming luminaries. The result of radically different rotary hammering techniques, thin weights, and a brilliant finish, the A Customs found a happy niche in Zildjian's lineup. With their crisp, sweet, sophisticated sound, drummers found colorations perfectly suited to modern music.
To celebrate the tenth anniversary of the line, Zildjian has expanded the A Custom series with the introduction of some new cymbals that will undoutedly win even more friends. Of course, in the context of Zildjian's centuries-long tradition, ten years is the mere twinkling of an eye.
A little history
To put things in perspective, Zildjians were being crafted long before even the idea of a United States existed. The company's origins lie in the teeming city of Constantinople in the 17th century when alchemist Avedis I developed an extremely musical metal alloy. With it he created powerful, durable cymbals that were sought after throughout the region. As Avedis' fame grew, the Sultan bestowed upon him the name "Zildjian," meaning cymbalsmith in Armenian. Such were the beginnings of the family's reputation for crafting innovative, exceptional-sounding cymbals and for manufacturing excellence that now spans 14 generations.
A rich tradition continues
Zildjian has always maintained a tradition of collaboration with leading drummers in developing new cymbals. That close relationship has been passed down directly to Avedis' descendents. To this day, the company consults with an impressive lineup of the world's greatest drummers in developing new designs and sounds. Whenever great strides are made in drumming, a Zildjian usually has been on the scene to respond and lead the way. Avedis III's son, Armand, created a modern factory and sparked a dramatic flurry of cymbal development that spanned three decades. Today, his daughters Craigie and Debbie are carrying the Zildjian spirit forward into yet another new age of music and cymbal innovation.
New A Custom arrivals
Working hand in hand with master drummer Vinnie Colaiuta, Zildjian set out to create a group of cymbals to answer the needs of modern music that was neither too bright and brassy, nor too dark. They've achieved their aim completely with the latest issues in the A Custom family.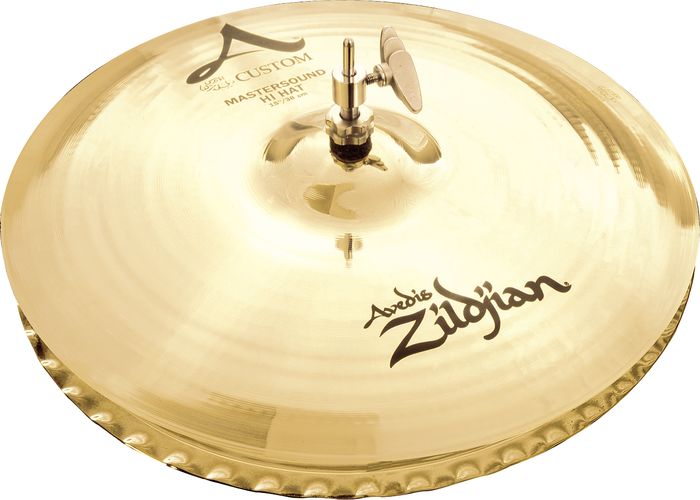 12" Mastersound Hi-Hats
First up are these smaller hi-hats. They're higher-pitched due to their smaller size, but the Mastersound hammering process allows the cymbals to breathe for a clean and cutting chick sound. They're extremely focused, bold, and crisp, and avoid the tendency of smaller hi-hats to sound sound thin, dull, and tinny. They lend themselves well to a variety of studio and live settings. Like all A Custom models, the new 12" A Custom Mastersound Hi-Hats are available in a brilliant finish.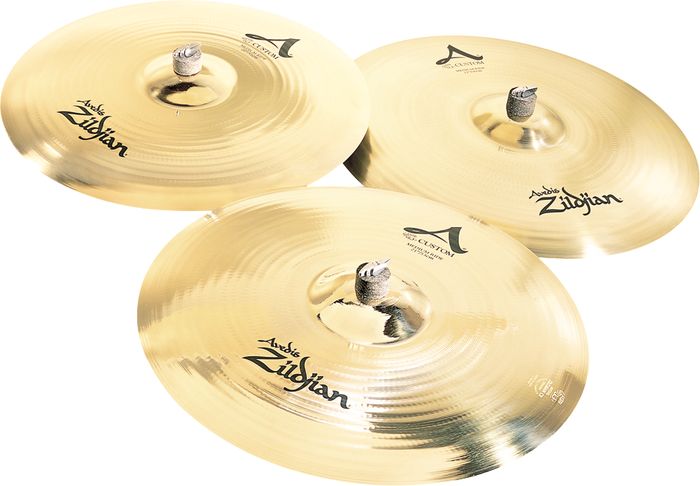 20", 21", & 22" A Custom Medium Rides
These new rides represent an exciting addition to the A Custom lineup. Specifically designed for versatility, the new A Custom Medium Ride has an extremely clear stick definition and shimmering spread. Even the bell of the new A Custom Medium Ride has a unique cutting power without overpowering the band. To offer extreme versatility, they are available in 20", 21", and 22" sizes, all in the brilliant finish.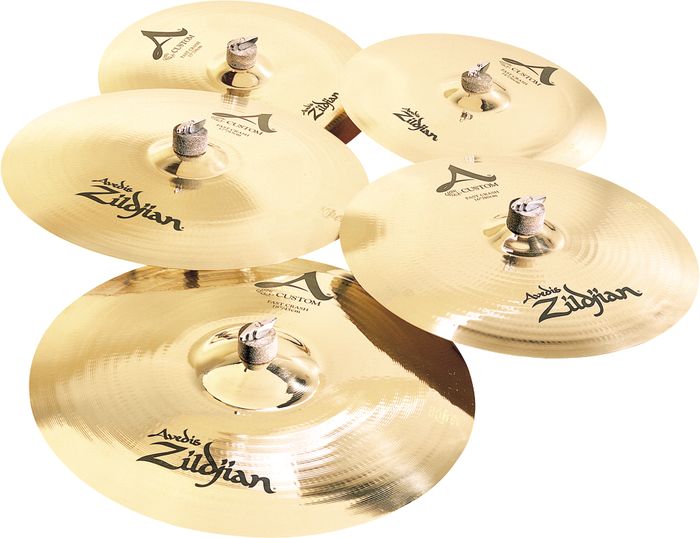 A Custom Fast Crashes
These babies deliver a bright, responsive crash sound with a short decay. They're designed to offer a quick response with a melodic character and high pitch. Without any effort, these new Fast Crashes open and blossom into a high-pitched, smooth crash sound with an extremely short decay. Slightly thinner than the original, the A Custom Fast Crashes are easily as musical. New profiles and cup shapes contribute to their characteristic sound. Like all A Custom cymbals, they gleam with Zildjian's stunning brilliant finish.