Discover how the sonic character of various wood types helps shape the sound of acoustic and electric guitars.
---
In this tech tip we'll look at some of the more popular woods found on acoustic and electric guitars, and the tonal qualities these woods lend to their overall sound. Before we get into specifics, though, you should note that any attempt to define the tone of a given wood is general at best.
Different cuts of the same species, or even the same tree, will exhibit different characteristics based on the age of the tree, the grain, the moisture content, and how long the wood has been seasoned. Of course, the design and construction of the guitar have a major impact on the tone no matter what woods are used! With that caveat in mind, here's your guide to guitar wood.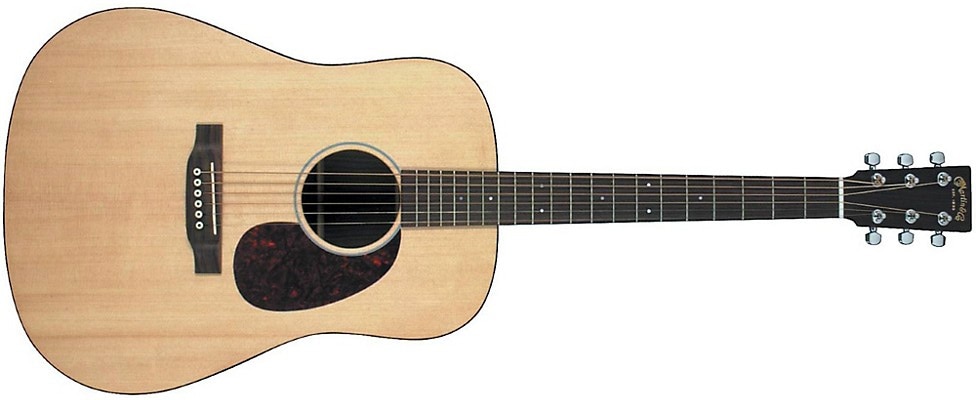 The Martin D Classic Mahogany Dreadnought is crafted with the classic combination of a Sitka spruce top and mahogany body for powerful bass projection balanced with crisp treble response.
The Woods
Spruce: A runaway hit for acoustic guitar tops, its even grain, high strength, and light weight make it a favorite of acoustic guitar builders. It lends a strong, crisp tone to the mix. It varies in color from almost white to a warm, toasty color. As it ages, it takes on a very mellow tone and a deep butterscotch look that is beautiful to behold and wonderful to hear. There are several varieties of spruce that find their way into guitar tops, and that includes the rarer Appalachian spruce, and the abundant (and excellent-sounding) Sitka spruce.
Cedar: Coming up the ranks, cedar starts out with a much warmer color and though it may lack the dynamic range of spruce, nonetheless it produces a bright, somewhat more aged tone. It's a beautiful wood, and is becoming more prevalent in classical guitars.
Mahogany: Mahogany is an extremely versatile wood. Dense, strong, and beautiful it's used as a top, sides, back, neck, and for headstocks. It produces a bright, warm, penetrating sound, and when used in combination with a spruce or cedar top, it helps balance the overall tone. Because of its great tone and relative abundance compared to rosewood, mahogany is often used in inexpensive guitars.
Rosewood: Prized for its looks, revered for its tone, this dense, beautiful wood is often considered the crown jewel of guitar woods. Its popularity among players and builders helped to deplete Brazilian rosewood stands. As a result, it has become scarce and significantly more expensive than its cousin, Indian rosewood. Cosmetic differences aside, Indian and Brazilian rosewood both add a rich, deep bottom end and strong mids to the acoustic guitar. When used on necks, it imparts a warmer tone than ebony or maple.
Maple: Many an electric guitar is capped with a maple top and neck. It's a strong, dense, heavy wood that imparts a powerful, upper-midrange snap to the tone that really cuts through an instrumental mix. It can add a great amount of beauty as well, with its highly figured patterns and elegant striations. You'll often find it gracing the top of a fine electric guitar, finished with a transparent color that allows the natural grain of the wood to shine through. When used on the sides and back as well as the top, it provides a cool, crisp sound that many jazz guitarists find compelling.
Ebony: This deep, black wood was classically paired with ivory to produce piano keys. While ivory has gone the way of tortoise shell pick guards, ebony still graces the black keys on a piano, and the fretboards of many a guitar and bass. It's heavy, extremely dense, and adds a crisp delivery to the tone.