Recently described by Rolling Stone magazine as one of the "10 New Artists You Need to Know", Szlachetka would be best classified as an artist who resides in the realm of rock and roll and Americana. With a singer-songwriter vibe that has a rock 'n roll edge, he wouldn't feel out of place on a bill with artists like Ryan Adams or Jackson Browne. Just before his recent show at Hotel Café, we sat down for a conversation to talk about life on the road, his latest record and some of his favorite gear.
The HUB: Tell us a little bit about the production behind your live show and how that is reflective of your new album.
Szlachetka: Well, tonight we've got bass, drums, keyboards, pedal-steel/lap-steep, electric guitar, and two back-up vocalist. In regards to the album, the album was produced by Grammy winning producer, David Bianco, who produced records for Petty, Dylan, and Springstein, etc.
The HUB: You just wrapped up soundcheck here at Hotel Café, tell us how you go about conducting sound check.
Szlachetka: It's basically just being able to hear everybody. I like to get a little mix of everything, especially vocally. Harmonies are a big part of the music I write, so finding the right balance between myself and backup vocals is huge. Also being able to hear the rest of the band and finding the balance within the musical interactions of everybody playing.
The HUB: As a touring musician, what are some of the keys to preparing for long tour cycles?
Szlachetka: For me it never really ends. I do somewhere between 150-200 shows a year. I'm kind a road dog, haha. It's really about getting your songs rehearsed, and for me, it's about having my vocals trained and ready for the road. When you're doing a lot of shows consisting of long sets, you have to get your voice trained to keep your vocals strong. You have to be diligent about monitoring the wear and tear and resting your voice.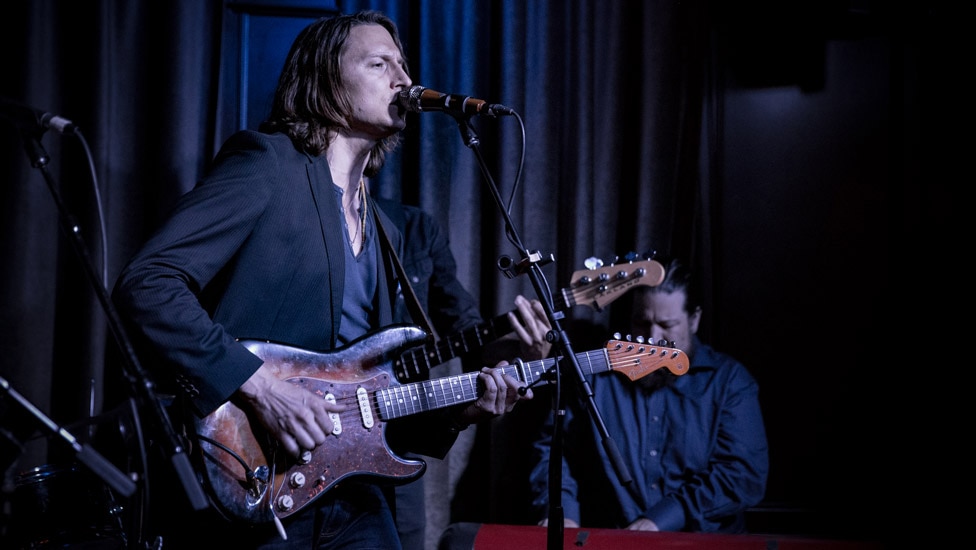 The HUB: How do you full-band sets differ from your acoustic sets?
Szlachetka: When I'm on the road consistently doing full-band shows, I usually bring a couple different amps and at least three or four guitars. I do a lot of songs in different tunings, so to not have to worry about changing your tuning in between songs is great. It's important to have a seamlessness between your songs so your set-list has a good flow. Also, it's important to have back up gear as a precaution in case stuff goes down while you're on the road. It's good to be overly prepared if possible.
The HUB: Diving into some specific on some gear you prefer to tour with, what are your guitars of choice?
Szlachetka: I've brought out one of my Fender Stratocasters..it's a mid-90s, American '62 reissue that I've customized a bit with Van Zandt Blues pickups and bigger frets. My acoustic-guitar is a Martin OM28V.
The HUB: With the electric guitar being such an integral part of your set, what are different amps you prefer using on stage?
Szlachetka: Tonight I'm using my buddy's hand-wired clone of a '57 Fender Deluxe that has a couple of his own personal tweaks to it. Normally, my main amp of choice is a '62 Fender Princeton, and if I do a stereo-rig, pair that with a '70s Princeton Reverb. Those combined together are amazing. I'm a big fan of the brown-face era Fenders because the vibrato-tremolo channel was like the best they ever did. It's super lush, and there's something about the brown-face circuitry that has this punchy mid-range where you can really get your guitar to cut through the mix.
The HUB: Our friends over at Bose were kind enough to put you on our radar; how did you link up with Bose?
Szlachetka: I started working with Bose quite a while ago when I was with my previous band, The Northstar Session, and they became big fans and champions of what I was doing. When I went solo in 2014, they really got behind me and supported be after that transition.
The HUB: Do you use any of the Bose portable PA systems when gigging on the road?
Szlachetka: Absolutely! I use the L1 Model II for both acoustic solo shows and also full-band shows. As of late, I've also been using their new S1 Pro system, which is the latest and greatest of their portable PA systems.
The HUB: So, where can we find your music and how can we stay up-to-date on all things Szlachetka?
Szlachetka: My new album, "Heart of my Hometown," is now available on all major streaming platforms. You can also follow me across social media @SzlachetkaMusic. The "Wildflowers on the Highway" music video was premiered on CMT and was on their 12-Pack Countdown for 6 weeks, so be sure to check that out as well!