Building on the impressive performance of their first generation 3 Series studio monitors, JBL is unveiling its replacement, the new 3 Series MKII Powered Studio Monitors. These compact, two-way monitors are available in 3 sizes: the 5" 305P MKII, 6.5" 306P MKII and the 8" 308P MKII.  
What's New in 3 Series MKII Studio Monitors?
As noted, the new MKII 3 Series has seen a variety of improvements that will make them that much more appealing to recording engineers, mix engineers and producers alike. Prior ideas that hadn't quite made the cut in the original MKI series, whether due to production timelines or otherwise, have been implemented. These include JBL's patented Image Control Waveguide technology, improved transducers, new EQ shaping options to tailor your monitor response to your room acoustics and more.
What is Image Control Waveguide Technology?
Originally developed for their top-of-the-line M2 Master Reference Monitor, JBL's Image Control Waveguide ensures a seamless transition between what's coming out of your low- and high-frequency transducers. Rather than hearing two independent signals, the technology allows for the output of the two transducers to comfortably "meet" and project a unified sound source. This means the 305P MKII and 308P MKIIs have broad sweet spots, precise imaging and above-all, a clear representation of your mix, whether you're sitting on- or off-axis.
Improved Transducers – Improved Sound
Each model in the 3 Series MKII sees noticeable improvement due to improvements in the transducers. Each model features a long-throw woofer (5" or 8"), JBL's Slip Stream™ low-frequency port and woven-composite 1" Neodymium tweeters. Of note, is the faster high frequency (HF) transient response, lower harmonic distortion and greater low frequency linearity, all due to the improved designs of JBL's engineering team.
Adjustable Performance to Match Your Studio's Acoustics
One of the biggest challenges most studio owners face is finding the "sweet spot" for their rooms, specifically as it applies to monitor placement and mix position. These issues are directly connected to each other and JBL has made two updates to their new 3 Series MKII monitors to address this. First, is their new Boundary EQ attenuator. When positioning studio monitors near walls or corners, or even when placing them directly on a desktop, you can experience a significant build-up of low frequency information, resulting in uneven sound and, perhaps most importantly, skewed mixes. The new Boundary EQ attenuator directly addresses this issue, resulting in much better performance in a variety of studio settings.
In addition to the aforementioned Boundary EQ, JBL has introduced a new 3-position HF Trim switch, allowing you to adjust high frequency response of your monitors, whether for personal taste or to best match the natural acoustics of your room.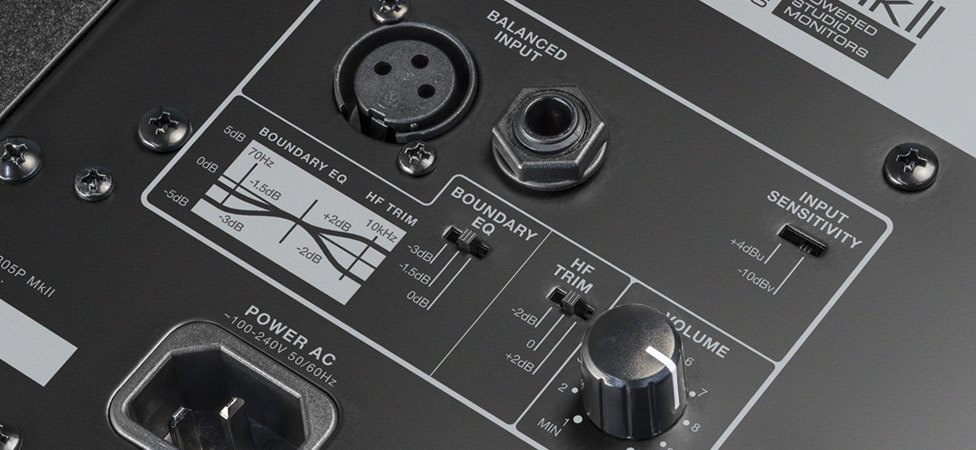 Who Should Buy the JBL 3 Series MKII Powered Studio Monitors
Given their impressive performance, flexible connectivity, attractive pricepoint and JBL's well-known reliability, these monitors should appeal to a variety of potential customers. Who are they? Home studio owners looking to record and mix their own music, podcasts or video projects will find the 305P MKII or 306P MKII to be a nice fit. Larger project and production studios will find the 308P MKIIs to be a natural fit for their space and workflow.
Shop our full selection of studio monitors and recording gear.