Building on the analog architecture at the foundation of the Minilogue, Korg has introduced the new Minilogue XD. The Minilogue XD takes everything you loved about Minilogue and adds impressive new features inherited from their Monologue and Prologue synths.
Let's take a closer look at some of the most important features and specifications.
Minilogue XD's Synth Engine
Minilogue XD's synth engine features 2 voltage controlled oscillators (VCOs), a digital multi-engine (inherited from Prologue), 1 voltage controlled filter (VCF), 2 envelope generators (EG), 1 voltage controlled amplifier (VCA) and 1 low frequency oscillator (LFO).
Each VCO can be set to one of three different waveforms: Saw, Triangle or Square. You can also select octave and adjust the pitch, great for building slightly detuned analog synth sounds. There's also wave shaping, sync, ring and cross modulation to add overtones to your sound. A drive circuit allows you to add a bit more girth to your sound before heading into the aggressive, two-pole VCF.
Looking for more? Check out the third oscillator, the digital multi-engine.
What is the Digital Multi-Engine?
First unveiled as part of Korg's flagship Prologue synthesizer, the digital multi-engine adds a third oscillator to your Minilogue XD. It's capable of three different types of sound generation: VPM (Variable Phase Modulation, AKA FM), Noise and User Slots. Let's take a closer look at each method of sound generation.
Korg's Variable Phase Modulation, similar to Yamaha's Frequency Modulation, has a two-operator structure. Like FM, it excels at creating percussive, metallic tones. You'll find it performs especially well at electric pianos, basses and more. In all, it features 16 different types of oscillators and a SHAPE knob.

The noise generator in the digital multi-engine is capable of four different types of noise. These are especially great for percussive sounds (Ex. Hi-Hats).
Finally, looking at the User Slots, you can load in unique oscillator programs, of your own creation or others that you've downloaded from the internet. Korg offers a Software Development Kit (as well as some sample code) so that users can generate oscillators  of their own design. This particular functionality makes Minilogue XD especially powerful as it adds in an unlimited amount of creativity.
Micro Tuning from Monologue 
Minilogue XD inherits one of the most beloved features found in Korg's Monologue: micro tuning. This feature allows users to individually adjust the pitch of each key, with 23 preset tunings to choose from.  You can also create six of your own user scales, as well as six user octaves.
On-Board Digital Effects
Korg's hybrid analog/digital design approach carries through to the final stage in the signal chain, offering three different types of digital effects: reverb, delay and modulation. These three effects types can be used at the same time, with choices including chorus, ensemble, tape delay and reverbs. As mentioned, you can also load in your own user effects, adding further sound design choices.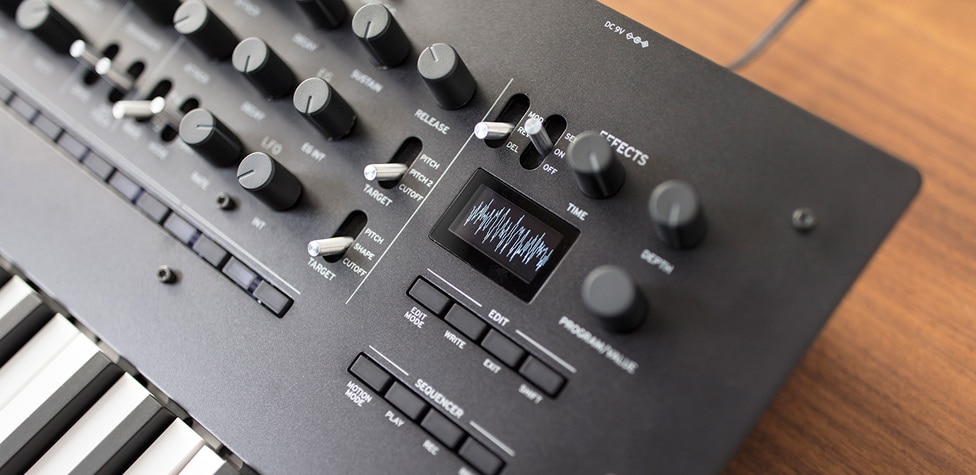 Polyphonic Step Sequencing
Designed for both real-time and step recording, Minilogue XD comes with a 16-step sequencer for playback of your performances. As an added bonus, you can record the knob movements of up to four of your knobs for advanced motion sequencing.
Understanding the Voice Modes
Minilogue XD features four distinct voice modes: Poly, Unison, Chord and ARP/Latch. Poly provides for standard four-voice polyphonic operation. In Unison, Minilogue XD functions like a monophonic synth, layering the four voices together in unison. In Chord mode, a single key will trigger chords using one to four voices at any given time. Finally, ARP/LATCH provides an arpeggiator (up to four voices) that can be used in tandem with your sequencer.
Other Key Features and Specifications
As with the original Minilogue, Minilogue XD includes an oscilloscope for visual feedback as you design your sound. This feedback is helpful for understanding how different wave shaping and filter settings will change the overall structure of your waveform.
Unlike the original Minilogue, Minilogue XD now features a stereo output, which will make you truly appreciate the on-board delay, reverb and chorus effects. CV IN jacks ensures that Minilogue XD plays well with others, so you can hook it up to your other analog hardware. Finally, an added damper jack allows you to connect a sustain pedal to your synth.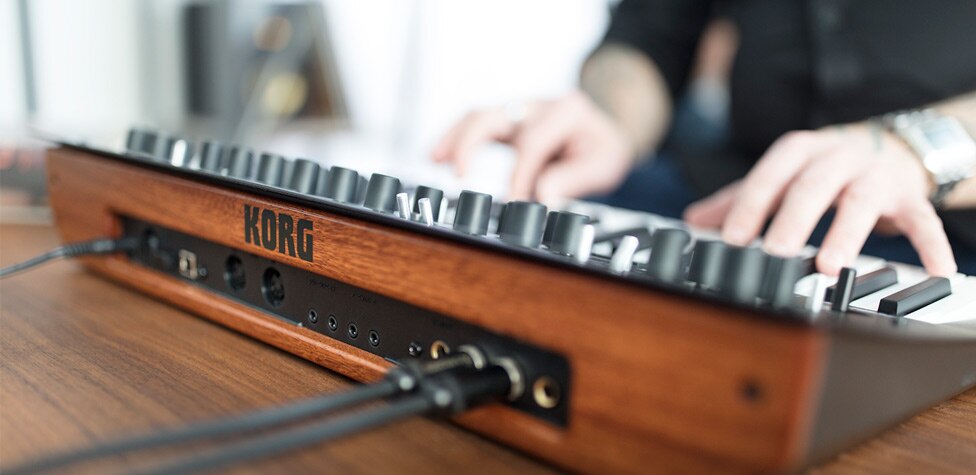 In total, Minilogue XD is a noticeable step-up in raw synth power from the original Minilogue. Inheriting some of the best features of both Monologue and Prologue, Minilogue XD occupies a unique space in the synth world, without asking customers to break the piggy bank in the process.
Additional Minilogue XD Sound Demos
Want to hear more audio demos of the Korg Minilogue XD? Check out these demos, courtesy of Korg's Soundcloud. 
Related: Check out our recent overview of the new Korg Volca Modular semi-modular synthesizer.
Shop Musician's Friend's full collection of Korg synthesizers.