New for NAMM 2020, Martin Guitar has announced the SC-13E acoustic-electric guitar. Designed with the performer in mind, the SC-13E represents a new direction for Martin, delivering their iconic sound in a bold new body shape. To learn more and hear the guitar for ourselves, we caught up with Rameen Shayegan, Martin's International Instrument Design Manager.
Even from the early stages, the Martin design team knew that they wanted to create something truly forward-thinking and progressive. According to Shayegan, the original concept started with the shape of an "S". "We thought that it was both asymmetrical and really graceful looking," says Shayegan. "There were so many different words that could be implied from the letter S that could describe what we were looking for in a guitar: superlative, superior, sleek."
Informed by feedback from guitarists of all stripes, Martin's designers went to work. Playability and comfort were top of mind, and that is seen throughout the entire instrument. For example, unlike the traditional 12th- or 14th-fret joint, the SC-13E has a joint at the 13th fret. "We felt that by splitting the difference, we were able to maintain the tone of a long-scale guitar, 25.4 inches, but the feel of a shorter-scale instrument," says Shayegan. The team then went one step further and removed the heel, providing even greater access to the higher frets.
As the guitar progressed, the Martin team redesigned the neck joint to be easily adjusted and serviced. "What this does is it allows a guitar player to have their guitar set up exactly the way that they want very easily and very consistently by their service center," says Shayegan. "So, while it may look like a bolt-on neck, this is actually a dovetail neck in keeping with Martin's tradition. It's just that the dovetail is linear instead of going perpendicular to the guitar body. You can change your neck angle and even adjust your intonation with just a few minutes of work. So, your guitar tech should be able to set your guitar up exactly the way you like."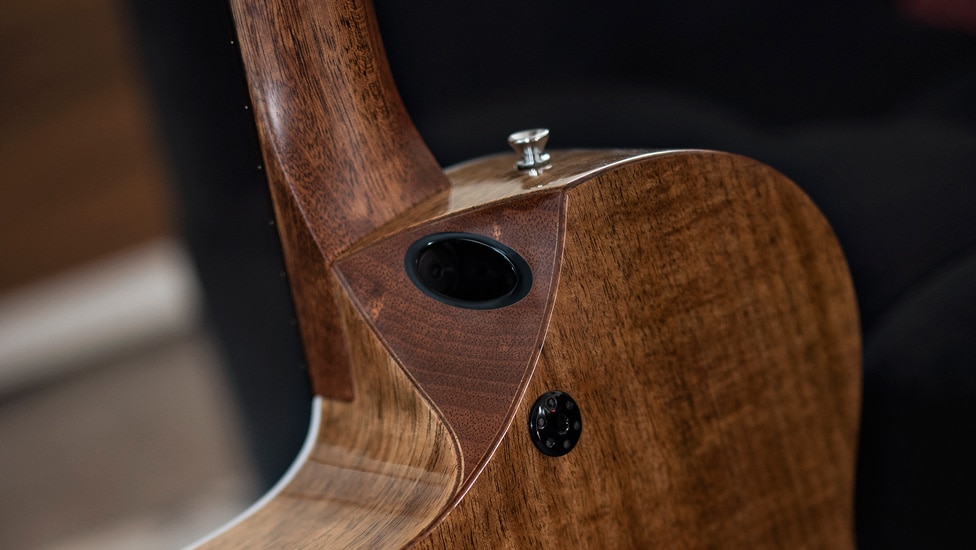 Moving to the neck, Martin has introduced a brand new design, engineered for comfort at any point along the ebony fingerboard. "The neck actually rotates because you grip the neck differently when you're playing a nice open chord versus when you're playing leads. The position of your hand changes. And so to that end, the profile of the neck also changes," said Shayegan. "It's almost shaped like a helix. It has a slight twist to it. But it's so subtle, you might not notice it until you realize that you've been playing for hours and you still feel really comfortable."
While the SC-13E was designed for comfort and playability, it still had to sound good at the end of the day. With a solid Sitka Spruce top, Koa veneer back and sides, and a new bracing design, the SC-13E delivers the Martin sound you've come to expect. When plugging in, the SC-13E relies on Fishman's MX-T unit, which also features a built-in tuner.
Summing up the SC-13E, Shayegan commented, "I really hope from one guitarist to another, that everyone out there who plays this guitar feels like they can really excel and do things with it that they never were able to do before. We hope that this guitar opens up a world of possibilities for the acoustic guitarist playing out there in the modern world."
Learn more and order your Martin SC-13E.